Backend
Cohesion Psychedelic Trance Party - London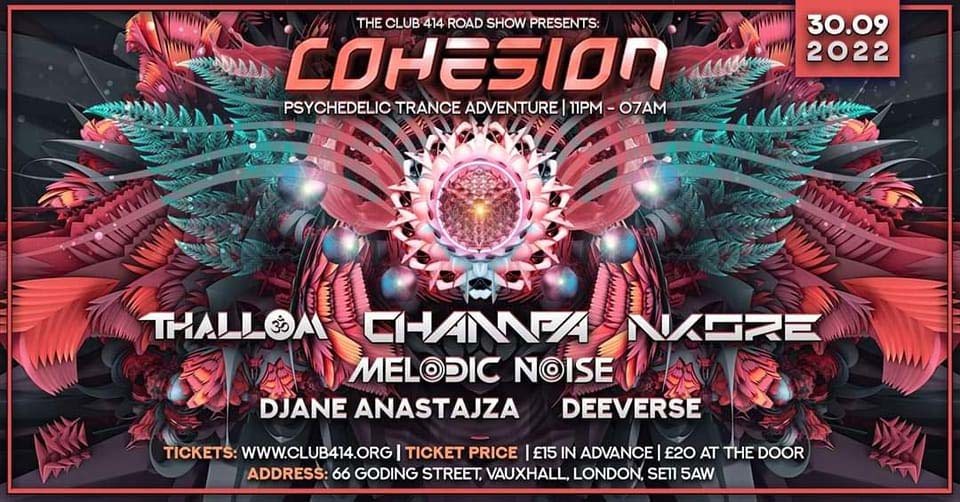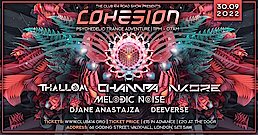 Line Up
Line Up
Champa Live!
Thallom
N-kore
Anastajza
Melodic Noise
Deeverse
Info
Welcome to a cohesion Adventure !!!
We're delighted to present this MEGA
Line up to blow your mind away….
UK born DJ and producer Champa AKA DJ Prozak has been a firm fixture on the underground dance scene for nearly 25 years. After wowing the crowds with his uplifting and full-on psychedelic trance sets he has been honing his production skills and stands on the precipice of greatness within the international psychedelic community. Champa produces the kind music that needs to be played loud and danced too with smile upon your face. His live performance is of a high intensity and uplifting vibe. Combine an uplifting attitude with groovy bass lines, funky percussive rhythms and a relentless driving melody and we have serious psychedelic fit for a pan-global audience. His first Album 'My Son' was released spring 2013 followed by a string of success with numerous E.P.'s and the 2nd album in 2014 "Tiger". Working alongside in collaboration with artists like Talamasca, Krunch, Suduaya, Life Extension, Holon, Ovnimoon, Mechanimal, Magnus, Spirit Architect, Tropical Bleyage and many many more. Champa joined Yellow Sunshine Explosion Recordings Family in 2012. For the last 3 years Champa has been the compiler of the VA's "GOA Series" on Y.S.E Recordings, Volumes 49 through to volume 62. Other labels he has released on include Dacru, BMSS, Neurobiotic, Antu Records, GreenTree Records, Pharmacy Music & many more.
——————————————————————-
French born, N-Kore aka Olivier Lenfant is one of the London's most exciting psytrance artists. His releases on Biopulse records have gained him the respect and attention of more illustrious psychedelic producers and have rocked the dancefloors in Europe.
It's a massive pleasure to have with us
N-kore will be showing case his new material. It's been a long time and we
can't wait to hear what you have in store.
———————————————————————
The main man behind Cohesion Thales aka
DJ Thallom (Expo Records)Brazil born. Has been involved with the electronic music scene since 2009. Psychedelic trance and Fullon are the styles to which he plays. At events very prestigious for example "Universo Paralello", Brazils biggest festival. "Ozora 1 Day In London". "Illuminaughty", "Earthdance" & "Return To The Source". Main floor at Ministry of Sound biggest nightclub in London, fire club, heaven club, the egg, and many more to mention, many warehouses around the capital,ThallOm has been successfully running events in London since 2012:- "Cohesion" London's Only Fullon Monthly Psy -Trance party & "illusiOm". He has shared the stage along side artists including Astrix, Infected Mushroom, Ace Ventura, Skazi, GMS, Sonic Species, Avalon , Tristan & Talamasca. Resident for many events and currently in production mode as "Mentalogic".
———————————————————————
"Djane ANASTAZJA"s connection into electronic music started in 2009. Attending events in Szczecin, Poland near her home town. Listening to Acid Techno with artists like the UK's "STAY UP FOREVER" crew. In 2011 she moved to the United Kingdom & by 2014 found herself listening to something that she had never heard before, it captivated her heart & soul with uplifting vibes & the new found connection that was to begin her new way of life, an amazing & epic journey. From then onwards "PSY-TRANCE" was her new love. In that very same year she began to master the art of controllers along with CDJ Turntables. For some years just enjoying the fulfillment of mastering the art & craft, she finally had the opportunity to perform for the first time in a nightclub venue. By 2018 "Djane ANASTAZJA" became a resident for Manchester & London organised Psy-Trance promotion "CRYSTAL KIDS". Since then she has performed at many UK events in England & Wales including "SUMMER SOLSTICE FESTIVAL" in Cumbria. 2020 She proudly joined UK's Psy-Trance record label:- "ENTERREC" & this year has bookings confirmed for festivals across the UK, Germany, Poland, Sweden and the Czech Republic confirmed. "Djane ANASTAZJA" Plans to begin sound design for her upcoming production with plans to start releasing very soon. An unstoppable talent indeed
——————————————————————
Dyego Dos Passos aka Melodic Noise
Is becoming one of London's favourite
Psychedelic trance Dj. Whit his upfront Psytrance performances
and his contagious style groovy and uplifting.Melodic Noise's Brazil born and always passionated about music moved to London, to achieve a better knowledge and started his career as Dj in 2010 rocking the underground parties and also the night clubs across London. also one of the longest residency
at Cohesion psychedelic trance party
Melodic Noise has performed in many
Nightclubs in London including one of
The best night club in the industry
Ministry of Sound and many to mention.
He has shared the stage with some of the
Best Psytrance artists such as Avalon /
Infected Mushroom /Mad Maxx / Vini Vici /
and too many more to mention."
—————————————————————
Djane Deeverse (Danielle Fleuty), originally from Essex but now in London has inspired a lot of people with her energetic vibes through her Facebook live streams.
It all started 7 years ago when she came across Vini Vici (Future classics) & Killerwatts (Blow your mind) This is when her love for Psy & goa trance began to grow.
She has played and rocked many dance floors across United Kingdom , performing at parties such as Psymera & Illusiom.
——————————————————————
Invite all your good vibes friends for this celebration of life and let's keep it psychedelic.
One Love , Thallom.
( Music Rules )
Fullon / Progressive / Psychedelic
Playground:
Champa Live!
( Enterrec Rec ) – UK
soundcloud
Thallom
( Expo Rec ) – BR
soundcloud
N-kore
( Biopulse Rec ) – FR
soundcloud
Anastajza
( Enterrec Rec ) – PL
soundcloud
Melodic Noise
( Enterrec Rec ) – BR
soundcloud
Deeverse
( Apuruami Rec ) – UK
[apuruami-records.com]
——————————————————————
Tickets Price
£15 In Advance / £20 Onwards
Website for advanced ticket:
[club414.org]
Please Note!
Your PayPal receipt will act as your Eticket. When you arrive at the venue a corresponding note will be waiting with an identical serial number.
Please print out the receipt or have it on your phone too present as proof of payment when you arrive at the door.
You will not be receiving a physical ticket.
Thankyou.
——————————————————————-
Party location venue address :
Venue : 66 Goding Street
Vauxhall / London
SE11 5AW
——————————————————————
Organizer
Organizer
Cohesion Psychedelic Trance Party