Cohesion Presents: Winter Wonderland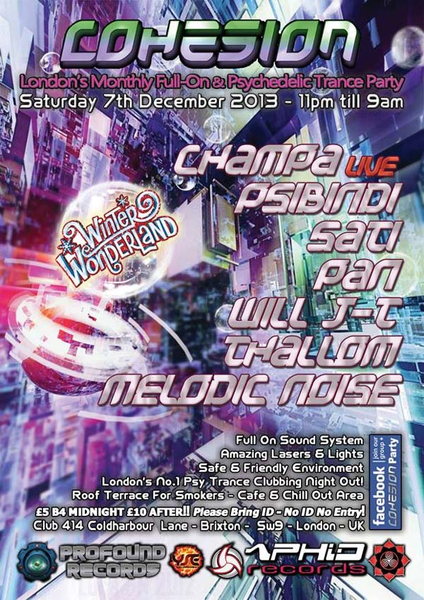 DJs
Psibindi
ThallOm
Sati
Pan
Will J-T
Melodic Noise
Info
Welcome to Cohesion Winter Wonderland!!!!!
The psychedelic adventure that you don't wanna miss out,
Bring the positive energy and lets build an epic atmosphere.
·٠•●ૐ●•٠· -----·٠•●ૐ●•٠· -----·٠•●ૐ●•٠· -----·٠•●ૐ●•٠·
●ROOM 1 (Playground)
(Progressive/ Full On / Psychedelic)
ૐૐૐૐૐૐૐૐૐૐૐૐ ARTISTS ૐૐૐૐૐૐૐૐૐૐૐ
ૐ CHAMPA " Live "
(YSE Records) - IL/UK
[champalive.com]
soundcloud
ૐ Psibindi
(Aphid Records) - IA/UK
soundcloud
ૐ ThallOm
(Expo Records) - BR
soundcloud
ૐ Sati
(Profound Records) - PL
soundcloud
ૐ Pan
(Alternate Reality) - UK
soundcloud
ૐ Will J-T
(Cohesion Guest) - UK
soundcloud
ૐ Melodic Noise
(Cohesion Resident) - BR
soundcloud
●ROOM 2 (Chill Out Lounge/cafe)
A beautiful place to sit down and chill
And chat with your friends
also have some snacks later in the night
Movies playing all night!!!
(Open Roof terrace for those who wish to smoke)
Please note that noise will be not tolerated outdoors
Please respect our neighborhood, Thank's for cooperation.
Decor By: Jessie Orange & Tom
·٠•●ૐ●•٠· -----·٠•●ૐ●•٠· -----·٠•●ૐ●•٠· -----·٠•●ૐ●•٠·
Date: 07/12/2013
Time: 11:00PM - 09:00AM
Only £5 before midnight / £10 after!
Please Bring ID / No ID No ENTRY
Located @ Club 414 - 414 Coldharbour Lane, Brixton Sw9 8lf, London, UK
London's No.1 Psy Trance Clubbing Night Out!
Club 414 -
414 Coldharbour Lane, Brixton, SW9, 8LF.
HOW TO GET THERE ::
Tube = Brixton (Victoria Line)
Rail = Brixton mainline station
Daytime buses : 2,3,35,37,45,59,109,118,133,159,196,250,322,333,345,355,415,432,P4,P5
Night buses = N2,N3,N35,37,N133,N159,250,689,690
Directions: Come out of Brixton tube station and turn left. Walk 100 yards till you see KFC on your left. Turn left and walk 100 yards. You have reached your destination on the left.
Please Spread The Word!
Location
Location
414 Coldharbour lane
Brixton sw9 8lf.
Entry fee
Entry fee
£5b412am £10 after.