Cohesion Presents Enterrec Label Party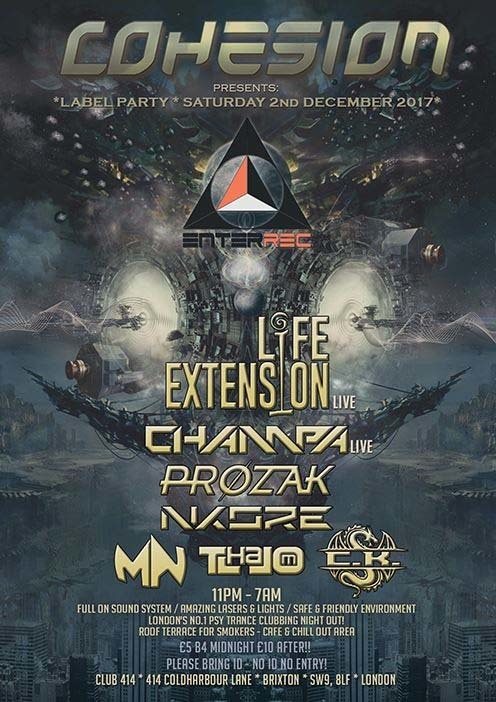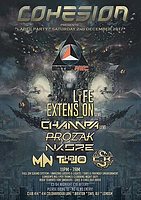 Line Up
Line Up
Life Extension Live!
CHAMPA Live!
Prozac
Thales
N-KORE
CK
Info
ૐ░████░████░░░██░████░░░██░█████░ૐ
ૐ░██░█░░░░█░░░██░░░░█░░░██░░░░██░ૐ
ૐ░██░█░███░░█░██░████░█░██░░░░██░ૐ
ૐ░██░█░█░░░░░░██░█░░░░░░██░░░░██░ૐ
ૐ░████░████░░░██░████░░░██░░░░██░ૐ
Cohesion December 2017 Edition
In Co-Operation and Unity with Enterrec
To hoast their label party for the upcoming release of Life Extension.
All the way from Paris our guest Life Extension will come to our unique party in London Only FullOn Monthly Psy-Trance event- Cohesion.
Life Extension are releaseing 3 singles throught the month of December. What better way to celebrate than to have a Record Label Party. The head of Enterrec "Champa" will join us from the Midlands supporting his artist along with Enterrec dj's Melodic Noise and Prozak. Expect thumpin bass lines and twisted psy soundz.
Plus Cohesion residents N-KORE will grace our decks once more, always a crowed pleaseer. THALLOM "Promoter" and wirth Expo Records will once more showcase some of the most upfront Psy-Trance our scene has to offer. Fresh resident C.K. Will show you all how it'sd done once again.
Be prepared folks as this one will be one heck of a party. A night not to forget, filled with memories and good times! ;)
~~~~~~~~~~~~~~~~~~~~~~~~~~~~~~~
London's Only Full-On Monthly Psychedelic Trance Party
DATE:
Saturday 2nd December 2017
MUSIC STYLE:
Fullon & Psychedelic
TIME:
11pm till 7am
VENUE ADDRESS:
414 Coldharbour Lane, Brixton, SW9 8LF, London, UK
(1 minute walk from Brixton Tube/Rail)
PRICE:
£5 before Midnight! £10 after
~~~~~~~~~~~~~~~~~~~~~~~~~~~~~~~
2 LIVE & 5 DJ's!!!!!:
Special guests...
ૐ LIFE EXTENSION (Enterrec Music) LIVE
[enterrec.com]
ૐ CHAMPA (Enterrec Music) LIVE
[enterrec.com]
ૐ MELODIC NOISE (Enterrec Music)
[enterrec.com]
ૐ DJ PROZAK (Enterrec Music)
[enterrec.com]
+ Residents
ૐ THALLOM (Expo Records)
soundcloud
ૐ N-KORE (Mutagem Records)
soundcloud
ૐ C.K. (Alchemy / Biopulse Record's)
soundcloud
~~~~~~~~~~~~~~~~~~~~~~~~~~~~~~~
Entrance:
£5 before Midnight! £10 After
~~~~~~~~~~~~~~~~~~~~~~~~~~~~~~~
●•Safe And Friendly Environment•●
●•London's No.1 Psy Trance Clubbing Night Out•●
●•Full On Sound System Plus Amazing Lasers & Lights•●
●•The Venue Has A Roof Terrace For Smokers•●
●•Plus A Chill Out Area To Relax & Cafe!•●
●•See you on the dance floor•●
* Please invite only good vibe's.
* Bad vibes are not allowed.
* Select your best friend's for best time.
* Respect the neighbourhood when smoking.
* Dance like nobody is watching.
* Love, Peace n Light!
-----·٠•●ૐ●•٠· -----·٠•●ૐ●•٠· -----·٠•●ૐ●•٠· -----·٠•●ૐ●•٠· ----
~~~~~~~~~~~~~~~~~~~~~~~~~~~~~~~
ૐૐૐૐૐૐૐૐૐૐૐૐૐૐૐૐૐૐૐૐૐૐૐ
.....…(0 ૐ)
.—oOO– (_)-)
╔══════════════════════╗
...Add your names to the event and get involved !...
╚══════════════════════╝
'———————-oOO
……..|__|__|
………. || ||
……. ooO Ooo
Location
Location
Club 414
414 Coldharbour lane
Brixton sw9 8lf.
Entry fee
Entry fee
£5b312 £10 after.