Club Joule 14th Anniversary Presents Infected Mushroom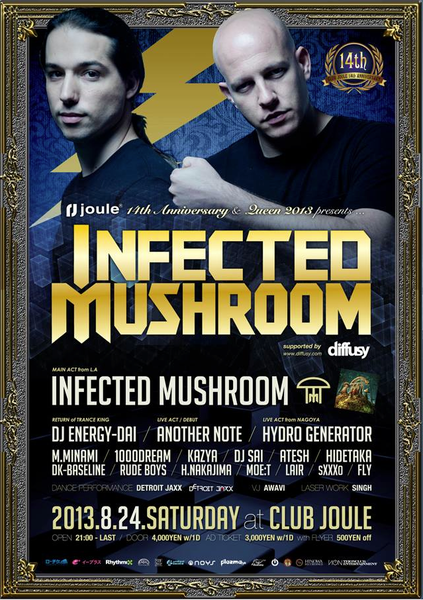 Live
Line Up
Infected Mushroom

Hydro Generator

Another Note
Energy-Day

M.Minami

1000Dream

Kazya

SAI

Atesh

Hidetaka

Dk-baseline

Rude boys

H.Nakajima

Moe:T

Lair

sXXXo

FLY
Info
"Infected Mushroom" is a super star of an electronic dance music (EDM) scene, and a unit of the Israel native known as a pioneer of "psychedelic trance."

Twice ranked as the world's "10 Best DJ's" by the Bible of the Scene (U.K.'s DJ Magazine), their insane amount (roughly 14,000,000) hits on YouTube and did smashing the opponent album-hit #8 on the Billboard charts.
The Israel-bred, L.A. based duo Amit "Duvdev" Duvdevani and Erez Eisen are top artists that the world recognize exactly have established their self- Currently invented genre among the highest in the EDM scene.

The visit-to-Japan public performance of the miracle of Infected Mushroom has been confirmed at 14th anniversary
at Osaka's big venue, club joule and we are delighted to announce that they will appear at the joule's longest -running party 'Queen' as known as the Kansai NO.1 Trance party.

After the tour over the three years that was the success album, which was announced in 2009 of "The Legend of the Black Shawrama", and Dim Mak Records album multi-faceted most "Army of Mushrooms" Among their work in 2012 The live show nonstandard and released from (label Steve Aoki is to preside over), and average 120 live performances a year , the psychedelic to the rhythm of the synth trippy arrangements hypnotic, in psychedelic vocal mysterious visual is unfolded. They are a real artist that continues gathering fans who worship them in droves.
One reason why the freaks get together because you want to feel and experience is a psychedelic trance greatest artists in the world "Infected Mushroom".

And more and more the acts representing Japan are coming!
The dance music festival "Dance Valley" of the greatest in the past in the Netherlands, etc., play in the big event of every country in the world, and now DJ ENERGY-DAI that organizes "teiONclub Entertainment" in various parts of Japan,
as a big rookie of Kansai's, ANOTHER NOTE which has also been confirmed the release from many techno labels, and "HYDRO GENERATOR" (Hinowa Recording sponsorship) which has obtained the highest evaluation at home participates. , etc.
That day, it will be to become overnight miracle decorate with a bang the 14 anniversary of the club joule. 

Never miss it!
Entry fee
Entry fee
¥4000 yen on the DOOR
From
Frangipani (Sayuri) ·
1,044