Backend
Close Encounters ❈ Spákum Hupákum ❈ Inside Bar Busteni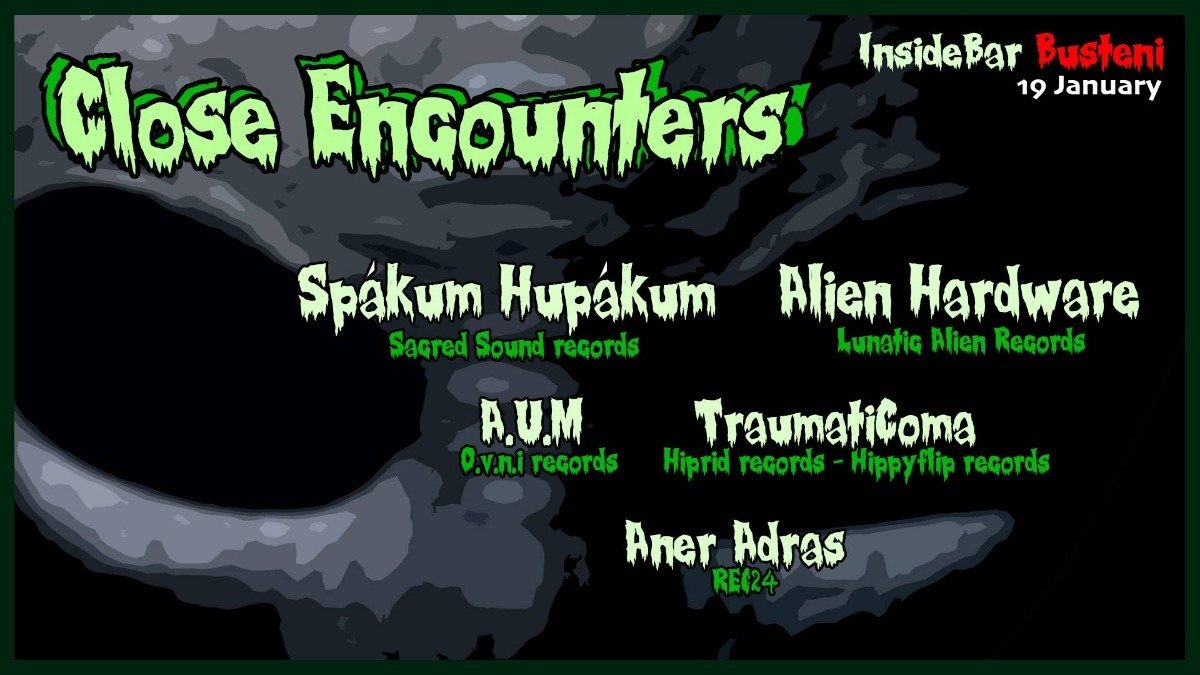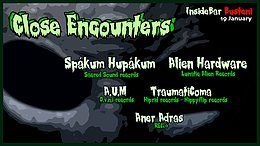 Line Up
Big pleasure we have to present Spákum Hupákum (Nasgul / Alien Hardware & Osiris) , from Sacred Sound Records, a galaxy not very far from here…

HUPAK MUVEK – A landmark album with a reminder to the day when Psytrance was just that Psychedelic Trance Music.
Stretching the brain with a controlled blast and keeping you dancing with heavy leads and deep rolling baselines as the tempo increases, taking you on a unique journey through sound.

❈ Alien Hardware is Ákos Pecze, a young Hungarian producer, behind the Nasgul and Alien Hardware projects. He's influenced by the great powers and events of nature and it guides him on hi journey, both in life and music. He's been producing music since 2009. That was the point when he started to put his ideas together from scratch. His aim is to fill the dancef loors around the world with the energy he feels when he's playing, composing or listening to music. He would like to connect the minds of the people to the global energy flow. First, he usually sets his act into a deep natural atmosphere, get tuned to it and collect energy. Afterwards he's adding a twist to it with supernatural & extra terrestrial energies.

❈ Traumaticoma was founded in Budapest, by Raul Daniel and Balázs Papp aka TripLord and is part of the SacredSound Rec. Family , HippyFlip rec. and Hyprid Records. Seeking to fusion together the elements of music in order to create a atmosphere of experimental sounds and melodies with some crazy dynamics .

❈ AUM – Ovni Records is a hi-tech and dark psychedelic trance project that explores the twisted depth of emotions and expression. The music is powered by driving beats and touching melodies, that capture a glimpse of time, linked to deep feelings and experiences.
His first contact with psytrance music was in 2010, and it rapidly became his greatest passion, getting involved in the mind boggling process of psytrance production. At first, he explored most psytrance genres, from goa trance to pumping full-on, but the first contact with hi-tech made clear how the future will sound like : fast, powerful and passionate !
The sound of AUM can be described as a duality between our darkest thoughts and emotions, and the most uplifting and energising states of counsciousness, experienced all together in an untold story of our existance…the story of LIFE.

❈ Aner Adras is a new psychedelic project that draws on elements of life and the events that are taking place in the realm of real to the realm of unreal, inner self being the core powering state.
Andrei Bălănescu, the protagonist behind this project, is a young producer, DJ and romanian electronic music enthusiast, who combines various sound designs, themes and styles in order to highlight the natural human condition.
Deco
Deco
❈ EXTRATERRESTRIAL DECO & VISUALS
Info
Info
❈ TURBOSOUND provided by Collective Minds Sound System

❈ Tribute for the aliens: 20 RON

❈ It will happen in just few Suns, so let the humans know!

❈ Tickets available at the entrance on 19 January evening