Children Of The Future Vol.12
Greifenstein an der Donau ·
Austria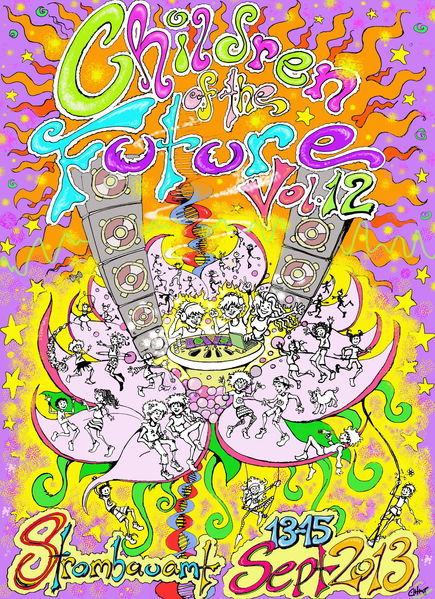 Line Up
+++++++IANUARIA / Blue Hour Sound / Austria++++++++++++++++
Behind the Project "Ianuaria" is Josef Hofinger based in Austria.
I started treading my musical path at the age of 6, taking drum lessons at music school for 11 years, and during that time, i played in various kinds of bands and ensembles.In 1996 i started djing Psytrance and, caught by the fever, i started to produce my first own tunes in 2002.
My first album "Da capo al fine" (Hardboiled Records, 2007) brought me international credit and also some single track releases on Glowing Flame Records and various other labels.
Now i am signed with Blue Hour Sounds Records (http//www.bluehoursounds.com), and after a successful, digital EP release (The full spectrum EP´s), I am ready to present my second album "Beware of the fish" in 2011.
It is all about music .I describe my music as experimental psychedelic twisted, and took alot of inspiration from the oldscool sounds of the early 90´s like Koxbox,Psychopod, X-Dream, Hallucinogen, TIP, Parasense,Orichalcum, Slinky Wizard, Etnica, Doof,MWNN, Elysium, Prana, Hux Flux, old Rastaliens, Total Eclipse,old Xenomorph, Logic Bomb and many more......

++++++++MANJU / Spacebaby Rec; / Austria++++++++++++++++
Manju, born 1979, quickly learned music is not only music, but his way to express himself. At the age of 8 he got introduced to the accoustic guitar at the local music school and started his journey as a musician. 1990, rock inspired him to write his own lyrics. Some small and more experimental music projects and experiments with friends follow, and at the age of 14 he buys his first Turntable and mixer, so the real journey could begin. Manju played at many parties from Sweden to Hungary and across Europe as DJ Manubi and since 2004 he also started to make his first Live performances. Now, 17 years after Manju bought his first psychedelic vinyl he is proud and happy to present his debut album.

+++++++++HUMAN GROOVE / United Fraggles / Austria+++++++
1975 Human Groove was born in the city of Linz, Austria. At the age of 14 he starts mixing his prefered sounds Progressive, Progressivhouse and Trance - at that time with vinyl. By watching DJs at work Human Groove teaches himself the technique of mixing.
1994 he came in contact with Goa-/Psytrance - an experience that should change his life profundly. Living without that kind of music became impossible!
Pumping, psychedelic beats are the signature of Human Groove, always together with a kickass baseline - both as DJ and liveact. His spectrum ranges from progressive to psytrance tunes.
Until now he could share his deep love to music at parties & festivals around Austria, Hungary and Czech Republic. But the journey has only just begun...

+++++++++++MUSCARIA / Banyan Rec; Psytopia / Austria++++
The mastermind behind "Muscaria" is Thomas Wiesinger, located in Austria. Introduced to the Psychodelic music scene in 2000, he started djing in 2004. After paricipating many parties, he began to make his own sound in 2006. He describes his sound as expermintal psychodelic sound, using many differnent hardware synth´s, taking a lot of insperation from oldschool sounds of the early 90´s.

+++++++++++++SPECTRALIS / Pixan Rec; / Austria++++++++
The head behind the psychedelic trance solo project Spectralis is Max W. from Vienna / Austria. He was introduced in the psychedelic Music-scene in 2004 and from this he was infected with the virus. After visiting a lot of partys, he decided to start djing, but after 2 years this was not enough for him. So he started to make his own music with his own unique psychedelic touch. After 5 years of tweaking and composing he is now presenting you a wide range of psychedelic sound. His music ranges from psychedelic progressive, over mindblowing full-on, to twisted nighttimepsy, forest and darkpsy. So let yourself go on a journey and let yourself be guided by the sounds of Spectralis.

++++++++KLANGMASSAGE / Soundlab Pirates / Austria++++++++
Klangmassage is a vienna-city based psychedelic trance project, formed by Karl K. and René P. in late autumn 2999 and the music can be described as diversified, advanced, deep psychedelic trance with uplifting, intelligent and experimental song-structures. They combine storming rhythms, organic instruments and natural percussions with solid, stomping basslines and psychedelic athmospheres with mystic, uplifting melodies and soundscapes, that have a delight touch of darkness, accompanied by mindexpanding, dirty, powerful and very unique sounds. With their first LIVE-act in April 2010 the crazy journey started and brought them to many Clubs, Parties, Countries, Continents and Festivals. Now they re preparing their first STUDIO ALBUM which is going to be released very soon!!

+++++++++++++MIC SHAMANIC DRUMS / PERCUSSION / Austria++++++++++++
Born in Vienna 1964. He started to play Drums at the Age of 17. In the younger Days he joined different Bands and Projects (Rock,Psychedelic)
Influenced from all the great Blues, Soul, Funk and Rock Classic Acts of the 60´s and 70´s he
finally came to Jazz, Ambient, Trance and Worldmusic.
Playing since Years with a lot of different Musicians from Brazil, Venezuela, Sicilia, Nigeria and Austria.
He is practising now his own Style of Percussion and always looking forward to join new Experiences.
Opening Set On Stage By FIPSINJAH / Next Time Prodly / Austria
RABBIT ON PURPLE / Blue Hour Sound / Austria-Portugal
Behind the Project "Rabbit on Purple" is Josef H.(Ianuaria) and Ana Patricia R.
JUPITER / Independent, Sonica Festival / Austria
PARAMA / Next Time Prodly / Austria
DREAMDOCTOR / Cosmixed Society / Austria
Djane SABSUNSHINE / Soundlab Pirates / Austria
Djane NICOLETTA / Plusqam Rec;/ Austria
HORIZON / Cosmixed Society / Hungaria
CELENTANO / Psytopia / Austria
GOAGNOM / Pirate Tribe / France (Special Oldschool Set)
DALILAMA / Space Lord / Serbia
DON ZIGGY / Peak Rec; / Austria
DEJAN / Shanti Tribe / Serbia
KAJOLA / Zero Gravity / Austria
TOMMES / Unisono / Austria
Special Two Hours Ambient Set On Stage By NENA NENO / Sun Of The Stars / Austria
Deco
Deco
Special Fluorobackdrops By CALAQUENDI / Austria (www.calaquendiart.com)
Amazing DEKOTRONIX / Austria
Moving Lights & More Colour Laser By JAKCHAEL / Austria
Projection By UNICORN / Austria
Soundsystem By UNISONO / Austria
Chaihouse By JAN / Austria
Flyer Art Work By CHRIS / Austria
Info
...............bitte keine eigenen soundsysteme am parkplatz, danke! 2Floors...................
..................free camping zone, no enrty under 18years, please no dogs,..............
...................................see you at the dancefloor. Try&Fly................................


Line Up: 13.09. - 15.09.2013

FIPSINJAH 20.00-22.00 Eröffnung heuer ab 20.00 Outdoor
CELENTANO 22.00-24.00 (Outdoor End)
KLANGMASSAGE(Live&Dj Set) 24.00-01.30 (Indoor Start)
HORIZON 01.30-03.00
SPECTRALIS(Live&Dj Set) 03.00-04.30
TOMMES 04.30-06.00
NAIMA 06.00-07.30
GOAGNOM 07.30-09.00 (Indoor End)
NENA NENO 09.00-10.30 (Special Ambient/Ethno Set Outdoor Start mit MIC Shamanic Drums LIVE!!!)
NICOLETTA 10.30-12.00
DREAMDOCTOR 12.00-13.30
DALILAMA 13.30-15.00
KAJOLA 15.00-16.30
SABSUNSHINE 16.30-18.00
JUPITER 18.00-20.00
HUMAN GROOVE(Live&Dj Set) 20.00-21.30
DON ZIGGY 21.30-23.00
PARAMA 23.00-24.00 (Outdoor End)
DEJAN 24.00-02.00 (Indoor Start)
IANUARIA(Live&Dj Set) 02.00-03.30
MUSCARIA(Live&Dj Set) 03.30-05.00
MANJU(Live&Dj Set) 05.00-07.00
RABBIT ON PURPLE 07.00-08.30
PARAMA with Dj Pool until Indoor End!!!
Location
Strombauamt Greifenstein,
Am Treppelweg an der Donau nahe der Hauptstraße
3422 Greifenstein

Anfahrt mit ÖFFIS:
Von Heiligenstadt (oder FJ-Bhf; Spittelau) mit Schnellbahn S40
nur 22min bis Station "Greifenstein-Altenberg" fahren (Richtung Tulln/St. Pölten).
Stationsausgang Donauseite und ca. 10min Fußweg (Donaulände)
zw. Donauufer und Schnellbahn flußabwärts zum Strombauamt.

Anfahrt mit PKW:
Von Heiligenstadt: Heiligenstädterstr (B14) bis Klosterneuburg
In Klosterneuburg: Am Stadtplatz rechts abbiegen in Albrechtsstr. - Martinstr.
- Hauptstr. Kritzendorf - Höflein - kurz nach Ortsende Höflein (ca. 500m) links
Auffahrt über die einzige Brücke zum Donauufer hin.
Gleich nach der Brücke links zum Strombauamt
Organizer
Organizer
Next Time Production