Carnival Castle 3 stage (PsyTrance - Tekno - Minimale)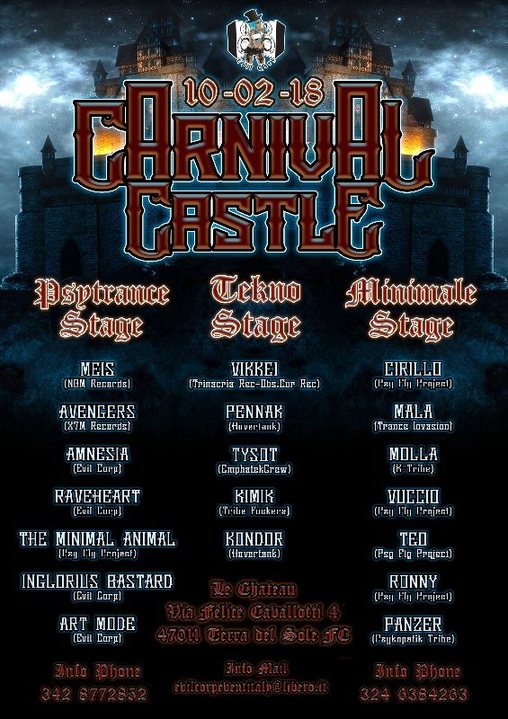 Line Up
SIAMO NEL BELLISSIMO CASTELLO TERRA DEL SOLE (FORLI)
░░► PSYTRACE STAGE ◄░░
★ MEIS ★
✔ (NBM Records)
♬
soundcloud
Meis (05/01/1990) from Bologna, Italy, began producing psytrance and goa sound since the age of 15. He self-taught as much as he could learn about the art of music producing and after 6 years of developing his production skills he started to focus on Dubstep and Electro club music. In order to mix various backgrounds of electronic music genres he experiments with different effects, melting styles into his own unique style that works well on the dancefloor. In 2009 he joined an audio-engineering school (from which he graduated from in 2012), learning the best tricks of music productions and laying a solid foundation of musical knowledge on which he built his own special, atmospheric progressive psy trance sound.
Meis works with NBM Records, Electrobooking agency and USN agency. The countries he last visited are: Italy, Germany, Austria, France, Switzerland ,Spain, Denmark, Canary Islands, Mexico, Australia, Brazil, Israel, Turkey, etc.
This project is getting always more professional and is ready to shock you with many new surprises
___________________________________________________
★ AVENGERS ★
✔ (X7M Records)
♬
soundcloud
★ AMNESIA ★
✔ (EVIL CORP)
♬
soundcloud
★ RAVEHEART ★
✔ (Evil Corp)
♬
soundcloud
★ THE MINIMAL ANIMAL ★
✔ (PsyFlyProject)
♬
[facebook.com]
★ INGLORIOUS BASTARD ★
✔ (Evil Corp)
♬
[facebook.com]
★ ART MODE ★
✔ (Evil Corp)
♬
[facebook.com]
░░► TEKNO STAGE ◄░░
★ VIKKEI ★
✔ (Trinacria Rec-0bs.Cur Rec)
♬
soundcloud
Since the very first party of the new millenium Vikkei felt that electronic music had some strange and very powerful energy....but only in 2007 he had the great idea of buying his first groovebox to make his own music... after years of hardtekno livesetting in many freeparties, one summer in poland came the ACID ILLUMINATION... since this acid love story started, each track or liveset has had a deep acid influence, distorted squirting basslines, fat brutal kicks and insane feedbacks that will always be there!!
★ PENNAK ★
✔ (Hovertank)
♬
soundcloud
★ TYSOT ★
✔ (EmphatekCrew)
♬
soundcloud
★ KIMIK ★
✔ (Tribe Fuckers)
♬
soundcloud
★ KONDOR★
✔ (Hovertank)
♬
soundcloud
░░► OLD SCHOOL MINIMAL STAGE ◄░░
● CIRILLO ●
✔ (PsyFly Project)
● MALA ●
✔ (Trance Invasion)
● MOLLA ●
✔ (K-Tribe)
● VUCCIO ●
✔ (PsyFly Project)
● TEO ●
✔ (PsyFly Project)
● RONNY ●
✔ (PsyFly Project)
● PANZER ●
✔ (Psykopatik Tribe)
Deco
Deco
▀▀▀▀▀▀▀▀▀▀▀▀▀▀▀▀▀▀▀▀▀▀▀▀▀▀▀

► EVIL CORP
Info
Info
▀▀▀▀▀▀▀▀▀▀▀▀▀▀▀▀▀▀▀▀▀▀▀▀▀▀▀
░░► INFO PHONE ◄░░

► 3246384263
► 3428772852
Location
Location
Le Chateau - Via Felice Cavallotti, 4, 47011 Terra del Sole FC
Entry fee
Entry fee
15 EURO PRIMA DI MEZZANOTTE 20 DOPO

NO TESSERA - NO TESSERA
Organizer
Organizer
► EVIL CORP & LES TEKNO FOLIES