ॐ CARNIVAL AFTER PARTY ॐ Ranji + Replay Live
Ravenna / Porto Fuori ·
Italy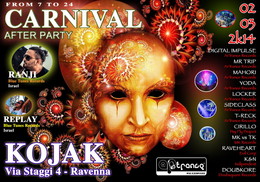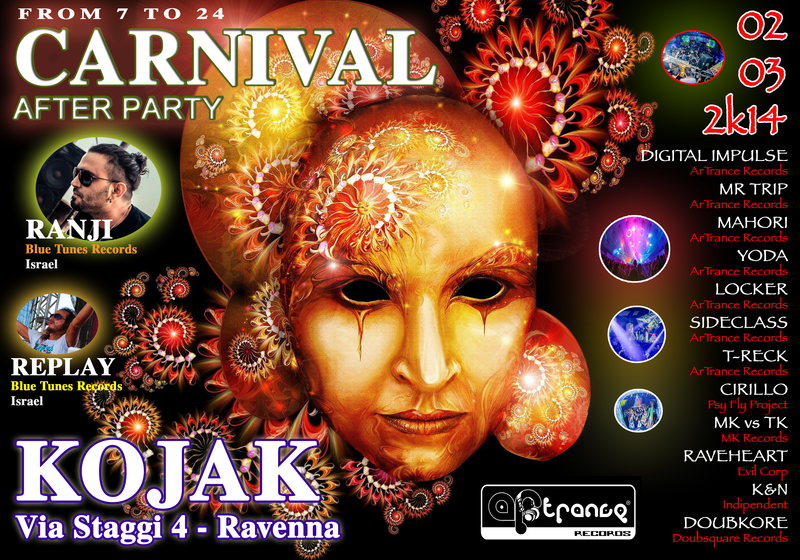 ::::::::::::::::::::::::::::::::::::::::::::::::::::::::::::::::::::::::::::::::::::::::::::
ॐ RANJI ॐ -Live
[Blue Tunes Records] Progressive Trance
Tel Aviv / Israel
The sleek groove of Ranji is a universal language, expressing a crystal clear message: The Israeli is a mighty source of innovation for the Progressive Trance scene and a mighty source of listening pleasure for his audience. Born in 1983, the man from Tel Aviv first stirred global excitement in the world of Psytrance as part of the project DapAnji, delivering a first album on Phantasm Records in 2009. Always eager for new sounds and encouraged by intense international touring, he eventually discovered the open-minded realm of Progressive Trance. Ranji is one half of Class A, a project that hit dance floors like a meteor in 2012. His solo project is no less of an impact. The fresh production style of Ranji is characterized by crazy breakdowns and dynamic take-offs. Spiced up with lots of vocals it provides a critical mass of party boost and catchiness!
▸
[facebook.com]
▸
soundcloud
▸
[facebook.com]
::::::::::::::::::::::::::::::::::::::::::::::::::::::::::::::::::::::::::::::::::::::::::::
ॐ REPLAY ॐ -Live-
[Blue Tunes Records] Progressive Trance
Tel Aviv / Israel
Daniel started his DJ career at age 12, initially playing House music, before becoming addicted to the psychedelic sound around 2 years later, when he went on to play all over Israel, working alongside a multitude of big name artists such as Absolum, CPU, Bliss and Exaille among many others.at 2006 he start his first project DAPANJI with ranji Dapanji at 2013 he start he new project by the name Replay
▸
[facebook.com]
▸
soundcloud
▸
[facebook.com]
:::::::::::::::::::::::::::::::::::::::::::::::::::::::::::::::::::::::::::::::::::::::::::
ॐ DIGITAL IMPULSE ॐ -Live
[Audioload Music / ArTrance Records] Progressive Trance
Ravenna / Italy
Digital Impulse, was born in June of 2009, with a style oriented to Progressive Trance. Is the fusion of 2, Italian DJs: M.Project (Mark) and Fase (Flo).
M.Project, had his first contact with music Goa in the summer of 2005, in Bologna (Italy). He played his first dj set Progressive Trance in Rimini (Italy), at a party organized by tribe: MK Records, Psy Fly Project, Technoexperience. Shortly after, he began to produce his tracks, in 2008, with the music program Fruity Loops, then, in 2009 began using the program Ableton Live, he considered much more professional.
Fase, had his first contact with music in 2006, began playing their own productions, Techno / Franchcore, in parties organized by Sistem Crash, using right away, the music program Ableton Live. In 2011 he signed with the label Techno, of Barcelona, Arakiri Records, but he is attracted to Progressive Trance.
The two of them have some knowledge of music programs: Cubase, Reason, Logic, Fruity Loops and other small programs, they use Ableton Live to produce, and for their performance in the events.
In 2011, Digital Impulse signed with the label of Hamburg, "Audioload Music", headed Vaishiyas; leader also, of the known record label, Spin Twist Records. On 21/05/2011, their first "EP", entitled "In My Mind".
On 21/12/2011, they released their second "EP", entitled "Over The Sunset".
On 15/10/2011, the organization "Question Of Time", located in Hamburg, led by Dj Arnox and Dj Frisk, calling as guests Digital Impulse, thus giving them a chance of play out of Italy, their live set, for the first time.
Digital Impulse, plays, outside Italy, at parties organized by "Question Of Time", and in Italy, at the parties by: ArTrance Crew, Psy Fly Project, MK Records, Otturbatoidi Tribe.
▸
[facebook.com]
▸
soundcloud
▸
[beatport.com]
▸
[facebook.com]
▸
[facebook.com]
:::::::::::::::::::::::::::::::::::::::::::::::::::::::::::::::::::::::::::::::::::::::::::
******************************************************
ॐ MAHORI ॐ Live
[ArTrance Records] Progressive Trance
Ravenna / italy
▸
[facebook.com]
▸
soundcloud
▸
[facebook.com]
:::::::::::::::::::::::::::::::::::::::::::::::::::::::::::::::::::::::::::::::::::::::::::
ॐ MR TRIP ॐ Live
[ArTrance Records] Progressive Trance
Padova / italy
▸
[facebook.com]
▸
soundcloud
▸
[facebook.com]
:::::::::::::::::::::::::::::::::::::::::::::::::::::::::::::::::::::::::::::::::::::::::::
ॐ LOCKERS ॐ
[ArTrance Records] Progressive trance
Forlì / Italy
▸
[facebook.com]
▸
soundcloud
▸
[facebook.com]
:::::::::::::::::::::::::::::::::::::::::::::::::::::::::::::::::::::::::::::::::::::::::::
ॐ YODA ॐ
[ArTrance Records] Progressive trance
Cesenatico / Italy
▸
[facebook.com]
▸
[facebook.com]
:::::::::::::::::::::::::::::::::::::::::::::::::::::::::::::::::::::::::::::::::::::::::::
ॐ ELECTRICITY ॐ
[ArTrance Records] Psy trance
Bologna / Italy
▸
[facebook.com]
▸
[facebook.com]
:::::::::::::::::::::::::::::::::::::::::::::::::::::::::::::::::::::::::::::::::::::::::::
ॐ SIDE CLASS ॐ
[ArTrance Records] Progressive trance
Verona / Italy
▸
[facebook.com]
▸
soundcloud
▸
[facebook.com]
:::::::::::::::::::::::::::::::::::::::::::::::::::::::::::::::::::::::::::::::::::::::::::
ॐ T-RECK ॐ
[ArTrance Records] Progressive trance
Forlì / Italy
▸
[facebook.com]
▸
soundcloud
▸
[facebook.com]
:::::::::::::::::::::::::::::::::::::::::::::::::::::::::::::::::::::::::::::::::::::::::::
ॐ RAVEHEART ॐ
[Evil Corps] Progressive trance
Bologna / Italy
▸
[facebook.com]
▸
[facebook.com]
:::::::::::::::::::::::::::::::::::::::::::::::::::::::::::::::::::::::::::::::::::::::::::
ॐ MARKAYN ॐ
[MK Records] Progressive Trance
Bologna / Italy
▸
[facebook.com]
▸
soundcloud
▸
[facebook.com]
:::::::::::::::::::::::::::::::::::::::::::::::::::::::::::::::::::::::::::::::::::::::::::
ॐ TK ॐ
[MK Records] Progressive Trance
Bologna / Italy
▸
[facebook.com]
▸
[facebook.com]
:::::::::::::::::::::::::::::::::::::::::::::::::::::::::::::::::::::::::::::::::::::::::::
ॐ CIRILLO ॐ
[Psy fly Project] Progressive Trance
Forlì / Italy
▸
[facebook.com]
▸
soundcloud
▸
[facebook.com]
:::::::::::::::::::::::::::::::::::::::::::::::::::::::::::::::::::::::::::::::::::::::::::
ॐ REDNECK ॐ Live
[Mental Drop Records] Progressive Trance
Ravenna / Italy
:::::::::::::::::::::::::::::::::::::::::::::::::::::::::::::::::::::::::::::::::::::::::::
ॐ DOUBKORE ॐ
[Indipendent] Progressive Trance
Ravenna / Italy
:::::::::::::::::::::::::::::::::::::::::::::::::::::::::::::::::::::::::::::::::::::::::::
ॐ K & N ॐ Live
[Indipendent] Intro Techouse
Ravenna / Italy
:::::::::::::::::::::::::::::::::::::::::::::::::::::::::::::::::::::::::::::::::::::::::::
▀▀▀▀▀▀▀▀▀
TIME TABLE:
▀▀▀▀▀▀▀▀▀
07.00 - 09.00 K & N -Live-
09.00 - 10.00 Electricity
10.00 - 11.00 Doubkore
11.00 - 12.00 Redneck -Live-
12.00 - 13.00 T-Reck
13.00 - 14.00 Raveheart
14.00 - 15.00 Locker
15.00 - 16.00 RANJI -Live-
16.00 - 17.00 Digital Impulse
17.00 - 18.00 REPLAY -Live-
18.00 - 19.00 Mahori -Live-
19.00 - 20.00 Side class
20.00 - 21.00 Yoda
21.00 - 22.00 Mk vs Tk
22.00 - 23.00 Mr Trip -Live-
23.00 - 24.00 Cirillo
▀▀▀▀▀▀▀▀▀▀▀▀▀▀▀▀▀▀▀▀▀▀▀▀▀▀▀▀▀▀▀▀▀▀
Deco
---------------------------------------
● ArTrance Records ●
[facebook.com]
---------------------------------------
Info
▀▀▀▀▀▀▀▀▀▀▀▀▀▀▀▀▀▀▀▀▀▀▀▀▀▀▀▀▀▀▀▀▀

••◄ █ P A R T Y - A R E A █ ►••

● BIG MAIN STAGE
● BIG SOUND SYSTEM'S
● FLUO DECORATION
● LASER SHOW
● VJ SET
● MEGA SCREEN
● SMOKE MACHINE
● PHOTO by ZARRO
● PHOTO BOX by: Artrance Records
● FOOD POINT
● BIG PARKING CONTROLLED
● NO TESSERE
● GOOD VIBES

Open: 07.00

▀▀▀▀▀▀▀▀▀▀▀▀▀▀▀▀▀▀▀▀▀▀▀▀▀▀▀▀▀▀▀▀▀▀
Location
▀▀▀▀▀ ★ LOCATION ★ ▀▀▀▀▀
>>> KOJAK <<<
Via Staggi n°4 - Porto Fuori / Ravenna
► PORTO FUORI - RAVENNA ◄
-------------------------------
COME ARRIVARE :
-------------------------------
► AUTO :
Dal ROCK PLANET, prendi ss16 Adriatica verso ravenna, superi mirabilandia, sempre dritto e giri all'uscita per ss67, PORTO FUORI, segui la strada che ti porta ad un ponte, giri a sx e sei arrivato ;-)
► GOOGLE MAPS :
[google.it]
► TAXI RAVENNA :
0544 33888
▀▀▀▀▀▀▀▀▀▀▀▀▀▀▀▀▀▀▀▀
Organizer
Organizer
---------------------------------------
● ArTrance Records ●
[facebook.com]
---------------------------------------
Added

9y 1m

· Update

9y 1m

·

/ 279