CANCELED - D.N.I Birthday Party (6th Edition) V6 Portugal
Estrela de Alva - Barragem Aguieira ·
Portugal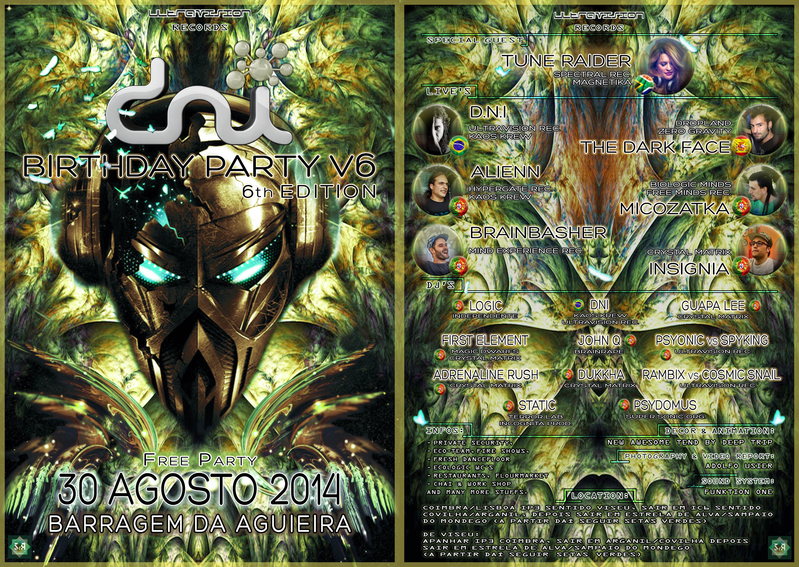 Line Up
EVENTO CANCELADO: PEÇO IMENSAS DESCULPAS A TODOS EU MAIS QUE NINGUEM ESTOU MUITO TRISTE E DECEPCIONADO E AQUI VAI UMA MELHOR EXPLICAÇÃO:
Tinhamos as licensas todas para o evento e ja seria a 3a edicao no mesmo local...
os gajos sabendo que a festa seria no sabado a noite, ja comecam a parar carros as 9 da manha de hoje sexta feira 29 de agosto, praticamente carros so de pessoal da org e ameacam e fazem de tudo para encontrar algo mal no carro e multar, inventam desculpas, lhes da solucoes, como no caso do carro dos bombeiros, que poderia sim evitar algum risco maior de incendio mas eles ja disseram logo que mesmo assim iriam fazer mega operacao com todos os "companheiros" deles... Bom, nos que ja organizamos eventos ha muitos anos, sabemos perfeitamente que operacao em porta de eventos ja causou muitos prejuizos a organizacoes e devido ao tal facto tive que pensar nos extremos do que poderia acontecer ja que é uma free party com muitos gastos e precisa de pessoal no evento a consumir no bar para que tudo seja pago mas independente de tudo para mim teve um lado positivo, poderiam ter feito isto no sabado a noite ou madrugada e ai acabava-se com o evento e ainda iria ter um prejuizo bem maior e tambem se fosse em outro local podiam muitos nao aderir por ser somente 1 dia de promocao, enfim eu fiz o que foi melhor para todos, porque se acontecesse evento mesmo sabendo dos riscos o prejuizo poderia ser gigante e nunca mais ter o evento o que eu acredito que seria mal para todos os que ja frequentam este 5 edicoes passadas, entao foi mesmo cancelada e nao me arrependo so peco desculpa a todos artistas, djs, staff e publico por nao poder realizar o evento este ano
๑๑๑๑ Ultravision Records is Proud to present ๑๑๑๑
--------------•---------- ─╬ D.N.I ╬─ --------------•--------------
--------------- --- B-day party V6 (6th Edition) --- ---------------
๑FREE PARTY FOR FREE PEOPLE !!!๑
°•°•°•°•°•°•°•°•°•°•°•°
'''|||◤ Special Guest ◥|||'''
Tune Raider (Spectral Rec, 24/7, Magnetika) South Africa
soundcloud
Live's ◥|||'''
➽ D.N.I (Kaos Krew Recs/Ultravision Recs) BR
[facebook.com]
➽ The Dark Face (Dropland / Zero Gravity) ESP
soundcloud
➽ Alienn ( Kaoss Krew / Mechanik Records ) PT
soundcloud
➽ Brainbasher (Mind Experience Records) PT
soundcloud
➽ Micozatka (Biologic Minds Prod/Free Minds Rec) PT
soundcloud
➽ Insignia (Crystal Matrix) PT
soundcloud
---- • ------------ • -- ◎ -- • ------------ • ----
. FREE PARTY -- ENTRADA LIVRE .
|||◤ Dj's ◥|||


➽ D.N.I (Kaos Krew/Ultravision Recs) BR

➽ Logic ESP

➽ Guapa Lee (Crystal Matrix) PT

➽ John Q (Brainrape) PT

➽ First Element (Magic Dwarfs/Cristal Matrix) PT

➽ Psyonic vs Spyking (Ultravision Records) PT

➽ Dukkha (Crystal Matrix) PT

➽ Adrenaline Rush (Crystal Matrix) PT

➽ Rambix vs Cosmic Snail (Ultravision Recs) PT

➽ Static (Terror Lab Industries/Incognita Prod) PT

➽ Psydomus


. DJSET LINE UP CLOSED - DJSET LINE UP FECHADO .
Info
◙ Photographer & Video Report :
Adolfo Usier
[facebook.com]
◙ Soundsystem ;
FUNKTION ONE
◙ LOCATION:
BARRAGEM DA AGUIEIRA
◙ Private Security, Eco-Team, Fresh Dancefloor, Restaurants, Flourmarket, Chai & Work Shop and many more.
ROTA:
COIMBRA E LISBOA, IP3 SENTIDO VISEU , SAIR IC6 SENTIDO COVILHA/ARGANIL, DEPOIS SAIR EM ESTRELA DE ALVA/SAMPAIO MONDEGO (A PARTIR DAI SEGUIR SETAS).
DE VISEU: APANHAR IP3 COIMBRA, SAIR EM ARGANIL/COVILHA DEPOIS SAIR EM ESTRELA DE ALVA/SAMPAIO DO MONDEGO (A PARTIR DAI SEGUIR SETAS).
IMPORTANTE: SERA PROIBIDA A ENTRADA DE QUALQUER TIPO DE BEBIDA SEJA PLASTICO, VIDRO, LATA OU TETRAPACK....
Entry
Entry
FREE PARTY - ENTRADA LIVRE
Organizer
Organizer
Ultravision Records