Backend
BUTTERFLY EFFECT - Astrix - Vini Vici _ by Multiverse Production & illuminaughty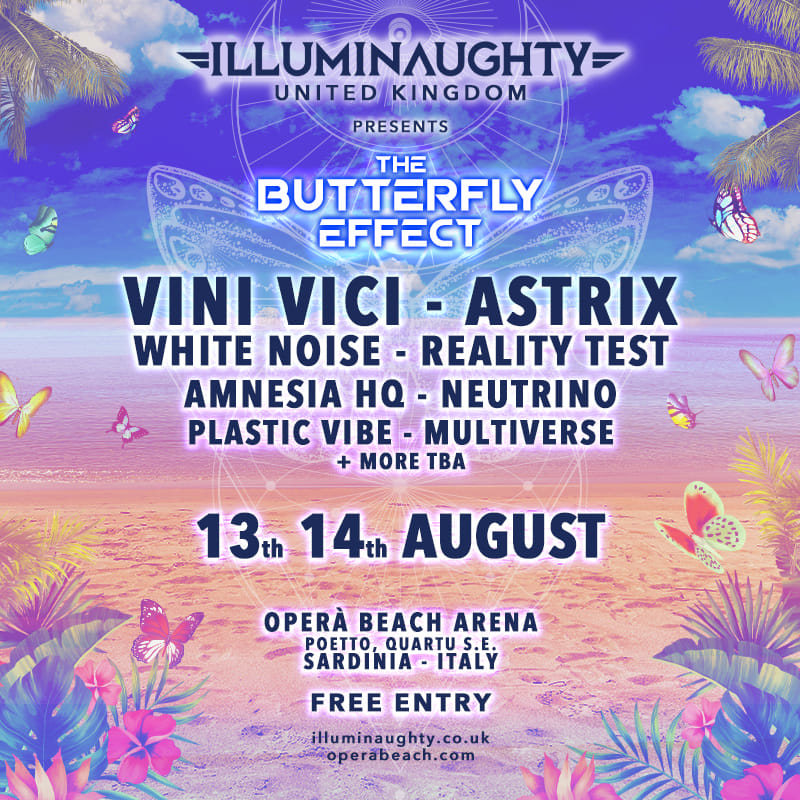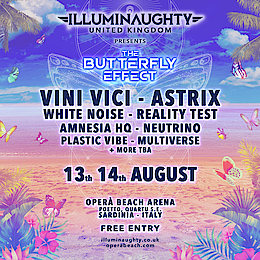 Line Up
Vini Vici
Astrix
White Noise
Reality Test
Amnesia HQ
Neutrino
Plastic Vibe
Multiverse
Marascia
... more to come
Info
ENGLISH ONLY

On the 13th and 14th of August 2022, the IllumiNaughty experience is landing in a brand new environment, built from the ground up at the Opera Beach Arena in Cagliari, Sardinia. A ground-breaking psytrance lineup is to be held over two days of sun-drenched freedom, to celebrate your dedication to 16 years of IllumiNaughty!

TICKET PER DAY, Go for your ticket and choose your price//:
_______________________________________________________________
>> 10 Pounds ( 8 pounds through the Shard Aliens Promo)
>> 128 Pounds the Private Table.


SHARD ALIENS PROMO is the only deal for euro 9,45 ( 8 pounds ) and is available ONLY through this link .
Entering from the Local Site of the Operá beach Arena will add you 2 pounds more per ticket , about 4 euro, so if you are interested to this event you might pick up the link from the local crew , here.
For the very basic price of less than 10 euro you can get your ticket for a day, with better view and better access to the main services.


*Attention : viewed Price is per day
** Free reservations for Saturday 13th are all gone already, and the tickets almost sold out.
***Still there are few free reservations for the 14th .. But don't get fooled ; entering through free reservation could be a not happy choice. It is rather better to pay your daily tickets to ensure two pleasefull night !
Location
Operà Beach Arena
Viale Lungomare del Golfo
09045 Quartu Sant'Elena