buntc0re presents ~ twisted festival ~ Hux Flux, Artha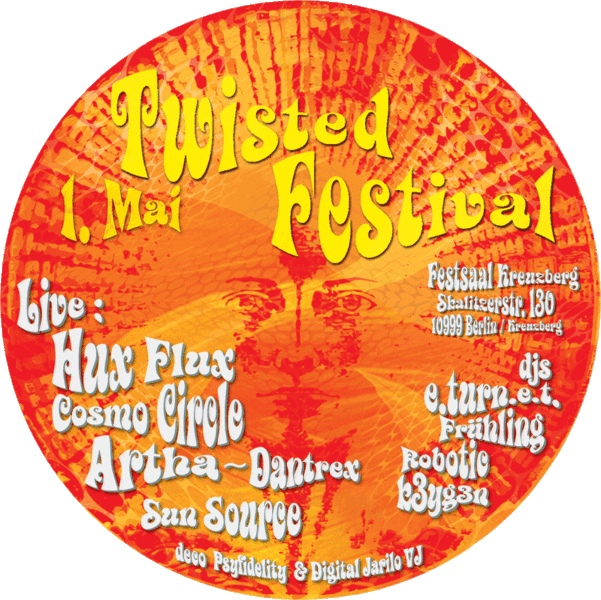 Chill
~

outdoor chill with...

... free colors to paint yourself
... nice chai and more ... ; )
Deco
~
~ Psyfidelity ~ (Berlin)
~ Digital Jarilo VJ ~ (Berlin/RU)
Jarilo and RED will be perform as a visual artist team with realtime sound synchronized visual projections.
~ PsYcOpTiK ~ VJ ~
[myspace.com]
a very promising artist from italy presents his mindexpanding visuals and goes far beyond usual vj stuff. Please check his myspace !
~ ~ ~
Info
.
.
.
~ B U N T C 0 R E ~
~ presents ~
~ t w i s t e d ~ f e s t i v a l ~
~ gathering for true psychedelic sound experiences ~
Dear friend …you are hereby invited to our psychedelic music gathering in the heart of Berlin. We are bringing together old legends and very promising new talents on one dancefloor, in one night & day, without any boundaries! Prepare yourself for a concentration of twisted, acidic, spiraling and psychedelic madness mixed with fantastic melodies - all together in a very special location in the middle of Berlin! Join this party and get twisted with us ; ) Wir freuen uns auf euch !
~ twisted crew ~
We hope to see all of you again on 22.05. 2010 @ Twisted ~ II ~ Festival w/ Etnica, Pleiadians, Oli3n, E-Mantra etc.
goabase
official site >
[twisted-festival.net]
Artist Infos :
~ Hux Flux ~
The story of Hux-Flux started back in 1998 when Dennis Tapper started making music after being spellbound by the legendary kilsbergen partys outside Örebro, Sweden. After a few releases on his own, including the hit "Time slices", Dennis started to work with Jonas Petterson (AKA Tranan) and they produced the the legendary album "Cryptic Crunch" together. Later on Dennis moved to Stockholm and started to work with his old friend Henric Fietz. Their work resulted in some killer classics, like "Idiot", "Bring your own BIOS", as well as the album "Division by Zero". Dennis also produced tracks on his own during this time, still under the name hux-flux, some examples of this are the dancefloor hits "Reflux" and "Equivalent Equations". Lately, Dennis have also been working with the project "Tryptamind" together with Ibojima. And now, Dennis is heavily involved in the completely new and fresh chillout/dub/ambient project "Illuminus" together with Magnus Holte. Hux-Flux have played live in the following countries : Japan, Germany, UK, USA, Canada, Mexico, Brasil, Switzerland, South Africa, India, Israel, Morocco, Portugal, Hungary, Spain, Indonesia, Italy, Croatia, Greece, Poland, Russia, Ukraine, Australia, Romania, The Netherlands, Belgium, France, Denmark, Norway, Finland & Sweden.
~ Chemical Abstract a.k.a. BioSynthesis / Dantrex ~
A berlin based project of presents their live first time in berlin. Get ready to o be taken into the shamanic states of meditation, which are beyond their consciousness and experience the most amazing journey . Check out the last Album together with MANO on MIGHTY QUINN RECORDS
[psyshop.com]
. BioSynthesis its a project formed together from Gorump Peyya and Dj Dantrex started in year 2009. We made it for keep the balance-create powerfull psychedelic sounds without sick bpm races but full with forest rituals and organic vibes and elements. The first part of our duo is Gorump Peyya from Macedonia. He already released albums and single tracks on compilations and labels like:Maniac Dragon,Mighty Quinn Rec, Evil Knivel Rec,Tantrumm Rec, Etc,etc, the second part of BioSynthesis is Dantrex from Poland. He's the owner of Evil Knivel Records and released compilations like: Full Reaction, Evil Voices. He also creating Music by the name Chemical Abstract. Look for debut realese on Mighty-Quinn Records and also for many another realeses which are comming soon!
~ Cosmo Circle ~
is known for his perfect fusion of the todays psytrance with the old Goa style. He presents his magical & oldschool influenced "live" first time in germany before he perform on ozora festival 2010. Cosmo Circle is a psytrance project by the portuguese Ricardo Gomes, 23 year old Producer based in Lisbon. After some musical experiences on other styles such Punk Rock, Ricardo start producing Psytrance music in 2004, inspired by the beauty of the style, in 2006 started to act in private partys and other partys with other internacional artists and started to apear in the portuguese trance scene. with the party experience, Ricardo became developing his production techniques and creating his very own style of music, wich turns his music unique. Cosmo Circle is known for his perfect fusion of the todays psytrance with the old Goa style, once that his sound is based in full on techniques mixed with goa trance... wich results in a high psychedelic trance experience, taking the people into a journey while they listen the music alied with high dancefull beats.
~ Sun Source ~
Sun Source is a project of two berlin based producers (jarilo (Ixh) and Red)
Ixh und Red prodzuzieren seit 2 Jahren zusammen. Davor spielte Red bei einer rockband und machte mit einem anderem Freund ein Project > Tripaganki. Als DJ ist er seit 1992 tätig. Psy seit 2000. We are happy to have them for the festival.
~ Artha ~
provides one of the most promising "newschool" live acts nowadays from poland. ARTHA. Born in 1979 in Poland. I became acquainted with eletronic music as a child listening to artists like Jean Michel Jarre or Vangelis. It was through electronic, techno, trance and listening to Hallucinogen's "Twisted" album that I discovered psychedelic trance. Hallucinogen, S.U.N. Project, Space Tribe, Pleiadians - these were my beginnings in psychedelic sounds. Creating music... I took my first steps on an Amiga computer using tracker type programs - protracker, digibooster. As an Amiga owner I was known as "Timer" on the so called Amiga Scene. Writing music on only a few channels was quite a challenge. It was not until I switched to a PC that I felt the power and possibilities of creating music provided by programs. Creating sounds in real time + effects in real time was what I had been lacking with my Amiga. I started writing psytrance right after discovering this genre, because I had always liked trance. I prefer Goa-trance, I love melodies and to me it is the part that has meaning and is capable of staying in the listener's memory. That is why I pay so much attention to this element. Some of my pieces were inspired by Hallucinogen's works, and he himself continues to inspire me to this day. I decided to invest in equipment in order to improve the process of production and the quality of the sound. Currently, I have the following hardware: a PC + ESI Duafire, Alesis M1 active MK II, M-Audio Evolution MK-449C, BCR 2000, Waldorf Blofeld.
Location
Location
Festsaal Kreuzberg
Skalitzerstr. 130
10999 Berlin / Kreuzberg
Die wunderschöne Location ( Bilder >
[festsaal-kreuzberg.de]
) befindet sich direkt beim Bahnhof "Kottbusser Tor". Diesen könnt ihr mit der U-Bahn Linie U1 oder U8 einfach erreichen. Da am 1. Mai, Teile von Kreuzberg für Autos gesperrt sind, empfehlen wir euch lieber mit der U-Bahn oder dem Fahrad anzureisen : )
The location is very close to the "U-Bahn" station "Kottbusser Tor". You can use the U1 or U8 to reach us very easy. Please see the map below.
Karte / Map Link >
[berlin.de]
Entry fee
Entry fee
10 € < 01.00 Uhr > 12 €
Organizer
Organizer
~ psypix.org ~ buntc0re ~ family affair
Added

10y 5m

· Update

10y 2m

· 4 Parties ·

/ 21