Broken War Machines!-FREE PARTY-Ghent center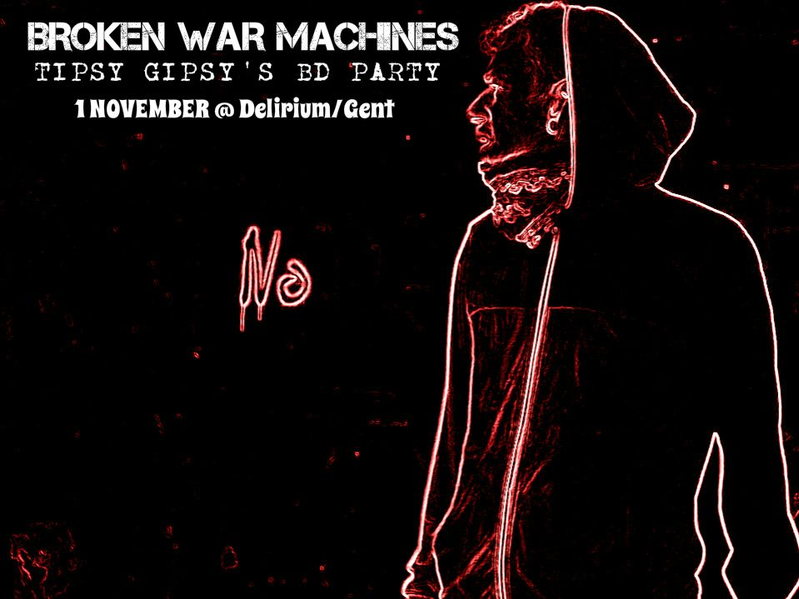 Line Up
" Broken War Machines - Tipsy Gipsy's birthdayparty "
Line up:
----------
MIDI_LAB:
---------------
PJ aka MIDI-LAB will make a live DJset to get our systems flowing and our legs moving ...
4 the first time @ WMS but with Full Support !!!!
Midi-Lab bio:
pj's interest in electronic music started about 10 years ago, going to these party's & clubs ,listening and exploring the amazing new world of sounds his curiosity became bigger.
pj got more and more fascinated with minimalistic music. He started playing at home party's , small events made by new organizations like " Roots of Minimal" , Feestgedruis, Atmosphere records, soon he had bookings all over the country in well nown clubs like "Decadance" (ghent) sharing the line up with "Marco Effe", "Silo "(leuven) playing next to "Minilogue" , festivals like, "rhaktie dei", "nu festival", "tribes gathering " sharing the line up with local and international artists like; "Gols & Tom Dazing, Tom Hill, Ishtar, Juma sound system " and many others.
Afther isolating himself in the studio, day by day he created his own style still off progression, minor melody's in combination with minimalistic and subtil sounds, percussions, flowing atmosphere's and compositions.
PARAMETRIC
---------------------
(-Parasymatic records - Austria )
A veteran in the Austrian psytrance scene ! Now he comes to Belgium to spoil us with some minimal
With years of trancedancing under the belt he left his chosen path to take a detour as PARAMETRIC wandering the Minimalistic roads
ANDREAS BLACK
--------------------------
( Dj Oonah/ Digicult )
Mothers ... keep your daughters inside...
Because we present to you the playboy of the WildMoodSwings Posse .
Spinning and producing for many years as DJ Oonah and Digicult....
Breaking hearts of many a girls all over the world we finally could book him to conquer Ghent centre
-TIPSY GIPSY-
--------------------
( WMS / Spikadelik Terrorists )
With his roots firmly stuck in the global partyscene, this travelling Gipsy has been trying to spread and harvest madness ...
The same kind of delicious madness that is mandatory for experiencing Belgian entertainment at its best and to experience the experience at its fullest .
Starting off organising little get-togethers like " Hey baby Lets GoA!!!" ,"LoveBombers" , "Spikadelik Terrorists", ... and some others, He is back with a fresh concept.
soundcloud
-DUENDE -
---------------
(Spikadelik Terrorists -PhysicalResonance)
Duende is a fixed value in the underground of Ghent, Years of spinning , organising, and downright beeing the evil overlord of the Ghent nightlife...
Be afraid ... very afraid ... you will dance even when u dont feel like it
[click here]
-GABY-
-----------
( aka Psycat - Santcuary)
This wild woman will rock our socks off !!
Not only does she have years of experience behind the decks spinning Psytrance , on top of that she also organised the succesfull "Sanctuary "psytrance events for quite a while now ...
She now embraced her Alter Ego GABY and will happily show us what happens when the tides are turned and the fast paced bpm gets bumped to a lower nmbr!!!!
there is no escaping and all mutineers will be obliged to dance till they drop .... or.....
[click here]
Deco : Spikadeliks
Damage:
Free contribution!!
Dont be cheap and dont be cocky .
No own drinks inside - No drinks from the bar on the street ...
Just a minute away there is Belfort parkje where you can calmly chill and enjoy your smoke.
Respecting the neighbourhood = respecting yourself
Minimal-Progressive-Psygressive-Psytrance
Entry
Entry
Depends on you :) give what u want