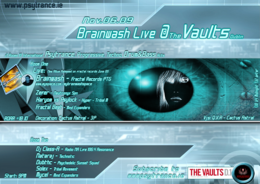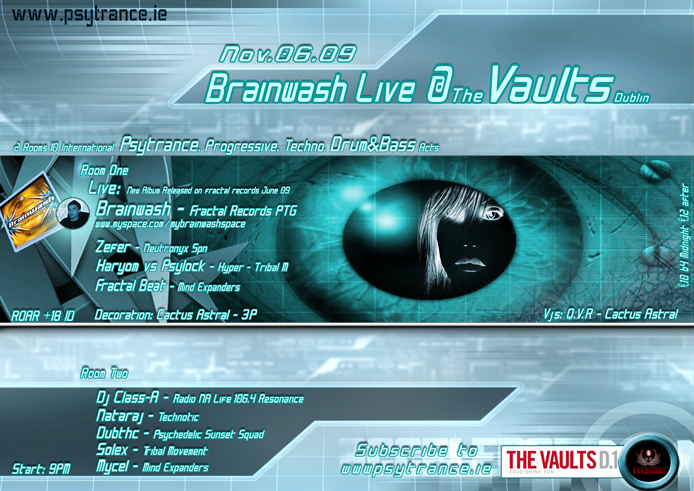 Live
Line Up
Brainwash Live:
Fractal Records - PTG
[fractalrecords.ch]
Marco Pinto aka Brainwash was born in 1982 in Santarem (Portugal). He started his creative life in psychedelic trance as a dj in the year 2000. 3 Years later he began producing his own music and quickly built his unique style. In 2008, after some releases and some international bookings like Japan ... Marco now has the chance to be part of the quality label Fractal Records from Switzerland. Checkout his new powerful night album released 2 months ago on Fractal records.
[myspace.com]
ZEFER - Neutronyx Spain
[life-festival.com]
Dj Zefer is and have been one of the leading djs and promoters in Europe for the past few years, he is also the organizer of the Life Festival.
Haryom vs Psylock - Hyper and Tribal M Records
Back to back for the first time in Ireland both have great uplifting psytrance style.
Fractal Beat - Mind Expanders South Africa
Room Two
Dj's
Dj Class-A Radio NA Life 106.4 Fm Resonance Ire
[myspace.com]
Dubthc - Psychedelic Sunset Squad Ire
Nataraj - Technotic Ire
[myspace.com]
Solex - Tribal Movement Ire
[myspace.com]
Mycel - Mind Expanders Germany
Subsaharan - Freelance
Info
Info
Mind Expanders group is proud to provide this top quality night with 2 Rooms, Psytrance, Progressive, Techno, Drum&Bass, Decoration and Visuals. no doubt some of the best Irish and International djs with 2 loud and Clear Sound Systems.
Entry fee
Entry fee
€10 before Midnight €12 after