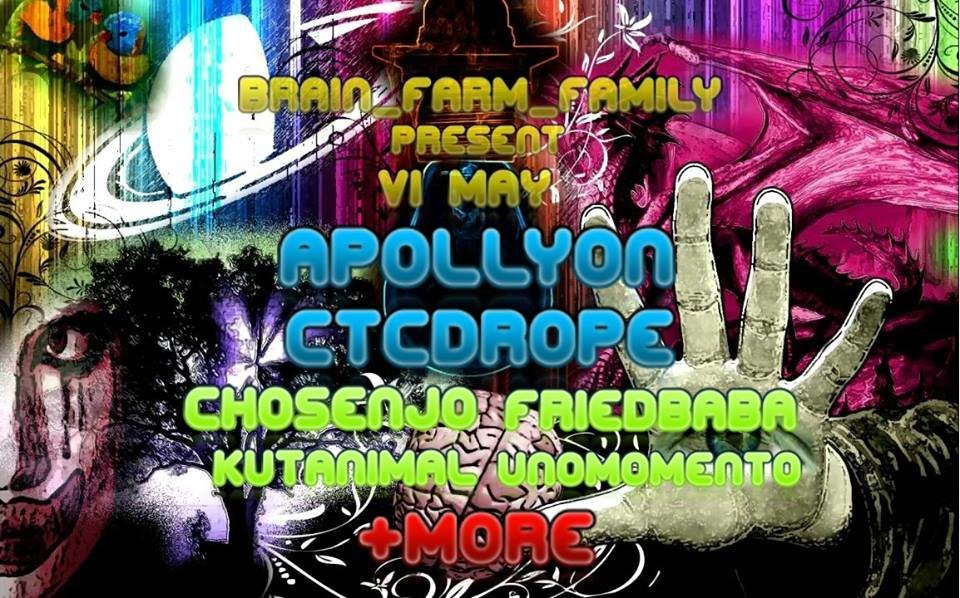 Line Up
Appolyon (FreakRec.) England ====LiveAct====
CTCDrope (Biomechanikal Rec.) Brazil/Spain ====LiveAct====
Oroboro (VooodooHoodoo Rec./Anomalisatic Rec./AliceD Rec.) Berlin ====LiveAct====
ChosenJo (TempleTwister Rec. ) England ===DjSet===
FriedBaba (ManicDragon Rec. ) India/England ===DjSet===
Kutanimal (Pleiadian /UrbanAntidot Rec.) ===DjSet===
UnoMomento (InsaneAzulum Rec./ BrainFarm ) ===DjSet===


LineUp -
23:00 to 1:00 - FriedBaba
1:00 to 3:00 ChosenJo
3:00 to 5:00 CTCDrope
5:00 to 7:00 Kutanimal
7:00 to 9:00 Oroboro
9:00 to 11:00 Displaced
11:00 to 13:00 Unomomento
13:00 to 15:00 Vertex
Deco
Deco
Nature's Deco and some lights from Christianno ...!!!!
Info
Info
With love for the music first and as always we try to give our best ...!!!
Location
Location
As always guys for a security we will upload tha place an hour before the event start ....
info number : 07417598272
we are ready soon start !!!!
Entry fee
Entry fee
DonationTenBrains
Organizer
Organizer
BrainFarmFamily
Added

3y 9m

· Update

3y 9m

· 1 ·