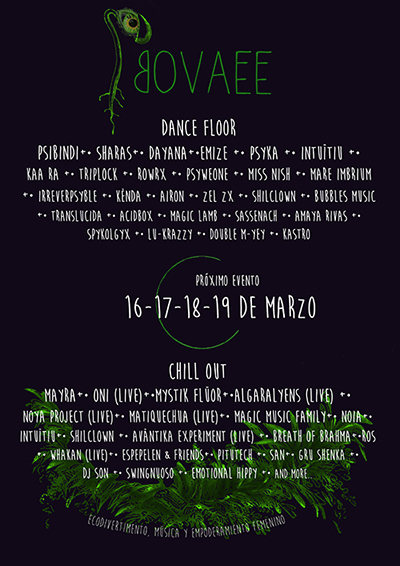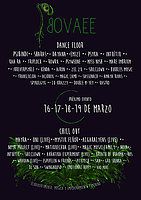 Info
BOVAEE is a private gathering organized mainly by women, aiming to carry out 3 proposals:
·•⊚ to enjoy psychedelic music during 4 days in two environments: Dancefloor and Chillout
·•⊚ to create a festive space from the Women's Empowerment perspective, with a line-up particularly focused on female artists, and the organization of dancefloor, chillout, children's area, healing area, camping... in charge of women as well, offering food, drinks, national and international artists, workshops, therapies and lots of music.
·•⊚ to support and collaborate with the Association of Eco-Entertainment "Las Morras", making improvements in the land the we are going to use, so that this and other future events contribute to the growth and development of the project of the Association. "Las Morras" maintains a large area of organic agriculture, artisan bakery and accommodation for people with different visions and vital projects.
Bovaee means THE SEED in Sanskrit and this event is named like this in order to project ourselves towards spreading sorority, complicity and sisterhood among women, working on a common purpose that is intended for the whole world equally.
[facebook.com]
Entry
Hemos llegado al límite de la capacidad de asistentes y ya no podemos aceptar más solicitudes para este Encuentro 2018.

Os informamos de que NO se permitirá el acceso a nadie que no se haya hecho soci@ previamente del Encuentro. No hay opción de hacerse soci@ en puerta durante el Evento.

¡¡Gracias a tod@s por la participación y el interés!!

---------------------------------

We have reached the attendance capacity for this event.

Access won't be possible for those who haven't previously registered for the event. Registration is not possible at the gates.

Thank you all for taking part and for your interest!!
Added

3y 10m

· Update

3y 3m

· 1 ·