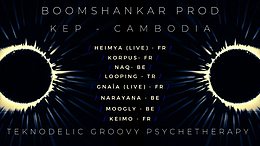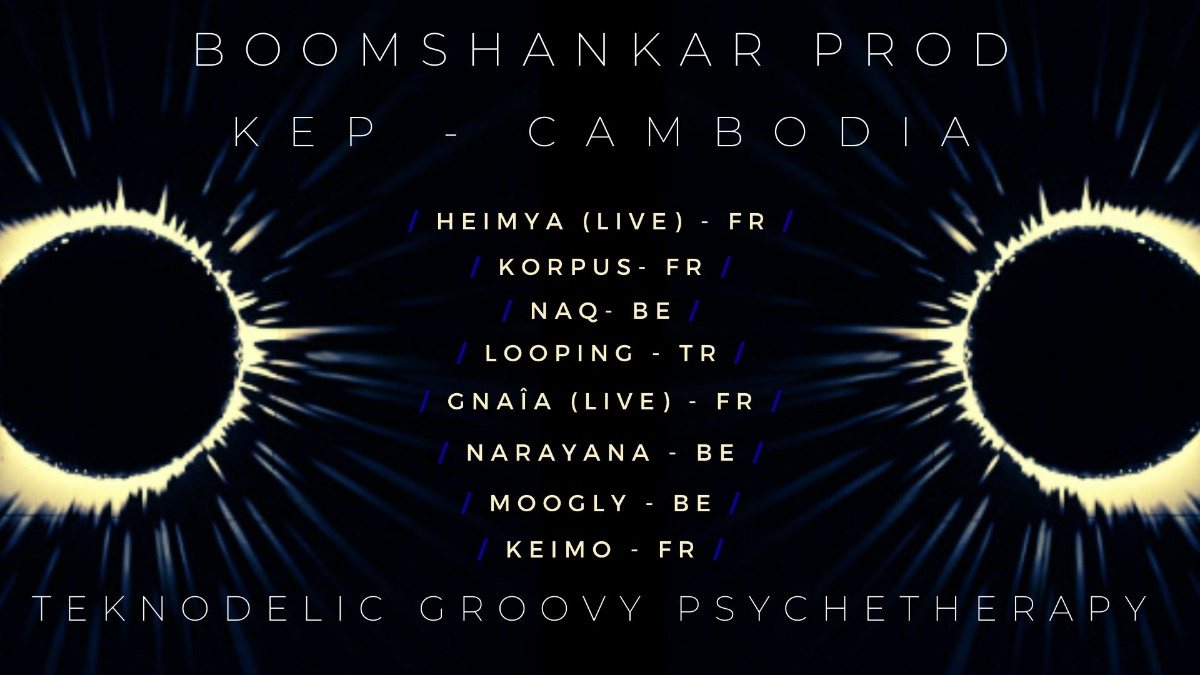 Line Up
Boomshankar Prod start a new journey in Cambodia
After running around Thailand and pushing some parties in Koh Phangan , we are now in Kep and bring you a fresh tribal line up for the Full Moon .
Right in front of the sunset and Rabbit Island .
From sunset to sunrise
Come early , it s FREE
❖❖❖HEIMYA❖❖❖ - Live - Oréades Prod (FR)
Heimya is an exciting new project born from the minds of Sebastien Bosc aka Gnaïa and Fabien Renda from Mathibrama band. Two side project with a groovy and emotionally resonating trip into realms of Psychedelic techno, psytrance and World music. It's a mixture of ancestral and popular folklore from diverse cultures and modern psychedelic tones with live guitar, voice, percussion, saz and flutes
soundcloud
❖❖❖GNAÏA❖❖❖ - Live - Oréades Prod (FR)
In 2009 , The album "Cinematik Funk" was released on Autonome Records and was a Surprising mixture of trance, Drum and bass, jazz & hip-hop, As well as the very jungle directed piece "Audio architecture" released in 2007.
Since his debuts he surprises by eclecticism and work on various instrumentals & electronic projects .
Very inspired by world music, these productions incorporate psychedelic rhythm, voice,orientals & ethnic instruments.
With " Harmony for Mecha", release in 2012 and "Temple" realeas in 2016, he invites us to a meditative project, hypnotic, where every sound resounds such a mantra, rocked by a progressive atmosphere, psychedelic, down-tempo, trip-hop & ambient: sometimes crowned, sometimes New Age...
❖❖❖MOGWAI¨❖❖❖ - Live - ADN records - (FR)
Mogwaï is the new project of Max from Radikal Moodz ( LooneyMoon Record ) , inspired from lower Bpm music , he discover this style and choose to create his own vision between progressive music and psychedelic adventure , mix of organic sounds, dark and deep psychedelic moods. All linked by loud bass kick.
soundcloud
❖❖❖NAQ❖❖❖ RedDrumMusic / 0Eighty (BE)
Belgian born Naq, now based in Asia, has travelled the world, seeking out new
grooves & rythme.
At the age of 25 he moved to South Africa, where he completed his first track with a
local producer. Due to a simple misunderstanding, Naq s title "Afrique, the rythme"
was misheard as "i freak da rhytme". It's a name and concept that he has used ever
since.
With over 30 years of experience that has seen him move seamlessly from vinyl to
electronic methods of playing, Naq, has devoted his life to music and has a long list
of events, sponsorships and tours to his credit.
Fusing elements of classic tech house, Naq plays and produces music with complex
soundscapes that he creates using unusual bass lines, and rythme that have a deep
groove, always designed "to make the people move." His live sets have an undulating
rythme that give tech house a surprising groove that has given him his own dedicated
following.
As a dj who is also a producer of music, Naq has an extensive and unique understanding
of music that comes from a continual immersion in the music around him, as w ell as
a career that dates back to the days of vinyl.
He has not only mastered the technical aspects of production, he has found his own
unique style.
soundcloud
❖❖❖KEIMO❖❖❖ KanoPi / Curuba / Ethno Kult (FR)
Keimo is a multidisciplinary artist, a "vivid, happy liquid organic soul". Starting as a photographer/designer, trained as a violinist since a young age, he lately has been delivering multicultural vibes as a DJ in parties and festivals around Europe and South-East Asia.
Known for his organic & psychedelic selections,
playing music without borders, floating between fruity punchy grooves, hypnotic patterns and worldwide beats, he joined the Ethno Kult Crew along with the Curuba Family, and has been playing along with the Tangerine Collective.
He also co-created KanoPi, which is an eco-event based organisation meant to share quality underground music, along with positive and conscious community vibes.
You could have seen him sharing stage with Peter Power, El Bùho, Luca Musto, O/Y, Jacob Groening, Jaja, Mimi Love, M.RUX, Garstique, Knobs, Blond:ish, Recondite, Denis Horvat, Rampue, Heimlich Knüller, Zigan Aldi, EXZ, Kurup, Ditti, and many other amazing beings around festivals and parties around the globe.
soundcloud
❖❖❖KORPUS❖❖❖
Korpus is a French passionate Dj with 20 years of experience in Techno and Hip Hop.He was introduced to electronic music for the first time in 1995 in the underground scene in France. He was totally seduced and then started mixing on MK 2 vinyl turntables.
His music fits perfectly with his state of mind and style.He has his own style, mixing groovy, punchy and rythmic techno with scratch, a real mesmerising style makes bodies in a transe on the dance floor. With his music based on the purity of mixing and the grooviest clean vibes, the energy Korpus creates on the dance floor is just impossible to ignore
[click here]
❖❖❖MOOGLY❖❖❖ Boomshankar Prod / Insonitus Records (Be)
Moogly gained his first interest in electronic music at the age of 12, by listening to independent local radio "Radio Campus".
Around 7 years later, while exploring jungle, dnb and trip hop and learning to play drums, he discovered Psytrance and soon created a BoOMshankar Radio show, together with Oli (Trance2theLight) and broadcasting on "Radio Campus". During the 10 years of doing the show, he deeply explored the music and eventually started organizing parties under the name of BoOMshankar.
Digging through all types of trance over the years, Moogly finally found his comfort zone within the Psygressive scene and lately with Techno music. His selections are characterized by deep groovy basses and a change in style, with a touch of jazz behind
soundcloud
❖❖❖NARAYANA❖❖❖ Anonymous Alchemists (Be)
Max, aka Narayana his journey in Psytrance began at the young age of 15, from the first time he heard the music he became hooked and started to collect massive amounts of music, not long after that he started spinning at parties in 2007.
Initially he played a lot of Dark Psy, but these days with the Narayana project the focus lays more on Forest Psy with lots of atmospheric and organic soundscapes, freaky funky bass lines and a deep drive. Always expanding his collection, looking for artists and sounds that intrigue him.
His biggest influences are Parvati Records, Vantara Vichitra Records, Quintessence Records, DSP records, Grimm Records, Sagoma Records and off course the label that he plays for Lost Theory Records.
Max plays sets that fit best for the party and the hour. In his dj sets he creates stories, stories that can be funky and deep or active and uplifting. This all depends on the time, the place, the people and the vibe.
Over the years Narayana played at smaller and bigger events in Belgium, The Nederlands, Germany, Croatia, Morocco, Malaysia, Thailand, California and Australia
soundcloud
sound by United Vibes Sound system
Location
Bahia kep Road 33A, between Rock Royal and Rabbit Island Pier, Kep
Entry fee
Entry fee
free , donnation is welcome to pay the artists !
Organizer
Organizer
BoOMshankar Prod