Backend
BOM VOYAGE & AMSTERDAM BLAST EVENTS PRESENTS BOMBLASTIC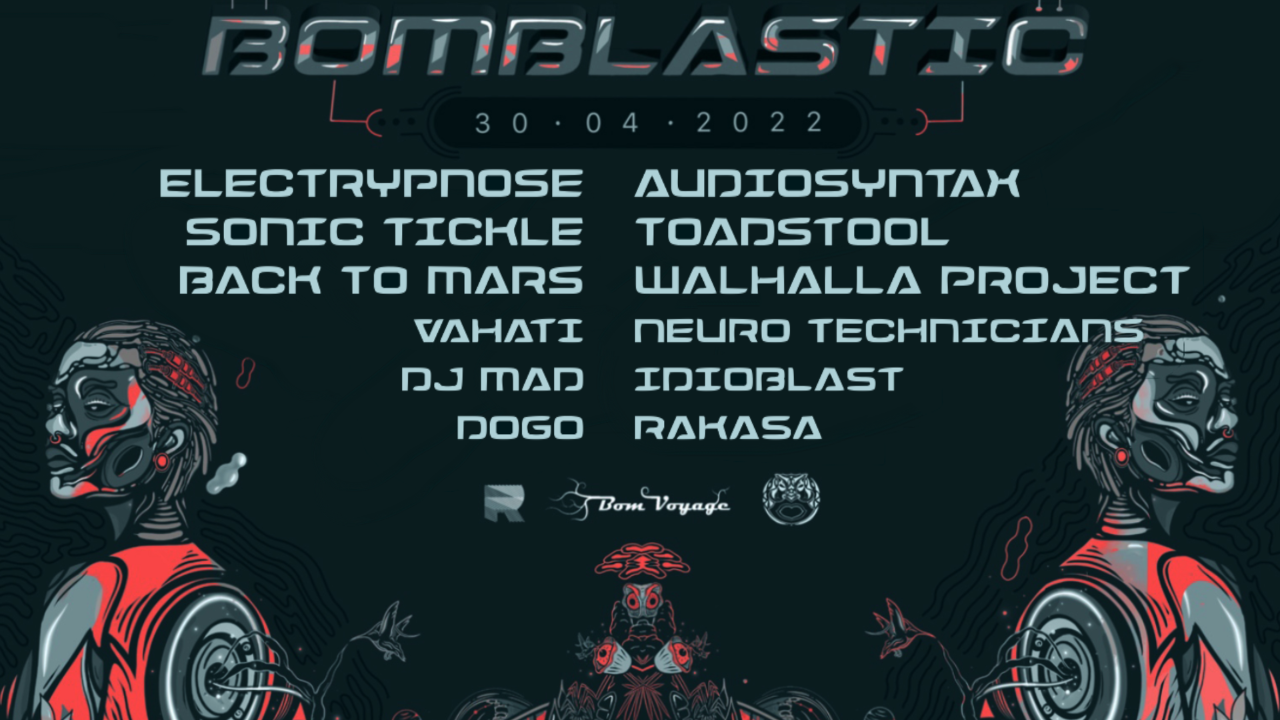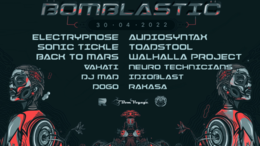 Line Up
▁⬙🚀⬘▁BOM VOYAGE STAGE▁⬘🚀⬙▁
👽 ELECTRYPNOSE • Live 🇨🇭
🎵 Zenonesque Groovy/Nightpsy
📣
soundcloud
👽 SONIC TICKLE • Live 🇩🇪
🎵 Groovy PsyProg
📣
soundcloud
👽 VAHATI • Live 🇫🇷
🎵 Forest
📣
soundcloud
👽 BACK TO MARS • Dj-set 🇳🇱
🎵 Forest/Nightpsy
📣
soundcloud
👽 DJ MAD • Dj-set 🇳🇱
🎵 Old School
📣
[click here]
👽 DOGO • Dj-set 🇳🇱
🎵 Psygressive/Zenonesque
📣
soundcloud
▁⬙😈⬘▁BLAST STAGE▁⬘😈⬙▁
🤖 TOADSTOOL• Live 🇧🇷
🎵 Darkpsy/Psycore/Slambient
📣
soundcloud
🤖 AUDIOSYNTAX • Live 🇩🇪
🎵 Dark/Experimental/Psycore
📣
soundcloud
🤖 WALHALLA PROJECT • Live 🇩🇪
🎵 Hitech/Melodic
📣
soundcloud
🤖 NEURO TECHNICIANS • Live 🇩🇪
🎵 Darkpsy/Psycore/Experimental
📣
[click here]
🤖 IDIOBLAST • Dj-set 🇳🇱
🎵 Darkpsy/Hitech/Psycore
📣
soundcloud
🤖 RAKASA • Live 🇩🇪
🎵 Forest/Darkpsy
📣
soundcloud
Info
Ever since March 2020, we shared a vision of a new concept for the Amsterdam nightlife.
Bom Voyage, veteran organizers who started back in 1999, are now joining forces with Blast Events! 🎯
We are grateful to present to you our debut event:
💥 BOMBLASTIC 💥
Join us in club Radion, for this two stage, multi-genre Psytrance bonanza!
We wish you a BLAST of a VOYAGE 🛸🪐
🌀Deco:
Centipede Productions
Blast Deco 2.0
Rewired String Art
🌀Live painting: VETART
[maartenvetart.com]
🌀Shops by:
Merch by Bom Voyage
Merch by Blast Events
Rui Rocha Design
Yacxilan ArtWear
🌀Projection Mapping
🌀Various Flow Arts
🌀Artwork by: JanJan (Geo Metek)
Entry
Entry
►Fast Freak Ticket: €15 - SOLD OUT
►Early Freak Ticket: €17 - SOLD OUT
►Regular Freak Ticket: €22
►Door Freak Ticket: €25
(all prices include fee)