Backend
Bom Shanka Music Label Party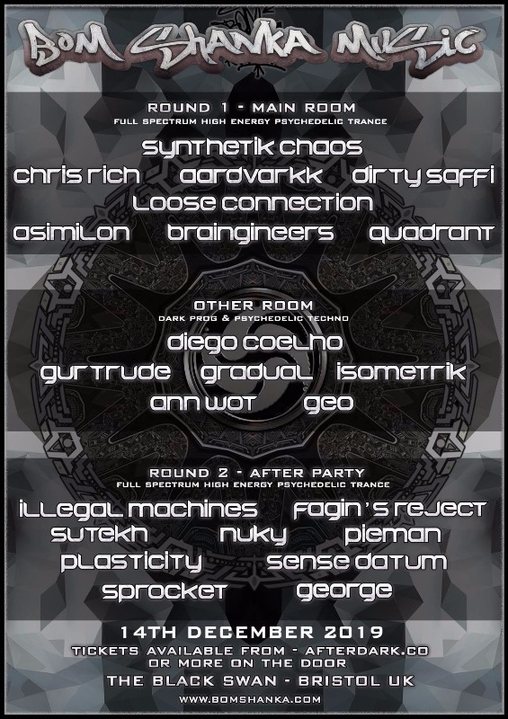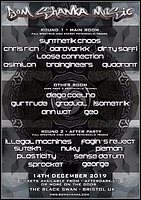 Line Up
~ MAIN ROOM SWAN ~

SYNTHETIK CHAOS
CHRIS RICH
AARDVARKK
DIRTY SAFFI
LOOSE CONNECTION
ASIMILON
BRAINGINEERS
QUADRANT

~ 2ND ROOM SWAN ~

DIEGO COELHO
GURTRUDE
GRADUAL
ISOMETRIK
ANN WOT
GEO

~ AFTERPARTY ~

ILLEGAL MACHINES
FAGIN'S REJECT
PLASTICITY
NUKY
SUTEKH
PIEMAN
SENSE DATUM
SPROCKET
G.E.O.R.G.E
Deco
InOrbit, Geomatrix, Triplicity, Pieman
Info
BOMSHANKA MUSIC Label night!! :)
Even Bigger, Better, Louder and Longer!
Again Bomshanka Music Presents you...
2 rooms of Full Spectrum Psychedelic Music...
With an additional...
*Official* BSM After Party to continue the Killer Tuna which will go on All...Day!
JOIN THE OFFICIAL AFTER PARTY EVENT:
[facebook.com]
Sound being brought to you by ...
Swingit Productions - Element 5 Rig
Check out the links to cream over the beauty
[facebook.com]
[facebook.com]
Decor and Lighting being brought to by ...
Geomatrix Design
[facebook.com]
Location
The Black Swan
438 Stapleton Road,
Eastville,
Bristol,
BS5 6NR.
United Kingdom
Entry
Tickets are ONLY £15 Pre-Sale
& £20 ON THE DOOR :)
Buy Your Tickets Here...
[afterdark.co]
OFFICIAL AFTER PARTY
The After-Party is ONLY £5 Entry...
and will continue throughout Sunday!
...As long as people are buying drinks from the bar! 😜
See you on the Dancefloor!