Blind Vision w/DAKSINAMURTI and more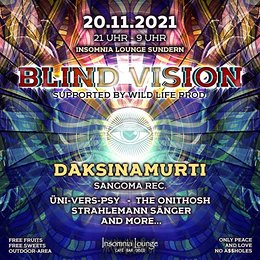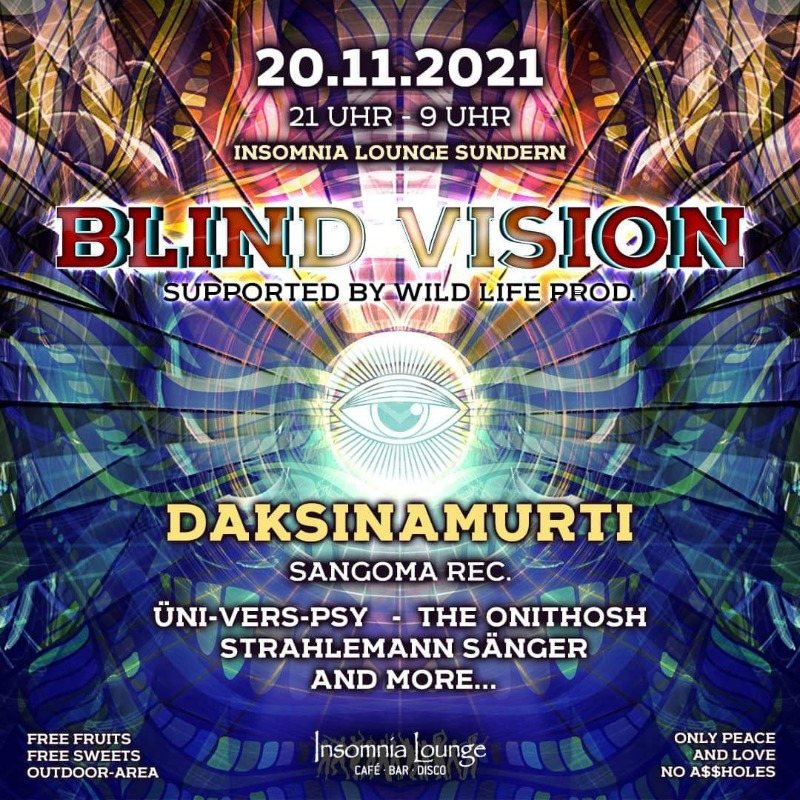 Info
Blind Vision goes harder, louder and faster.
Supported by Wildlife Prod. dürfen wir erstmalig Daksinamurti in der Insomnia Lounge Sundern begrüßen um somit die Blind Vision Partys auf ein neues Level zu bringen. Begleitet von weiteren Crazy Acts und DJs wird es eine Psychedelische Reise wie noch nie zuvor geben.
Mit hartem Sound und passender Deko von Ordnung im Chaos kommen alle PsyFreaks auf Ihre Kosten.
ZUR TEILNAHME IST EIN EINTRAG IN DIE GÄSTELISTE NOTWENDIG. Bitte hierfür eine PN an mich.
Deco by
Ordnung im Chaos
[facebook.com]
Sweets and Fruits for Free
Outdoor-Bereich
Garderobe
PsyFriendly Location
Wie allen bekannt sein sollte gelten die aktuellen 3G Regeln die besagen das man nur Geimpft, Genesen oder getestet durch eine offizielle Teststation Einlass erhält. Auch wenn es sich hierbei um eine private Geburtstagsparty handelt.
Wir möchten allen eine schöne Atmosphäre bieten in der wir uns wohl fühlen sollen. Dazu gehört gegenseitige Achtung, Respekt und vor allem Liebe. Wir möchten niemanden Platz und Raum schaffen für negative Energien oder bösartiges Handeln. ONLY PEACE AND LOVE NO A$$H0£€$
Please dont drink and drive save your and others life. And no to drugs 😉
Location
Sundern (Sauerland)
Röhre 1
Insomnia Lounge
Röhre 1
Sundern (Sauerland)