Blind Vision Silvester Party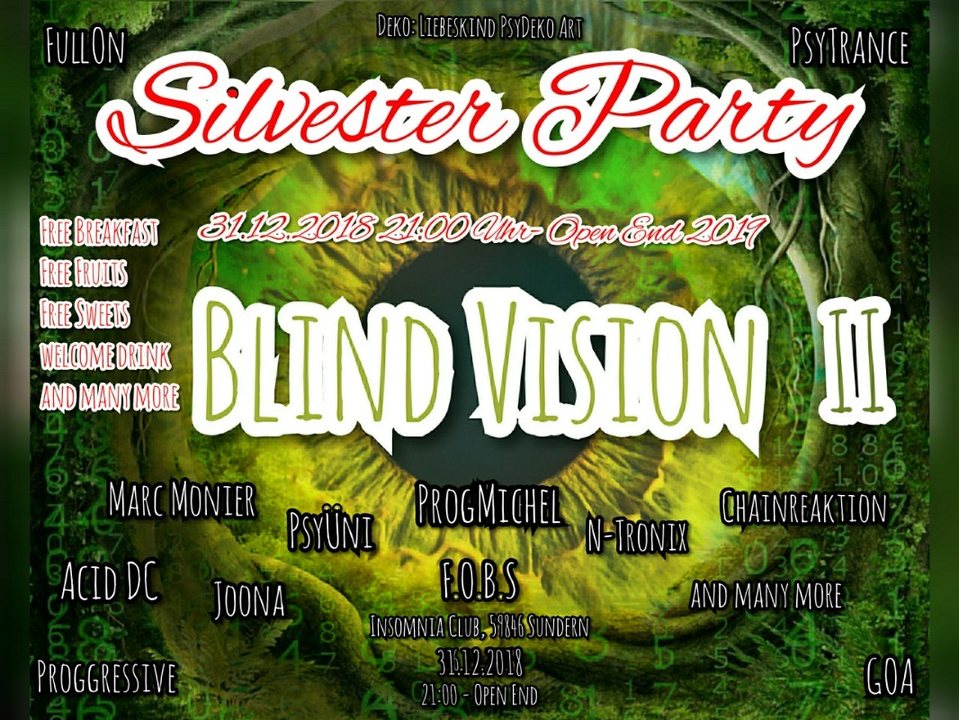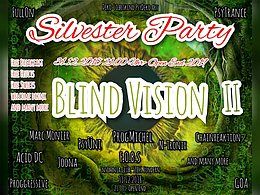 Line Up
Line Up
Marc Monier
Joona
ProgMichi
Chainreakton
F.O.B.S
AcidDC
PsyÜni
and many more
Deco
Deco
Liebeskind Psy Art und Deko
Info
🕉🕉🕉🕉🕉🕉🕉🕉🕉🕉🕉🕉🕉🕉🕉🕉
Blind Vision Silvester Party
Nach unserer ersten erfolgreichen Blind Vision Sause rufen wir alle GOAnauten zur Silvester Party auf.
Neben einem erweiterten Deko Konzept, sowie altbekannten und neuen DJ's wird es eine Menge weiterer Überraschungen geben.
Obst, Süßigkeiten, Champagner, auch ein gemeinsames Neujahrs-Frühstück sind einige der Überraschungen die euch erwarten. Das alles ist natürlich im Eintritt enthalten.
Es wird auch wieder einen Outdoor Bereich geben der ebenso liebevoll gestaltet wird wie alles andere auch. Feuertonne sowie ein Raucher Bereich runden die ganze Sache zu einer perfekten Veranstaltung ab.
LineUp Blind Vision Silvester Party:
Marc Monier
[facebook.com]
AcidDC
[facebook.com]
Joona
[facebook.com]
X-Noise
ProgMichel
[facebook.com]
F.O.B.S
Chainreakton
PsyÜni
and many more
Deko & Visuals by:
Liebeskind Deko and Psy Art
[facebook.com]
Timetable:
coming soon
TBA:
coming soon
Free Fruits
Free Sweets
Free Breakfast
Champagner
Welcome drinks
and many many more
Das Team Insomnia und der Veranstalter versprechen euch eine GOA freundliche Atmosphäre und hoffen auf zahlreiche Gäste.
🕉🕉🕉🕉🕉🕉🕉🕉🕉🕉🕉🕉🕉🕉🕉🕉
GOA kann nur P.L.U.R (Peace, Love, Unity and Respect)
[facebook.com]
Location
Location
Insomnia Club Sundern
Röhre 1
59846 Sundern