Backend
Blind Vision Freitagsknaller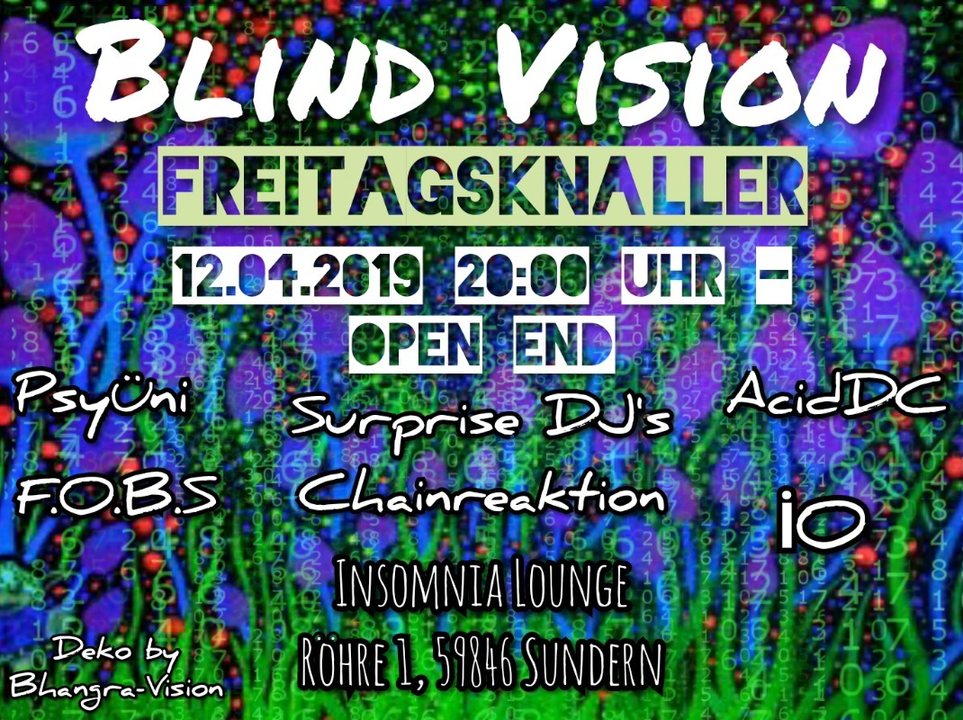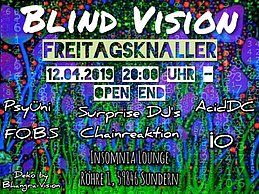 Line Up
Joona

FloMotion

Babooon

AcidDC

PsyÜni

F.O.B.S

IO

Chainreaktion
Info
Blind Vision geht in die vierte Runde mit einem Freitagsknaller!!!
Die Insomnia Lounge wird wieder einmal in eine außerirdisch anmutende Atmosphäre verwandelt und lädt alle GOAnauten aus allen Ecken dieses Universums ein die Nacht fröhlich durchzustampfen.
Um solch eine Atmosphäre zu schaffen haben wir das fröhliche Team von Bhangra Vision gefragt und erfreulicherweise haben die lieben zugesagt.
Da gibt's ne Menge für die Augen und für die Ohren.
Free Fruits
Free Sweets
Welcome Shot
Outdoor Bereich
Garderobe 1€
16 Stunden Party
UV Decoration
Geburtstagskinder haben freien Eintritt
and much more
Kein Platz für Rassismus, Gewalt, Homophobie oder sonstige Kackangelegenheiten.
GOA kann nur P.L.U.R
[facebook.com]
Veranstaltung ab 18 Jahre!!! (keine Muttizettel)
Please dont drink or use drugs and drive, save yours and others life🙏🏽
Mit Polizeikontrollen ist immer zu rechnen!
Location
Insomnia Lounge
Röhre 1
59846 Sundern

Zehn Minuten Fussweg vom Rathaus.
Anfahrt mit ÖPNV nur bis 20 Uhr möglich.
Abfahrt ab 5:30 mit ÖPNV

Bei Interesse zu einem Shuttle vom Bhf Hüsten zum Club folgende Nummer per WHATSAPP kontaktieren:
+49 174 93 85 043