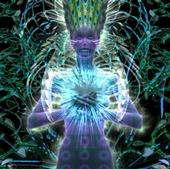 Line Up
ab 16 Uhr
Markus Anatol Weisse (Berlin):Erstellung von Aura-Portraits
Der Künstler Markus Anatol Weisse (Malerei, Cyborg Chromatics, Sculptronics, Bleiverglasung u.a.) erstellt mündliche Aura-Portraits, die er bei Bedarf in Texte u. Bilder übertragen kann. Seine besondere Begabung liegt in der Wahrnehmung u. im "Erspüren" der Aura eines Menschen u. ist vor allem bedingt durch seine außergewöhnlichen synästhetischen Fähigkeiten.
[markus-anatol-weisse.org]
Re'em
trancemusic with voice and harp
DJs
ab 22 Uhr

F.U.C.K. 3000
der kleine Muck
roland from outta space vs. erdling
Deco
Flash To Be (Outer Space) – Illusion Design
Felix Stöver (Hamburg) - Painting
Neil Gibson (Canada/Berlin) - Painting
Caos Conzept (Berlin) - Painting/Air Brush
Moses (beauty-spot/Berlin) - SprayPainting
Hannes Neumann (3D-Düsseldorf) - Digital Art
Sundew C. (Berlin) – Installation
Colory (Berlin) – Painting
Harald Ochsenfarth (FreestyleBerlin) – Air Brush/Painting
Maxi Hellweger (Munich) – Air Brush/ Painting
Uan VisUVision (Italy/Berlin) – Painting
Erdling (Berlin) - Foam Art
M. Anatol Weisse (Berlin) – Sculptronics, Painting
Rogg (AlmostAnywhere/Berlin) - Masks
Claudia Torsiello (Berlin) – Costume Design
Peggy Sue - (Hamburg) - Painting
Sacred Vision - (Argentina) - Sacred Geometry
Location
Location
Sinneswandeln

Storkower Str. 50
10407 Berlin Prenzlauer Berg
3min vom S-Bhf Greifswalder Str.