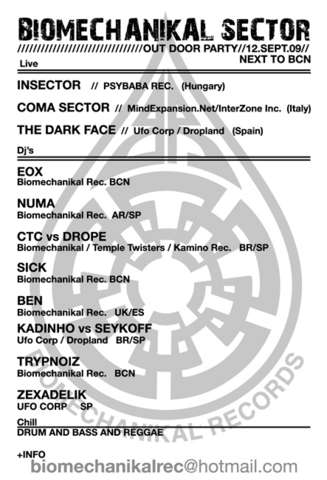 DRUM AND BASS AND REGGAE:
Djs:
Morales vs Edu 12-2,
Lez 2-3:30,
David 3.30-4.30,
Lotine 4.30-6.30,
Nandyx 6.30-8.30,
Death 8.30-10.30,
Mss Virgin 10.30-12.30,
Nickla 12.30-14.30,
Karlix 14.30-15.30
Lo Rob 15.30-17.0
Deco
Deco
LIVE PAINTING BY KRAM & KLINISBUT

Flyer desing by KRAM

by:
Biomechanikal Rec. SP
Liquid Motion - PT
Kyilkhor - BR
Location
!!!!!VERY IMPORTANT!!!!
we've opened a mailing list so we ask everybody who's sure to come to the party, to drop us an email with name(s)...
People not on the list maybe will not be able to enter the party because we have just 400 places at there... boom
!!!!MUY IMPORTANTE!!!
Por favor todos aquellos que quieran venir a la fiesta enviarnos un email con su nombre...las personas que no tienen nombre en la lista a lo mejor no recebiran la direccion por tratarse de una fiesta particular donde tenemos espacio para solo 400 personas ...
IF YOU WANT TO KNOW WHERE IS THE PARTY LOCATION SEND US AN EMAIL TO
biomechanikalrec@hotmail.com
AND WE SEND U THE ADRESS IN SEPTEMBER... THANK U ... WELCOME
PARA CONSEGUIR LA DIRECION DE LA FIESTA ENVIAR UN EMAIL A
biomechanikalrec@hotmail.com
y nosotros te enviaremos la direccion en septiembre, gracias y bien venidos...
Organizer
Organizer
BIOMECHENIKAL REC.
Added

9y 5m

· Update

9y 15d

· 8 Parties ·

/ 1