BIOMECHANIKAL CLOWN BIRTHDAY - GETTING OLD AGAIN...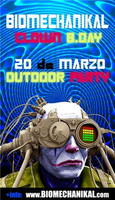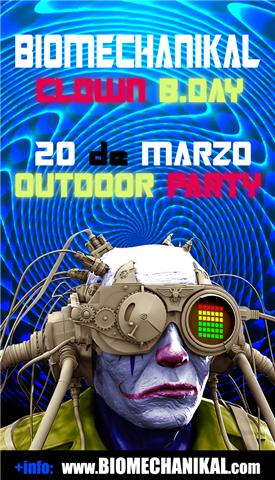 Live
Line Up
RATEL (PLEIADIAN RECORDS / URBAN ANTIDOTE REC.) PT
[myspace.com]
MALKAVIAM & YARA (HSS/ WILD SEVEN / MIND TWEAKERS REC ) VEZ
[myspace.com]
Deco
BIOMECHANIKAL REC.

Fluor live painting by Klinisbut

♥´¯) ¸.☆´¯) p♦e♦a♦c♦e
(¸☆´ (¸.♥´´¯`*○ ☆ ○*´¯`• レ o √ 乇 •.¸¸.♥
Location
SANTA PERPETUA DE MOGODA - FINCA DE LOS MORADOS
Entry fee
Entry fee
7€ if u send your name before 10 of march, after 10 of march u can pay 10€ in the door with out name on the list u pay 15€... Boom....
PLEASE SEND A EMAIL WITH YOUR NAME IF U WANT COME TO THIS PARTY AND WE SEND U ALL INFO ABOUT THE PRICE AND HOW U CAN ARRIVE THERE IT´S A PRIVAT BDAY PARTY, BUT OPENED FOR FRIENDS AND FRIENDS OF MY FRIENDS, SO GOOD AMBIENT ;o) ... THANKS

7€ se envias tu nombre antes del dia 10 de marzo, quien enviar despues del dia 10 de marzo pagara 10€ y quien no enviar el nombre puede pagar 15€ en la puerta... Boom...
GRACIAS ...
Organizer
Organizer
BIOMECHANIKAL REC.
Added

13y 3m

· Update

12y 10m

·

/ 1