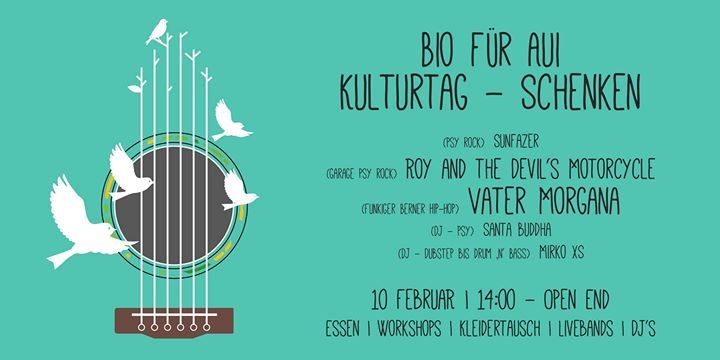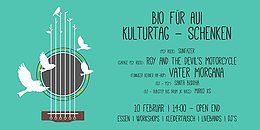 Line Up
♪♫...Das wird ein Fest!...♪♫

Nach einer kleinen Verschnauf- und Winterpause, laden wir euch nun zum ersten Kulturtag im 2018 ein.

Diesmal dreht sich alles rund um das Thema Schenken.
Wie sieht eine schenkende Gesellschaft aus? Wie kann ich mein Wissen sinnvoll weiter verschenken? Wie kann ich meine Zeit sinnvoll weiter verschenken. Finde es mit uns raus.


░░▒▓███► Tagesprogramm: (Ab 14:00) ◄███▓▒░░

Post a letter - Schenkt euren Liebsten Zeit und Aufmerksamkeit.

Wissensecke und Diskussionsrunde - Verschenkt eures Wissen, lernt neue Ideen kennen.

Kleiderschenkung - Bringt eure Kleider mit und schenkt ihnen woanders ein neues leben.

Bring ein Geschenk mit - Unverpackt und ohne Geld auszugeben. Jemand wird sich freuen!

Schenkladengründung - Erfahrungen, Tipps und Tricks - Wissen weitergeben und teilen.

Schenkökonomie - Gesprächsrunde über Erfahrungen einer schenkenden Gesellschaft.

Solidaritätsnetz Bern - Schenkt Zeit und Seid für einander da.

Saatguttauschbörse - Der Frühling naht. Schenken wir ihm ein farbenfrohes erwachen.


███► Nachtprogramm: (Ab 18:00 - zum ersten Zug) ◄███▓


► Sunfazer ✔
(psy rock)

► Roy and the Devil's Motorcycle ✔
(garage psy rock)

► Vater Morgana ✔
(Funkiger Berner Hip-Hop)

► Santa ✔
(DJ - psy)

► XS ✔
(DJ - Dubstep bis drum 'n' Bass)



Und natürlich gibt es wieder feines veganes Bio-Essen zum selbstgewählten Preis.

Wir freuen uns auf dich.
Location
Location
Berstrasse 29a, Ostermundigen