Backend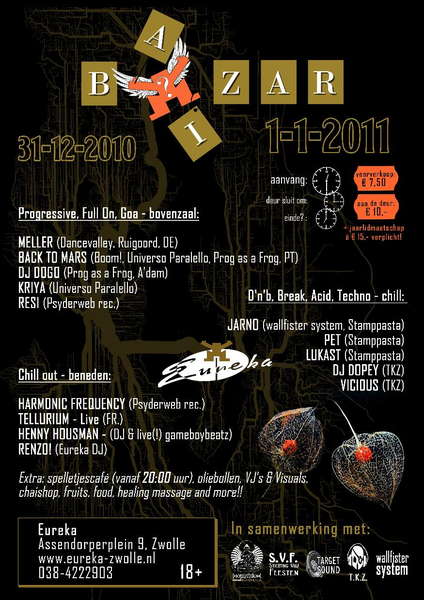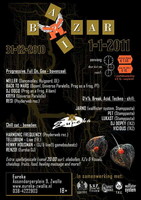 Live
Line Up
- SOLD OUT - SOLD OUT - SOLD OUT - SOLD OUT!!!!

Stage 1: Prog - Full On:

MELLER(Dance Valley, Ruigoord, DE)
Kriya (Universo Paralello NL)
BACK TO MARS (BOOM!, Universo, Mind Funk Recs. BR.)
DJ Dogo (Prog as a Frog, NL)
Resi (psyderweb rec.NL)
DJs
Stage 2: D'n'B, Break & Tekno:

Lukast (NL)
JARNO (wallfistersystem, NL)
P.E.T. (NL)

+ 2 more!
Chill
Stage 3: Ambient/chill out:

Harmonic Frequency (psyderweb rec./inspiration kolektiv, NL)
Tellurium Live! (inspiration kolektiv, FR)
Last action Hero, Live! (DS & Gameboybeatz!, NL)
Nenzo! (Eureka DJ, NL)
+ 1 more!
Deco
Deco
Inspiration Kolektiv
Eureka
S.V.F.
WallFister System
Info
Info
Oliebollen, chaishop, food/fruits, healing massage, VJ's, Art & Artist!
Reservations can be made by sending a mail with the following info's
- Name, adress, City to:
Resi-Beatz@hotmail.com
Tickets need to be picked up and paid before 23:00, 31 dec.!
Tickets can be picked up at the Club.
Location
Location
Eureka,
Assendorperplein 9
Zwolle, Netherlands
Entry
Entry
pre-sale: 22,50
door(if still there): 25,00
Price includes a membership for the club. Membership is required because it's a private club with own rules like smoking and so .
Organizer
Organizer
Eureka & Inspiration Kolektiv