Backend
BENELUX DE'LUXE - Fluo New Moon Party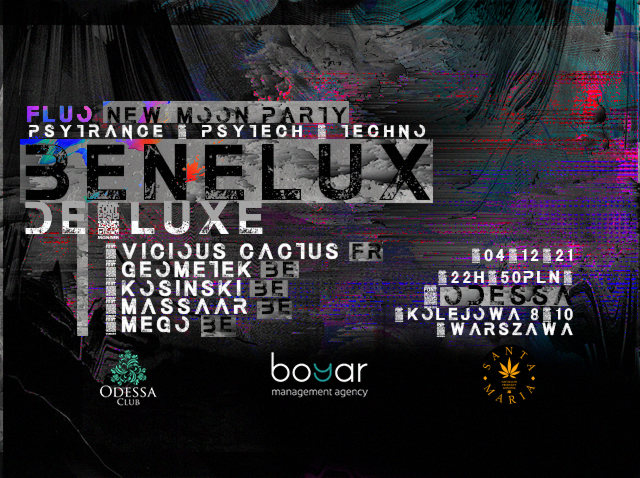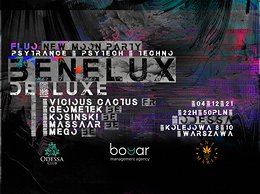 Line Up
VICIOUS CACTUS (FR):
[volkane.re]
He started Progressive Trance in 2012, shortly before the formation of Namek Sound Rav'olution, of which he is vice president. The Crew in collaboration with the Sound System focuses on psychedelic culture.
Vincent has created his own psychedelic and organic style. Having different influences in the world of music, he immerses you in his universe, mixing big groovy rhythms, mental and psychic sounds while maintaining the pre-techno accents.
GEOMETEK (BE):
soundcloud
Co-owner / Music producer and graphic designer of the POINTZERO REC company. Label manager and event organizer Boomshankar Prod.
He combines different styles from progressive trance to psytech, moves audiences with sound and character. This young talent certainly deserved its place.
KOSIŃSKI (PL / BE)
[beatport.com]
Michał «Kosiński» was born in Poland and emigrated to Belgium in 1989. After studying art at the Royal Academy of Fine Arts in Brussels, he decides to attend classes in sound engineering, where he learned all the technical aspects of the art. His music is melodic and emotional driven by strong sounds combining synthetic with organic, classic with ethnic, analog with digital. from ambitious to acid techno ... His first recorded live performance placed him in the finals of the Live Act Extrema Outdoor competition. Within a year, he became Deep House Belgium's most sought-after artist, playing at major festivals, events and clubs all over Belgium, Europe and Asia. He wrote the complete soundtrack for the independent drama film "The music island" debut in 2021 and brought Jean-Michel Jarre to the attention of his interpretation of Oxygene 2 that JMJ himself would be playing at his concerts from 2021 and will release on his upcoming album in 2021 year
MASSAAR (BE)
soundcloud
Born in Kortrijk, he bought his first turntables at the age of 20.
He quickly started playing at the Londenbeat Café and at events like Borderline, Rotection & Click System.
His concerts are always refreshing as he spends hours searching for new music and new sounds that will please your ears and your mind. He creates his own twist, combines minimal techno with minimalist clique beats, curl-based waves and deep, dark baselines.
Massaar has so far performed in some of the best clubs and festivals in Belgium; Fuse, Decadance, Café d'Anvers, Kompass Klub, Extrema Outdoor, Tomorrowland, ... and has also been invited several times abroad by "Der Hut" and "Moin Moin" at the Fundbureau Hamburg.
MEGO (BE)
[facebook.com]
Experienced DJ who spent many hours searching for sound among vinyl records. For over 15 years, she has been organizing events in Brussels under the name MegoTrip. His professional approach to electronic music has resulted in the effects of his events, which draw Techno, Acid Techno and Drum and Bass fans from across the region.
Info
Info
Sound Wave Tourism shows you the way on December 4th to the Benelux de'Luxe in Warsaw, to experience the sounds of a psytrance| psytech| acid techno | techno, produced by sound friends from Benelux and France. All in neon colors under the lights of a New Moon.
Location
Location
Warsaw
Kolejowa 8/10
Warsaw
Kolejowa 8/10
[goo.gl]
Organizer
Organizer
Sound Wave Tourism - Wroclaw / Poland