BASSPRODUCTION MAT MUSHROOM SPECIAL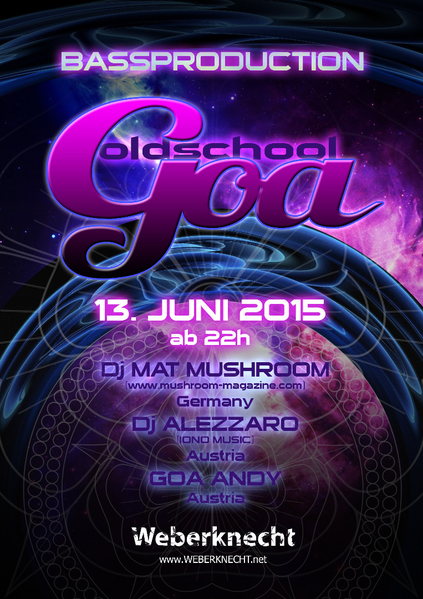 Line Up
Line Up
Dj MAT MUSHROOM (www.mushroom-magazine.com) Germany

Dj ALEZZARO (IONO MUSIC) Austria

Dj Goandi (next time production)
Info
MAT MUSHROOM
Wenn aus einem DJ ein Live Act wird
Das 1994 gegründete mushroom magazine ist während seiner mittlerweile 19 Jahren zum weltweit führenden Printmedium für die weltweite Psytrance Kultur geworden. Etwa alle zwei Monate werden bis zu 50.000 Hefte an den Hot Spots der Szene verteilt. Berichtet wird über Musik, Party, Kultur, DJ & Producer Technik, Mode, Visionäres und viel mehr...
Mat Mushroom, Gründer und treibende Kraft des mushroom magazines, startete seine DJ Karriere bereits zu Beginn der 90er Jahre noch in den früheren Technotagen. Er durchlebte die Vinylzeit, mixte dann mit CDs und begann vergleichweise schon sehr früh damit die revolutionären Möglichkeiten des Digital DJ zu nutzen.
Ein Mix von Mat ist seitdem keine Folge von verschiedenen Tracks mehr. Das Set ist aufgelöst in Einzelkomponenten und jedes Stück wird ein Remix seiner selbst.
Mat: "Es wurde mir einfach langweilig einfach nur die Stücke auszuwählen, einen Übergang zu mixen. Ich wollte mehr! Ich wollte wieder Spaß und Action. Ich wollte die Musik beeinflussen können. Ich wollte mit den Sounds spielen."
Mit der fortschreitenden Technik war das nun auch endlich möglich: Ob Beatjump, verschiedene Cue Points, das Einspielen von Samples oder viele tolle Effekte, die den Sound verformen, grooven lassen, zerhacken oder subtil auf andere Tracks legen lassen - Mat ist konstant am herumschrauben, remixen, am herumspringen im Track.
Das klingt ja schon eher nach einem Live Act. Aber es ist noch mehr. Denn viele Live Acts drücken für ihren Auftritt einfach die Playtaste Ihrer Sequenzersoftware und lassen den "Live Act" von vorne bis hinten kontrolliert durchlaufen. Mat Mushroom kann durch seine spezielle Art aufzulegen viel mehr kreativ in den Sound eingreifen. Mit diversen spezialisierten Controllern ist er in der Lage alles technisch machbare aus seinem Mix herauszuholen. Ein neuartiges Bedienelement hat sich Mat Mushroom sogar selbst gebaut: Mit einem Leuchtschwert beeinflusst er Sound und spielt Samples ein.
Trotz dieser mannigfaltigen technischen Möglichkeiten kommt der Fokus auf die richtige Trackauswahl nicht zu kurz. Er selbst bezeichnet seinen Sound: "From Prog-o-phoric Psytech to Psych-o-delic Prog Tec". Mat bewegt sich hier also in der Schnittmenge von Psytrance und Progressive Trance. Jeweils mit Ausflügen in entweder weitere Regionen des Psytrance oder technoiden Abhandlungen des Progressive Trance - je nach Laune des Publikums, denn die Party steigt auf dem Dancefloor !
[mushroom-magazine.com]
mixcloud
[facebook.com]
********************************************************
********************************************************
********************************************************
Dj Alezzaro
Style: Progressive Trance, Progressive Psytrance, Progressive House
Country: Austria
born: Mai 1976
The birth of Techno & Trance in the early 90's was the beginning. Ever since, Alezzaro loved trance music and he still does. He started his career as DJ in 1998, playing the UK-influenced Trance & Progressive House like Paul Oakenfold, Sasha, John Digweed etc. in various Austrian Clubs.
In 2003, he found his real passion: Progressive Psytrance.
Influenced by the sound of Klopfgeister, he began to organize indoor parties called "Progressive Selection" in Vienna in 2008. Alezzaro is still resident DJ and mastermind of this internationally known club-event and played with famous acts like Ace Ventura, Ritmo, Protonica, Liquid Soul, Symphonix, Fabio & Moon, Neelix, Time in Motion, U-Recken, Suntree, Krama, Bim, Klopfgeister, and many more.
His music style can be described as spherical, emotional, melodical, psychedelic, sunny, sexy, powerful, and pumpin' – no dark, no minimal! Alezzaro loves to play long sets, and he always knows how to select the right track at the right time to get a real good party going for a happy, enthusiastic crowd. A satisfied audience is his greatest goal when he is mixing music behind the decks. He is famous for his splendid mixing and the talent of nonverbal communication with dancing crowds.
Alezzaro played gigs in austrian and german clubs, as well as on various open air festivals all over Europe.
Since October 2010 he is the first Austrian label DJ of IONO MUSIC.
References:
Parties:
ParadiseWinterfestival 2012 2011 & 2010, ELECTRONIC SPRING OPENING, Base Winterfestival, Progressive Selection Swiss Edition, Iono Label Party/Paris, Progressive Olymp/Copenhagen, The Convention Germany, Spiritbase Beachparty, 1 Mai Free Party, Sunday Chai Zelt, Progressive Selection, Cosmic Space Disco, Digital, Electric Venus, Cosmic wird 4+5, Cosmic Poolparty, Silvershiva, Connected, Cosmic goes Linz, Kinderprogramm, Progressive Club, Mondton, Fisch & Dolphins, Bass Island, Children oft he future, Togheter Trance Projekt, Locomotive Breath, Firestarter,
Clubs:
Kota Club/Copenhagen, Pratersauna, Ug Bühlach/Zürich, Dreiklang/Essen, Ottakringer Brauerei, Membran, Flex, Planetarium, Volksgarten, Como Vienna, The Loft, Club Auslage, Aux Gazelles, Vienna City Beach Club, Tresor, Trabrennbahn Krieau, Cembrankeller, FlucWanne, Utopia, Club Fly, Sakog, Strombauamt, Dock 5, , Pier 9, Wildwechsel, Schloss Leiben,
Festivals:
Universo Paralello 11, Vuuv, Spirit Base 2011, Paradise 2010 & 2011, F.L.O.W., Samsara in Austria and the Life Celebration in Pula/Croatia, Cosmic Familiy Open Air, Mystical Ritual 2011,Spirit Base Benefitz,
Link:
[facebook.com]
[iono-music.com]
[progressive-selection.at]
soundcloud
[play.fm]
Entry fee
Entry fee
8€ vor 23:00 danach den ganzen Abend 10€