Bassmania Festival ( Trancefloor)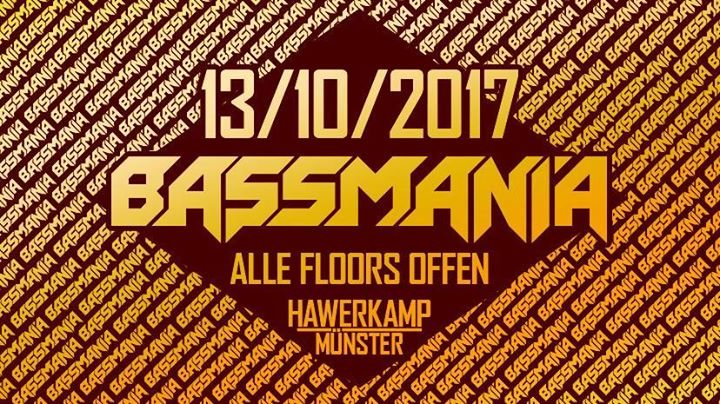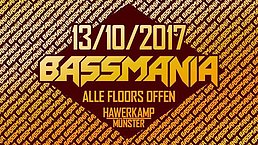 Line Up
Trancefloor:
Live :
Ellinio ( Y.S.E / Greece )
DJ
DJ Bim ( YSE )
Falex ( Nibirii )
Grimlock
Bassmania gehört offiziell zu den vielseitigsten & beliebtesten Partys der Welt und ist hierzulande bekannt durch Funk, Fernsehen, Presse !
Laut 1Live gehört Bassmania mittlerweile zu Münster´s unersetzbare Kultur!
Die besten Djs & Künstler der Szene und weit darüber hinaus sind stets anwesend(grossteils Exklusiv)!
Diesmal haben wir uns wieder vergrössert indem wir mehr Partys für einen Preis bieten:
___________________________________________________
NEUES UPDATE:
In Zukunft, werden die Bassmaniabändchen für weitere Veranstaltungen freien Eintritt bedeuten!
Zum Beispiel:
-2ter September im ehemaligen Amp bei Bassmania Pre-Party(Neuer Club & freier Eintritt & VVK)
-14ter Oktober zur Bassmania Afterparty(10 - 17 Uhr, Eintritt frei mit Bändchen) im ehemaligen Amp(1st Floor DnB, Reggae, Dancehall, 2nd Floor: Techno, House , Techhouse)
-14ter Oktober zur 5 Stunden Goa Afterhour(Proggi, Hitech, Psytrance, Full On) im Club Favela von 10 - 15 Uhr
Somit bekommt man für 15€ nicht nur 15 Floors, sondern obendrein noch 4 statt 1 Party :)
___________________________________________________
Triptychon: Drum&Bass feat. the singer of this song(Spyda + The Basslayerz):
youtube
Favela: House
Conny Kramer: Elektroswing
Sputnikcafe: Progressive Trance + Pizzabar
Sputnikhalle: Psytrance, Full On Afterhour + die Garderobe die am längsten offen hat
KCM: Darkpsy, Hitech, Forest
Fusion Main: Techno, Funktion One, Strobo,
Fusion Keller: Gabba & Uptempo
Fusion Box: Hardtechno
Fusion chill out: Dubstep & Trap
Sputnik Outdoor: Reggae & Dancehall by Chalwa, Bassmania Merch(Diverse Shirts, Kaffeetassen, Caps, gratis Feuerzeuge und Turnbeutel), Drogenberatung, Fotobox, Chai, Chill,
An allen Clubs ausser der Sputnikhalle: Gratis Jägermeister für ALLE(jeder bekommt eins) von Jägermeister persönlich!
___________________________________________________
Location
Location
Sputnikhalle
Am Hawerkamp 31
48155 Münster