BASS ISLAND HYPNOSIS -Shane Gobi, Mental Broadcast..6 Floors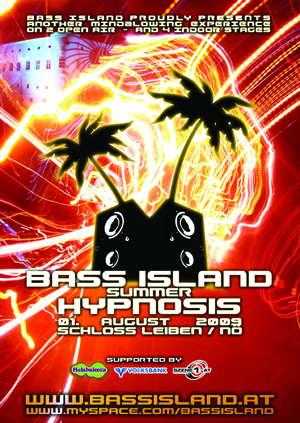 Line Up
Timetable!!!
Psytrance Stage:
21:00 – 22:00 Hudrix
22:00 – 00:00 Phonism
00:00 – 02:00 Mental Broadcast live&dj
02:00 – 04:00 Shane Gobi
04:00 – 06:00 Da Ray b2b Djane Mandulis
06:00 – 08:00 Trick Cyclists b2b Sun Experience
Psytrance Stage
hosted by PARADISE FESTIVAL & UNITED FRAGGLES
MENTAL BROADCAST (24/7 Records) BR live &dj
SHANE GOBI (Alchemy Records) UK
MANDULIS (United Fraggles) AUT
DA RAY (United Fraggles) AUT
TRICK CYCLISTS (Lucid Crew) AUT
PHONISM (Bass Island) AUT
G_MA (Bass Island) AUT
SUN EXPERIENCE (Zero Gravity) AUT
Tekno Area:
hosted by Keventsoundforce
BAROUF (Les Enfants Sages) FRANCE xxx live&dj set xxx
WAKO (Wanderkolonie) AUT xxx live set xxx
check:
[wanderkolonie.org]
C'mens (Damage) AUT xxx live xxx
El Froogo (Tilt -Tesla) AUT xxx dj set xxx
TWEAKAZOID (Keventsoundforce) AUT xxx live&dj set xxx
CRAZYTEK (Keventsoundforce) AUT xxx live&dj set xxx
Gendefekt (Keventsoundforce) AUT xxx live xxx
Joe (Freakcircus) AUT xxx dj set xxx
Drum'n Bass Area:
DOM & ROLAND (Moving Shadow, Renegade Hardware, 31 Recordings) UK
check:
[domandroland.com]
TOTAL SCIENCE (Metalheadz, C.I.A., Hospital) UK
check:
[myspace.com]
SILENT WITNESS (DNAudio, Metalheadz, Quarantine, Commercial Suicide) UK
check:
[myspace.com]
ALLEY CAT (Skunkrock) UK
check:
[djalleycat.com]
SHROOMBAB (Junglistic Sistaz, High Tension) AUT check:
[myspace.com]
M-JANE (Junglistic Sistaz/Zanglasound) AUT
ISEE (Trickdisc Records, Bass Island) AUT
NICE ADVICE (Bass Island, Electricks) AUT
Electronics Area (House/Minimal/Techno):
hosted by STP Productions
GIANLUCA (STP Productions) AUT
check:
[stp-productions.com]
STARKSTROM (STP Productions) AUT
check:
[stp-productions.com]
IN:TUNE (Bass Island) AUT
check:
[myspace.com]
STONE (Heroes from Hell booking) AUT
check:
[dj-stone.at]
Chill
Chill & Chai by Luminox & Bass Island
Deco
Deco
Bass Island Family
Luminox Crew
Vj Zoid (www.myspace.com/vjzoid)
V -Motion
Breakview
Info
xxx SHANE GOBI xxx
Shane Gobi is Alchemy Records founder and Label Manager. Originally from South Africa, but now based in London, Shane has been an active DJ since 1997. He was signed as a label DJ to Sphere Records in 2000, and went on to start Alchemy Records a year later.
Shane has become one of the leading DJs in the psy-trance scene and has earned himself a solid reputation with a loyal following for his unique morning sets and his technical, energetic DJ style. He has played outdoor parties and club events in the UK, Israel, South Africa, Portugal, Austria, Brazil, Mexico, Switzerland, France, Spain, Belgium, Macadonia, Prague, Holland and Japan, to name just a few.
At the end of 2003, Shane was voted by the worldwide trance dancefloors on Isratrance forum as DJ of the year 2003. DJ and Producer, Shane has collaborated with label friends Dark Soho on the Groundzero project and is also one half of Whiplash with Rinkadink. Under the 2 projects Shane has released 6 tracks under various labels, Alchemy Records, Ambivelant Records and Nano Records.
xxx Mental Broadcast aka Dj Roma
Roma start his psychedelic life on London at the "acid techno" squat parties on hackney in 2001 , soon in 2003 he met "the acid monkey and wild things crews" and start to play was just natural to him. On 2004 Dj Roma comeback to Brazil where he see a new scene growing in porto alegre city, where Psy-trance music was just beginning in south Brazil, he start to throw proper parties as EARTHDANCE 2005/2006/2007/2008 and a weekly project indoor all Wednesdays called "Quarta Dimensao". Very quickly he became none by his powerful sets and proper mixes and in 2006 he was invited by DJ Shane Goby to join the legendary ALCHEMY RECS, also he has play at the major parties on Brazil like XXXPERIENCE for a crowd of 10,000 people, rocking the event and on the UNIVERSO PARALELO 7/8, PLANETA ATLANTIDA festival, alongside the major names of international psy-trance. He now are also playing his live act called MENTAL BROADCAST and have being rocking the dance floors around the globe with his serious music produced in collaboration with various artists like , Headroom, Tron, M-theory, Sinewave, Etic, Hammelin and many more artists like Xpiral and Kronik. Mental broadcast has release last year a V/A called TRANSMISSION by 24/seven media from austria, noze it right now at
[beatport.com]
,
[twenty4seven.cc]
. If you are looking for a pschedelic groove act, your search its finished!!
Location
Location
Schloss Leiben XXL / NÖ
Hauptstraße 34, 3652 Leiben
Entry
Entry
VVK 12,- EUR
AK 14,-/16,- EUR

VVK Tickets gibts bereits in allen Volksbanken und via Ö-Ticket (zzgl VVK -Geb.)!
UND im SEVEN SHOP (St.Pölten)
UND im HULABALOOZA SHOP (Wieselburg)
Organizer
Organizer
Bass Island Family
Added

12y 9m

· Update

11y 10m

· 35 Parties ·

/ 320