Backend
BAMBOOM - Episode Two // Free Rave @ Mekong Bamboo Hut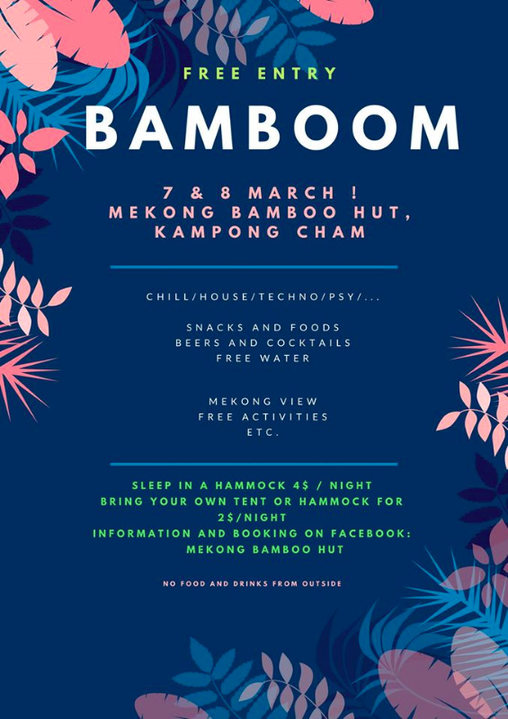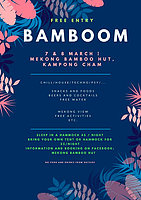 Line Up
BAMBOOM
MEKONG BAMBOO HUT
GATHERING EPISODE TWO

3 days | 2 nights




Dear friends we gather again at our beloved Bamboo Hut to celebrate the second "BAMBOOM" Gathering with the Mekong directly at the floor. Our Vision is to unite in love, to learn and to dance in joy all day and all night long.

DJ's

• MR:ARUNA
• ANANKÉ
• FUCHTEL & TUNKE
• SMUTJES
• PLEXIGO

• more t.b.a.

Day-Time

chill-out | psychill | psybient | tribal | downtempo | acoustic | jazz |
funk | trip hop | special trap | electronica | psy dub | circus-tech |
electro swing | dub | experimental | oriental | spanish | world |

Night-Time

ethno house | desert-tech | progressive house | deep house |
bass house | phlegmatic house | drumstep |minimal | techno |
zenonesque | dark progressive | psygressive | psy techno |
psytrance | oldschool goa trance | night psy | twilight |forest |
Deco
• Mekong Bamboo Hut
• Unterholz Decoration
Info
BAMBOOM
MEKONG BAMBOO HUT
GATHERING EPISODE TWO

3 days | 2 nights

• Info:

Dear friends we gather again at our beloved Bamboo Hut to celebrate the second "BAMBOOM" Gathering with the Mekong directly at the floor. Our Vision is to unite in love, to learn and to dance in joy all day and all night long.

• Music:

The music during the day will be relaxing and chills the vibes between dubby and tribal sounding downbeat groove to trip hop, oriental and electronic swingin' beats.

In the night the energy rises on with smooth deep and bass house beats, minimalistic techno and earthly grounded psychedelic zenonesque bass tunes until it goes straight up to some oldschool goa trance frequencies, night psy and finally twilight forest in the moonshine illuminated twilight hours during the full moon.

• Entry & Support:

Our Gathering will be for free to all guests, all our DJ's will play for free, our volunteers work for free, so if you want to support our Bamboo Mekong Hut Project you can buy the special foods crafted by our kitchen chefs, or order some special local made rum and other goods from cambodia.

In the evening there will be some kind of Family Diner with some fresh cooked meals ranging from 3-4$.
We offer you a "Water Flatrate" for 1$ and you can refill your water bottle at our kitchen.

• Accommondation:

Our Gathering will be held on three days and two nights so, if you want to stay for the nights we will offer you a place on one of our Bamboo Dorms in the hammock incl. Mosquito-net.

1x Stay over night | 1x Person | 1x Bamboo Hammock = 4$
1x Stay over night | 1x Person | 1x Own Hammock = 2$
1x Stay over night | Xx Person | 1x Tent Space = 4$

• Parking:

You can park your motorbikes for free at our place.
Please dont park your cars on the small path to our space.

Thank you!
Entry
Entry
Free Entry - Donations are welcome!
Organizer
Organizer
• Mekong Bamboo Hut
• Unterholz