Backend
AYA - Day of the Dead - Micro Festival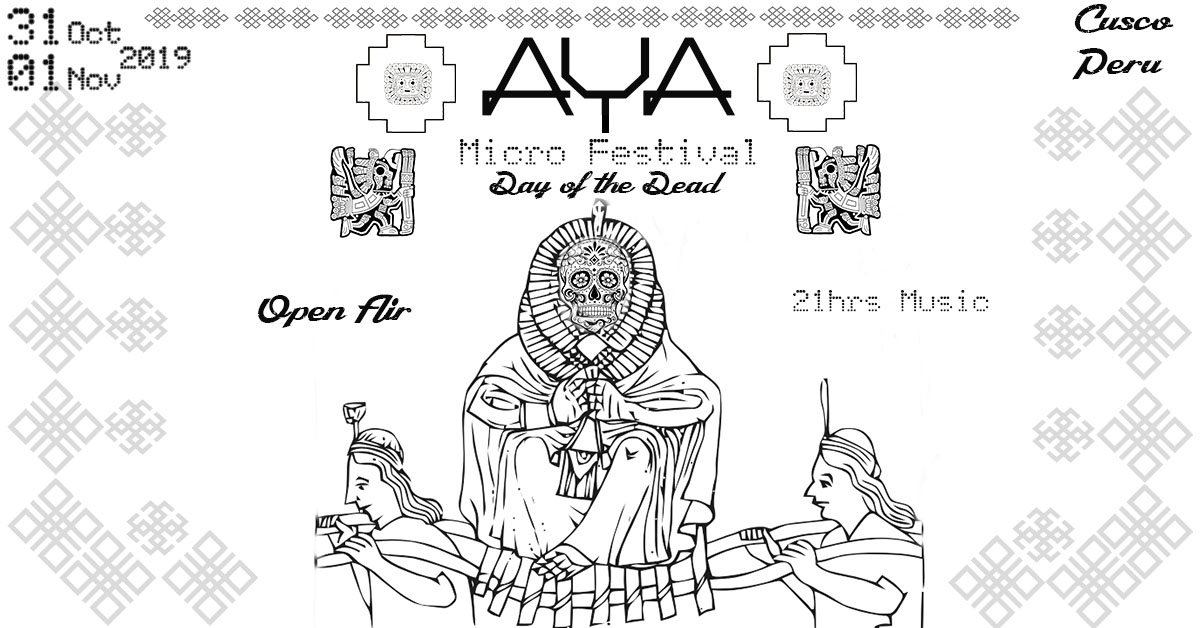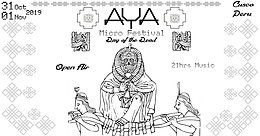 Line Up
Artist & Djs
+NUYARAO - DarkProg - Uroboros Records
After of playing in the best festivals of Europe like MODEM Festival NUYARAO will be dropping the booms!
+Washuma - Psytrance -inkadelica Records
soundcloud
+Exodo - Psytrance - inkadelica Records
soundcloud
+Asiry (Isratrance)
+ TupaQ - Techno - My Little Dog Records
soundcloud
+Musuk - Techno - Willkamayu Rec.
+Ron - Ámsterdam - Holland
+RAQ - Tribal - EUR
soundcloud
+Boomdia - Psytrance - Bolivia
+Chemikal - Psytrance - Lima
+Puka Warmi - DarkTechno - Cuz
+DAF - Minimal - Cuz
Guest Dj
more djs on the way
Deco
cosmic uv deco visuals laser
Info
AYA - is a word in Quechua that means Death = Transformation = Spirit = Reincarnate = Life = Reborn , for hundreds of years, from 31 october to November 2 is celebrated the day of the dead, having a religious syncretism.
We are going to celebrate the day of the dead, because the skull does not cry.
Location/Maps on the web: inkadelica.com
Micro Festival with a duration of 21 hours of music.
International, National and Local Artists and Djs
Music Andean Beats, ChillOut, Techno, PsyTrance, Forest, DarkPsy ...
Save the date October 31 - 01 November ,2019.
Active dance meditation Area / Area de danza activa
Food&Drink Area / Area de Bebidas y comidas
Free Camping Area / Area de Camping Libre
Bonfire / Fogata
Psychedelic Deco uv / Decoracion Psicodelica uv
Visuals Lasers / Visuales Lasers
Professional Crystal Clear Turbosound System 11kw /
Sistema de Sonido profesional Turbosound 11kw
Private Reserved Location / Lugar privado y reservado
Reserved Admission / admisión Reservada
Security / Seguridad
Fb event:
[facebook.com]
----NOT ALLOWED - NO ES PERMITIDO---
ilegal substances / sustancias ilegales
Alcoholic Drinks / Bebidas alcoholicas
Weaponds/ Armas
Bad vibes / Malas vibras
Location
------------------------------------------------
English
LOCATION: Pichoc Club, between Pucyura and iZCUCHACA
20km from Cusco city 30min by bus, take the buses of IZCUCHACA until 7pm in the Plaza Santiago , price 2,50 soles (0.80 cents of dollar) the collectives are one block from the Plaza Santiago price 3.5 soles (1dollar)
Map: from Main Square to Pichoc Club
[goo.gl]
Español:
LUGAR : Pichoc Club (Huachancay), entre Pucyura y Izcuchaca (Anta)
20 kilometros de la ciudad del cusco 30 min en bus , tomar los buses de la plaza de santiago hasta las 7pm, precio 2,50 soles , los colectivos a izcuchaca tomar a una cuadra de la plaza santiago (mirar mapa) precio 3.50 soles , si vas directo a izcuchaca, en izcuchaca tomar un mototaxi hasta Huachancay precio por persona 0.50 centimos.
Mapa: desde la plaza Cusco a Pichoc Club
[goo.gl]
Entry
Pre- sale tickets
all month of september 25 soles
all month of october 35 soles
at the door 50 soles

buy:

-Procu's market - street procuradores #330 - Cusco a few steps from the main square.

-Mullu - Plaza - Pisac

-Quilla Tattoo - chihuampata 543 san Blas Cusco.

Open Door 15:00hrs