Backend
Axis Mundi - L300 Decoration & Arts Circle x Wachsalon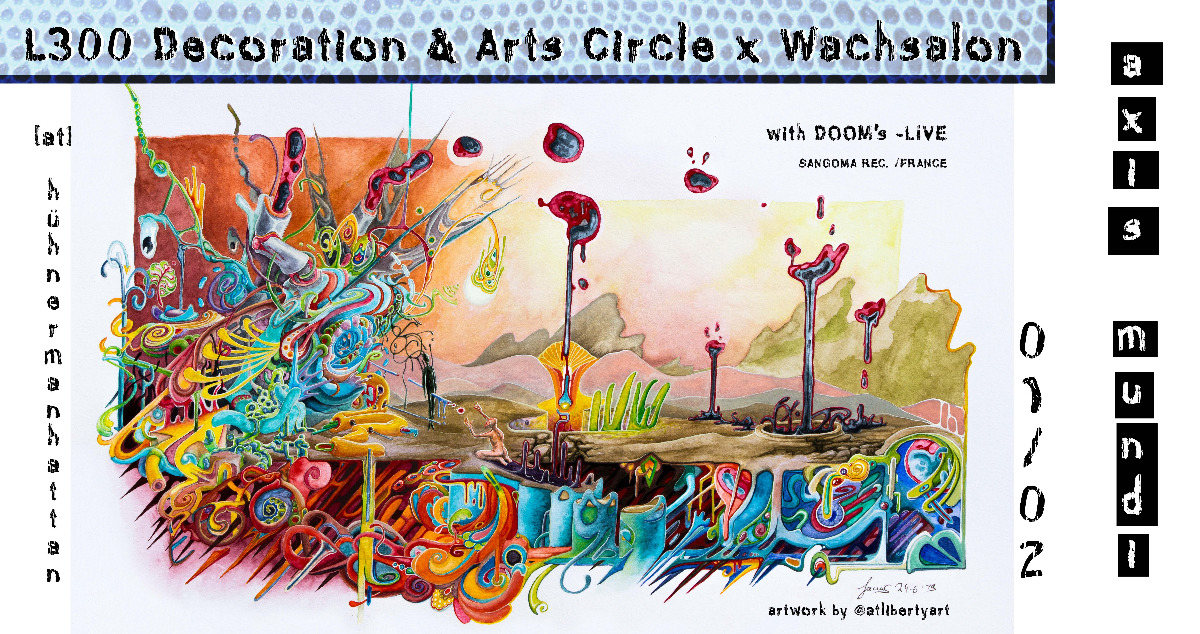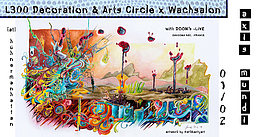 Line Up
L300 Decoration & Arts Circle join their forces with Wachsalon to celebrate "Axis Mundi"
<><><><><><><><><><><><><><><><><><><>
Wir haben keine Wechselklamotten mehr. Auch unsere Spacesuits stinken mal so richtig übel. Zum Glück gibt es den Planetoiden Axis Mundi. Er ist die Waschmaschine von mehr als zwei Drittel des sichtbaren Universums. Wirklich jeder bringt hier seine verdreckten Sponkers her.
Die Glöbglöbs, die Bewohner von Axis Mundi, sind aufgrund eines multidimensionalen Skandals, von dem hier nicht die Rede sein soll, von dem intergalaktischen Zentralkomitee zu der Reinigung aller Dreckwäsche verdonnert worden. Sie kommen als Wäscher ins Leben und gehen auch wieder als solche.
Als wir - die Gründer- wie sie ehrfürchtig genannt werden - jedoch dort ankommen, ist die Sonne weg!
Chaos und Verzweiflung wüten auf dem Planetoiden. Die Wäsche kann nicht trocknen!!!
Doch die Sterne stehen günstig. Das Schicksal und wir stehen mal wieder auf einer Seite:
Zum Glück haben wir unser Super Mega Giga Ultra Spezial DJ-Equipment dabei, mit dem wir ganz einfach Schallwellen in Gravitationswellen verwandeln können. Fragt euch nicht wie es funktioniert.
Es hat mit Quantenmechanik zu tun!
Tune In!
Turn On!
Mit dem ersten fetten Drop katapultieren wir die Sonne zurück auf ihren alten Platz als Wäschetrockner!
ॐ ☼ ♪♪♪
<><><><><><><><><><><><><><><><><><>
_______________________________________
LineUp Floor ॐ Goa - Psytrance - L300 Decoration & Arts Circle
_______________________________________
◈ Doom's - Music -LIVE- ◈
▶ Sangoma Records / Toulouse, France
♫
soundcloud
◈ Yondo and Lorca ◈
▶ L300 Decoration & Arts Circle
♫
soundcloud
◈ Nutaq◈
▶ L300 Decoration & Arts Circle
♫
soundcloud
◈ Monchi ◈
▶ L300 Decoration & Arts Circle
♫
soundcloud
◈ Dirk D Dänzing / Dimensions ◈
▶ L300 Decoration & Arts Circle
♫
soundcloud
_______________________________________
LineUp Techno Floor ☼ - Wachsalon
_______________________________________
◈ Judith ◈
▶ Wachsalon
♫
soundcloud
◈ Karl Russel X Jonathan Bergen Collaboration -LIVE- ◈
▶ Wachsalon
◈ Richard Pegel b2b WSX ◈
▶ Wachsalon
♫
soundcloud
♫
soundcloud
◈ Wwwolke ◈
▶ Wachsalon
♫
soundcloud
◈ Kama ◈
▶ Wachsalon
♫
soundcloud
______________________________________
Artwork by @ AtLibertyart
Deco by L300 Decoration & Arts Circle & Wachsalon
Mapping by L300 Decoration & Arts Circle
<><><><><><><><><><><><><><><><><>
<><><><><><><><><><><><><><><><><>
Facebook:
[facebook.com]
▲No sexism, No racism, No fascism, No homophobia ▲
▲▲▲P18▲▲▲
Location
Hühnermanhattan Klub
Hordorfer Str. 4
06112 Halle (Saale)
Organizer
Organizer
L300 Decoration & Arts Circle x Wachsalon