°AVALOKA° ETHNO-TRIBAL-TRANCE spring time awakening gathering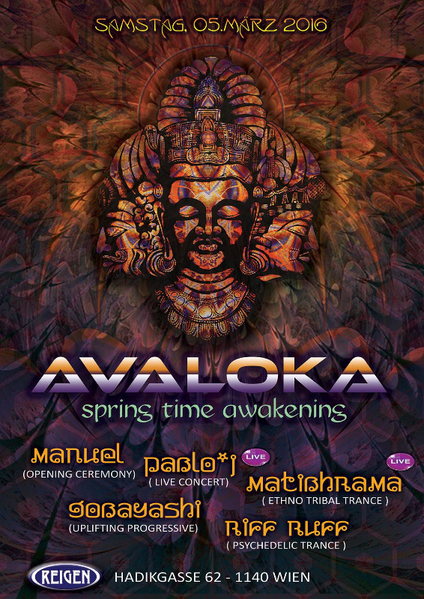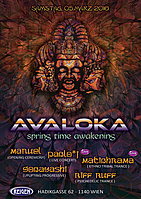 Line Up
Line Up
★ PABLO*J live (opening concert - AUSTRIA)
★ MATIBHRAMA live (ethno/tribal – FRANCE)
★ RIFF RAFF (psytrance – AUSTRIA)
★ GOBAYASHI (uplifting progressive – AUSTRIA)
Info
AVALOKA SPRING TIME OPENING 2016
mit ★ PABLO*J live (opening concert - AT) ★ MATIBHRAMA live (ethno/tribal – FR) ★ RIFF RAFF (psytrance – AT) ★ GOBAYASHI (uplifting progressive – AT)
AVALOKA eröffnet das Frühjahr und einen fullminanten Start 2016 !
Nachdem unser Earthdance ein bombastischer Erfolg war, dürfen wir noch einmal in die außergewöhnliche Location des Wiener Reigen einladen. Freut euch auf ein magisches Spektakel und ein Programm das Herzen berührt und alle Sinne erfüllt – der Frühling erwacht und mit ihm die Wesen - die zum Tanz unseres Lebens laden
PROGRAMM:
21.00 ★ EINLASS
21.30 ★ OPENING CEREMONY - by MANUEL -
[siddha.at]
Manuel – zurück aus seinem winterlichen Ausflug von SriLanka - wird das große Ritual eröffnen und uns einmal mehr mit einer speziellen Meditation aus seiner Schatzkammer einweihen. Es ist immer wieder ein Segen gemeinsam mit ihm unseren Geist für das Mysterium öffnen
22.00 ★ PABLO*J (AT) – live in concert -
[pablojmusic.com]
R)evolutionäre Musik zweier großartiger Protagonisten – Yin trifft Yang und daraus resultiert Magie auf der Bühne. Es freut uns, dieses außergewöhnliche Duo als Opening präsentieren zu dürfen. Achtung ! Energiegeladene Liveperformance, High Voltage-Akkustik !
23:00 ★ MATIBHRAMA (FR) – live ethno tribal electronic trance
soundcloud
We go international ! Aus diesem lang ersehnten Wunsch haben wir zwei Ausnahmekünstler aus Frankreich eingeladen die dem Genre Ethno- & Tribal-Trance auf elektronischem Weg alle Ehre erweisen. Aus einer Kombination von Didgeridoo, Roubab, Gitarre, Flöten und anderen Instrumenten erfahren wir eine grenzüberschreitende Reise und eine Atmosphäre, wo Menschen, Music und Musik ein Rhythmus sind
00.30 ★ RIFF RUFF ( 24/7 records -AT ) psytrance
soundcloud
Dieses Mal konnte er uns nicht entkommen – der aus Salzburg stammende Dj und Motor des mittlerweile legendären PsyTrance-Labels 24/7-Records. Rapahel spielt mittlerweile auf den großen international Bühnen und kredenzt uns speziell fürs Avaloka ein Set auf allerhöchstem Qualitätsniveau – Boom Shiva !
03.00 ★ GOBAYASHI (avaloka - AT) uplifiting progressive
soundcloud
Last but never least – Herr Ba.Yashi - Audio-Kosmonaut und nicht zu vermissender Co-Produzent der Kreativschmiede leitet zum Sinkflug aus ekstatischen Höhen über und führt das (T)raumschiff zur sanften und friedvollen Landung.
Wir kommen an – atmen aus und fühlen einmal mehr die Weite unseres Seins
SPECIALS:
DEKO - by MAE & MOA -
[facebook.com]
ART GALLERY - by VISIONARY ART ACADEMY -
[academyofvisionaryart.com]
MYSTIC VISUALS - by Papa.Yashi -
[facebook.com]
VIDEO INSTALLATION - by VJ Toma Susi -
[facebook.com]
DELICIOUS CHAI CORNER - by Stefanie
FRIENDLY SECURITY - by Rolando
[event-safety.at]
SEE YOU ALL WHEN THE GATES WILL BE OPENED !
MAY THIS EVENT FULLFILL YOUR DREAMS AND BE A CONTRIBUTION FOR GREATER CONSCIOUSNESS & MORE FREEDOM ON PLANET EARTH !
Location
Location
REIGEN - Club & Restaurant
Hadikgasse 62
1140 WIen
Organizer
Organizer
Manuel Scherzer