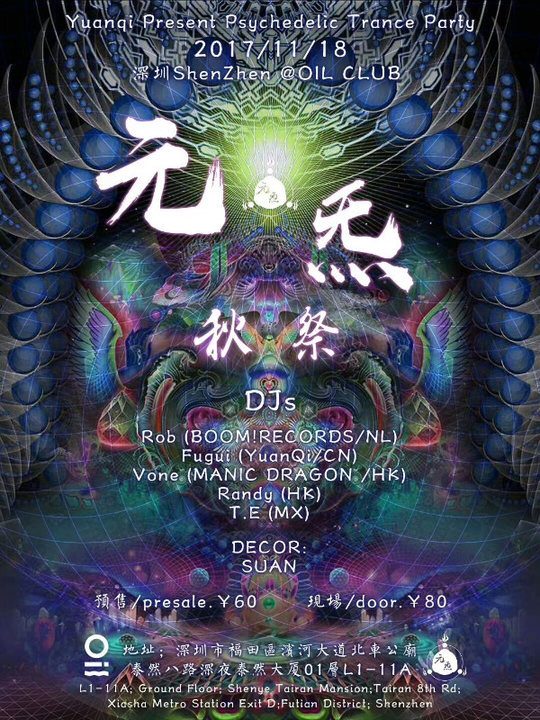 Info
Info
YuanQi Party is party brand which was organized by two Psytrance team XiaoYao(ChongQing) cooperated with KunLun(BeiJing). They are spreading the Psytrance culture, and gathering the Psytrance artists, musicians, and they would like to show the sound, vision, nature and art perfectly within the party, and really hope everyone who have been to the party will receive the happiness, energy and inspiration, and that is YuanQi. Let the music louder in the raid shelter, and let's enjoy the YuanQi Party this time together to celebrate the new years coming, from the lunar seventh day to the eighth, the second YuanQi Psychedelic Party will come for soon!
Location
Location
深圳市福⽥区滨河⼤道北车公庙泰然⼋路深夜泰然⼤厦01层L1-11A
L1-11A, Ground Floor, Shenye Tairan Mansion, Tairan 8th Road, Xiasha Metro Station Exit D, Futian District
Entry fee
Entry fee
门票Ticket:

预售Presale:60 现场Door:80
Organizer
Organizer
Yuanqi
YuanQi came from the origin of the universe which is the eternal energy belonging to the universe and all the of the human beings. YuanQi is the father of the universe, and an eternal stable carrier of Taoism.
From
DJ Rob BooM! Records ·
127