AURALPHONIX*25th March*Atomic Mind*SECRET LIVE ACT*Psylab*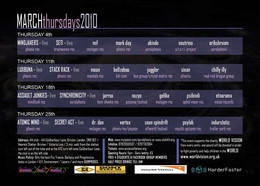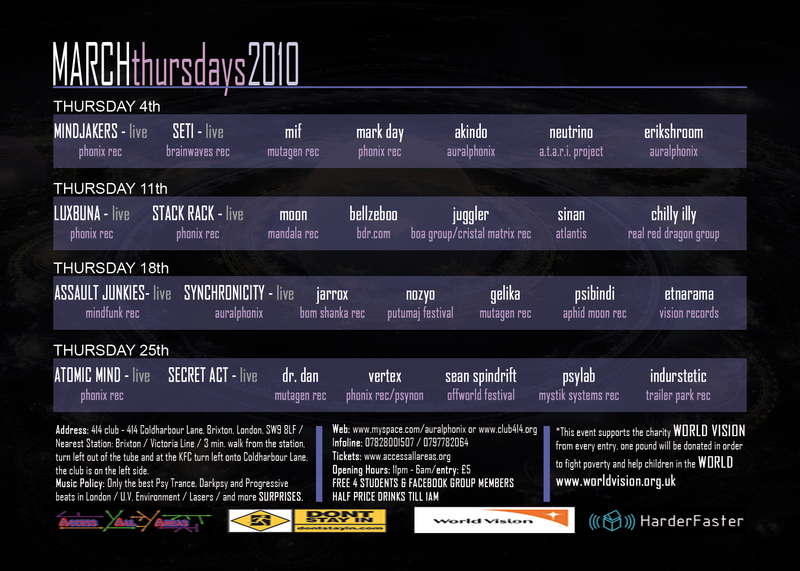 Live
Line Up
Atomic Mind (Phonix rec)


SECRET Live act
Info
AURALPHONIX is a fresh and energetic concept of Psytrance, Darkpsy and Progressive parties in London.
Join us in this beautiful journey EVERY thursday night!!
Lets make this gathering bigger, to create each week even more positive energy :)
Remember that here at Auralphonix we are always looking for the best new and established acts in the circuit, so if you want to hear the freshest and newest sounds just come into our parties. We thrive to showcase good quality electronic psychedelic music, being it fast, slow, hard, dark, light, proggi, cheesy, whatever... We just want to promote quality PSYTRANCE music.....:)
EVERY THURSDAY you can expect...
*2 talented Live acts plus 5 DJs from the National and International Psy Trance scene..
*From every entry, £1 will be donated to the CHARITY ORGANIZATION WORLD VISION.
*HALF PRICE drinks till 1am.
*Wicked sound system & intelligent lighting.
*Friendly security.
>>>>>>>>>>>>>>For more info<<<<<<<<<<<<<<
(t) 07828001507/07504582525
(e) auralphonix AT googlemail.com
(w) myspace.com
(w) club414.org
(W) worldvision.org.uk
Because we want you to enjoy all our parties send us an email with the SUBJECT membership, so that u can receive free dj sets and updates....
Facebook Group:
[facebook.com]
Tickets:
[accessallareas.org]
Location:
At Club 414, 414 Coldharbour Lane, London SW9 8LF
Every Thursday 11pm till 6am or even later ehehehehe
Music Policy: Only the best Psy Trance, Darkpsy and Progressive beats in LONDON
Nearest Tube: Brixton
Price: £5
*Hope to see you all on the dance floor sharing strong, beautiful good energy :)*
PLimMm full of light, peace, love and magic
Ana Auralphonix*
Location
At Club 414, 414 Coldharbour Lane, London SW9 8LF
Organizer
Organizer
AURALPHONIX CREW