Aura Of Goa (Goa Finland 2 year birthday)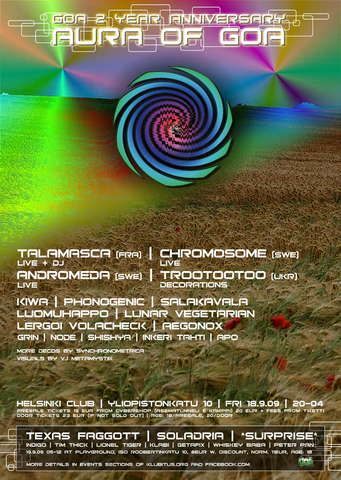 Live
Line Up
Talamasca (Mind Control)
Andromeda (Yellow Sunshine)
Chromosome (Dream Visions)
Kiwa (Exogenic)
Phonogenic (Cocoon)
Salakavala (Antiscarp)
Luomuhappo (Freakdance)
Lunar Vegetarian (Soundshade)
Lergoi Volacheck
DJs
Talamasca (Mind Control)
Aegonox (Agitato)
Grin & Node (Deepscan)
Chill
Inkeri Tahti (Exogenic)
Shishya (Sunstation)
Apo (Entropy)
Deco
Deco
Decos: Trootootoo (Ukraine)
Decos: Synchronometrica (Finland)
VJ Metamystik
Info
Official pages are here:
[facebook.com]
[klubitus.org]
In addition there is an afterparty:
Afterparty price is 8eur for those that have been to the main event (and have the wristband (ranneke). For others the price is 11eur. Afterparty does not have presale tickets. Afterparty is directly after main event, Saturday 19th of September 05-12 in Playground (Iso Roobertinkatu 10)
Afterparty line-up:
SURPRISE INTERNATIONAL LIVE ACT
Texas Faggott Live (Exogenic)
Soladria Live (Goa, Peyotii Recordings)
Indigo (Unity, Sininen)
Tim Thick (Exogenic, Texas Faggott, Mandalavandalz)
Lionel Tiger (Blow)
Whiskey Baba (aka Calamar Audio, Antiscarp)
Klabi
Peter Pan (Entropy)
Getafix (Sokeaa Euforiaa)
Entry
Entry
Presale ticket 20eur @ Tiketti (www.tiketti.fi), door ticket (if left) 23eur
Tiketti has internet shop so if you come from another country, you can buy the ticket in advance.