Backend
✮ ✮ AUM NIGHT - Xmas Special ✮ ✮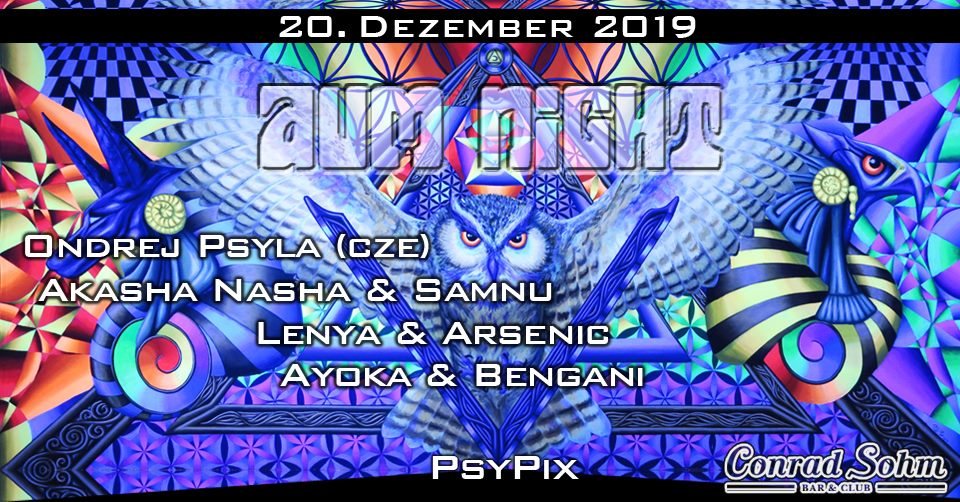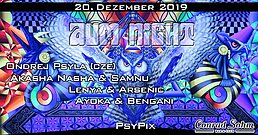 Info
✮ ✮ AUM NIGHT - Xmas Special ✮ ✮
FR 20.12.2019 --> Conrad Sohm / Dornbirn
✮ ONDREJ PSYLA aus Tschechien ✮ Visionary Art & Decoration by PSYPIX ✮ ARSENIC & LENYA aus Wien ✮ AYOKA & BENGANI ✮ AKASHA NASHA & SAMNU ✮ Lights & Laser by AUM ✮ FREE SHUTTLE ✮
✮ X-mas Special ✮
Nach dem Erfolg der außerirdisch-multidimensionalen Psy-Weihnachtsfeier 2018 freuen wir uns, auch dieses Jahr wieder die Ehre zu haben für euch im Conrad Sohm das "Fest der Liebe" mit treibenden psychedelischen Klängen feiern dürfen!
Für diesen Anlass treiben wir unsere treuen AUM Zugpferde, bzw. Rentiere ;-) - AYOKA & BENGANI sowie AKASHA NASHA & SAMNU - zusammen, die für die feierliche musikalische Bescherung verantwortlich sein werden. AYOKA feiert hierbei auch ihr Djane-Debut bei uns. Welcome to the AUM Family.
Außerdem haben wir mit ONDREJ PSYLA aus Tschechien und ARSENIC & LENYA aus Wien auch frohlockende Gast-DJs mit im Gespann unseres Psy-Weihnachts-Schlitten.
Mit diesem musikalischen Mix galoppieren wir mit treibenden Bässen und mystischen Glockenklängen durch die Nacht und läuten damit die schöne bunte Weihnachtszeit ein.
Unserer lieber und langjähriger Begleiter Simon aka PSYPIX wird für die visuelle Gestaltung unserer X-mas Zauberwelt sorgen. Er ist mit Sicherheit einer der bekanntesten und erfolgreichsten Psy-Deko-Künstler Europas und wird mit seiner visionären Kunst in gewohnter AUM Manier das Conrad Sohn schrill, bunt und psychedelisch schmücken!
Da Weihnachtsbeleuchtung auch nicht fehlen darf, werden wir mit einem LASER die Luft zum Glitzern bringen.
Und für alle, die kurz vor Weihnachten noch ein Geschenk für die Liebsten benötigen: Das Upcycling Label Bandha aus Wien ist wieder mit dem Shop und mit vielen liebevoll und nachhaltig gefertigten Einzelstücken dabei.
Wir freuen uns auf ein bunte Weihnachtsfeier der Ländle Goa-Szene!
Frohes Fest! ॐ❤
Euer AUM Team
-------
✩ ✮ ✩ Shop ✩ ✮ ✩
Bandha Upcycling
[facebook.com]
✩ ✮ ✩ Anreise ✩ ✮ ✩
--> GRATIS SHUTTLE BUS
vom Dornbirner Hauptbahnhof (Höhe WiFi)!!!
Wir möchten euch bitten möglichst mit öffentlichen Verkehrsmitteln und unserem KOSTENLOSEN SHUTTLEBUS anzureisen.
Unser kostenloser Shuttlebus fährt von 23.00 Uhr bis 03:00 etwa im 15-Minuten-Takt.
Route: Bahnhof Dornbirn (Höhe WiFi) – Rathaus – Sohm und wieder retour. ACHTUNG: Letzte Fahrt Richtung Conrad Sohm um 03.00 Uhr!
AUTO:
- A14 Rheintalautobahn Ausfahrt "Dornbirn Nord"
– Weiter gehts im Google Maps LINK:
[goo.gl]
ZUG:
Mit der Bahn: Bis Dornbirn Hauptbahnhof, dann 3,9 km mit dem gratis Shuttle Bus oder dem Taxi.
Euren persönlichen Fahrplan findet ihr unter
[vmobil.at]
✩ ✮ ✩ FOLLOW US on Facebook & Instagram ✩ ✮ ✩
»
[facebook.com]
»
[instagram.com]
»
[facebook.com]