ATLANTIC PARADOX with Shiva Shidapu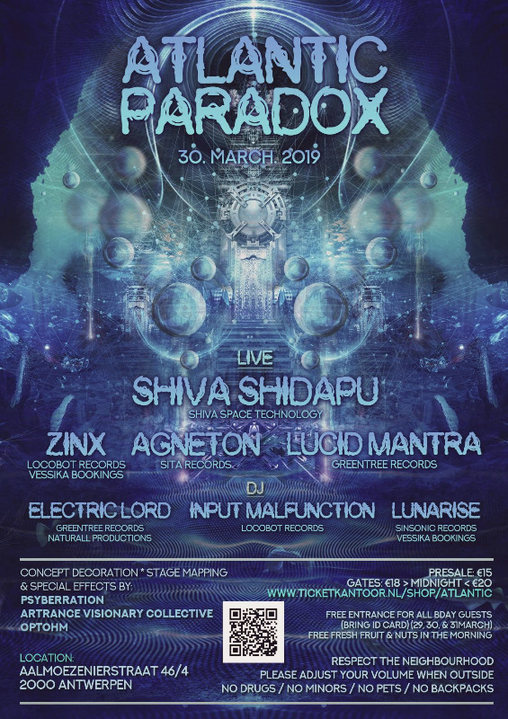 Line Up
Presale link:
[ticketkantoor.nl]
After having flown through the cosmos a few times on "cosmic paradox", it is now time to give this journey a new look with a new theme and its own concept decoration. This time we do not explore whats up there but we investigate the opposite side. We will travel down into the deep blue sea. There, at the bottom of the ocean, we will put down our magic dance temple for the night. We will fill it up with the best oceanic acts that this underwater paradise has to offer to create a magical vibe of energy for you to dance. And together, we will find the psychedelic forces of this colorful underwater universe. Locobot Records is proud to introduce to you... Atlantic Paradox: Creatures of the Deep
This party will have fully underwater concept deco, enriched with awesome visuals and breath taking video mappings. It will also have unique special effects that fit this oceanic theme, to complete the exprience. All of this will be brought to you by a powerful collaboration between Psyberration & Artrance Visionary Collective & OptOhm
We just returned in our yellowish submarine from a long journey over the vast ocean to find the most musical talented sea habitants. We are very proud to present you this varied menu from the deep.
✦✦✦ SHIVA SHIDAPU by Shiva Joerg ✦✦✦ Live
*** Shiva Space Technology ***
°°° The Holy Sea Serpent °°°
✦✦✦ Zinx ✦✦✦ Live
*** Locobot Records / Vessika Bookings ***
°°° The Portuguese Man 'O War °°°
✦✦✦ Agneton ✦✦✦ Live
*** Sita Records ***
°°° The Mighty Kraken °°°
✦✦✦ Lucid Mantra ✦✦✦ Live
*** GreenTree Records ***
°°° The Giant Mantra Ray °°°
✦✦✦ Electric Lord ✦✦✦
*** GreenTree Records / Naturall Productions ***
°°° The Electrifying Salt Water Bear °°°
✦✦✦ Input Malfunction ✦✦✦
*** Locobot Records / Psygathering ***
°°° The Fin Cut Megalodon °°°
✦✦✦ Lunarise ✦✦✦
*** Sinsonic Records / Vessika Bookings ***
°°° The Dredheaded Siren °°°
Deco
Deco
Concept Decoration & Stage Mapping & Special Effects:
✦✦✦ Psyberration ✦✦✦
✦✦✦ Artrance Visionary Collective ✦✦✦
✦✦✦ OptOhm ✦✦✦
Info
[ticketkantoor.nl]
* Free entrance for all bday guests (Bring ID card) (29march - 30march - 31march)
* Free Fresh Fruit & Nuts in the morning
* Free Stickers & Earplugs available, ask them at the entrance.
Limited Capacity On Board --> 300 adventurers Max
°*°*°*°*°*°*°*°*°*°*°*Travel & Parking info°*°*°*°*°*°*°*°*°*°*
- GPS: Aalmoezenierstraat 46/4, 2000 Antwerpen
- There are several payment parking lots close to the location. You can also park for free in the streets around or on the "Sint-Michielskaai", from there it is a 10-minute walk to the party.
Free parking map -->
[bit.ly]
- The location is easy to reach with public transportation.
Take the train to Antwerp Central Station, from there its a 20min walk or you can take a 5min trip on the metro or tram, they are available untill 01:00. Take tram/metro 5 or 9 or 15 to "Groenplaats". From there its a 5 walk to the spectacle.
Tram Hours and map -->
[bit.ly]
- Antwerp is a low emission zone. Make sure your car, boat or submarine is tolerated.
L.e.z. map -->
[bit.ly]
Respect the neighbourhood, please adjust your volume when outside.
No drugs / No minors / No pets / No backpacks
Location
Location
Cloathing Room + Smoking Area + Chillout
Entry fee
Entry fee
Presale Tickets:
Early Fish: €10 + Free CD (50 Tickets)
Regular Fish: €15 + Free CD
Gate Tickets (if not sold out):
Before Midnight €18 + Free CD
After Midnight €20 + Free CD
Organizer
Organizer
Locobot Records
From
Input Malfunction ·
1,440