Backend
Astro-D Live/ Greg Staikos/ Shaman/ LiquidLove/ N-igma/ NaN RainBow/ Stratos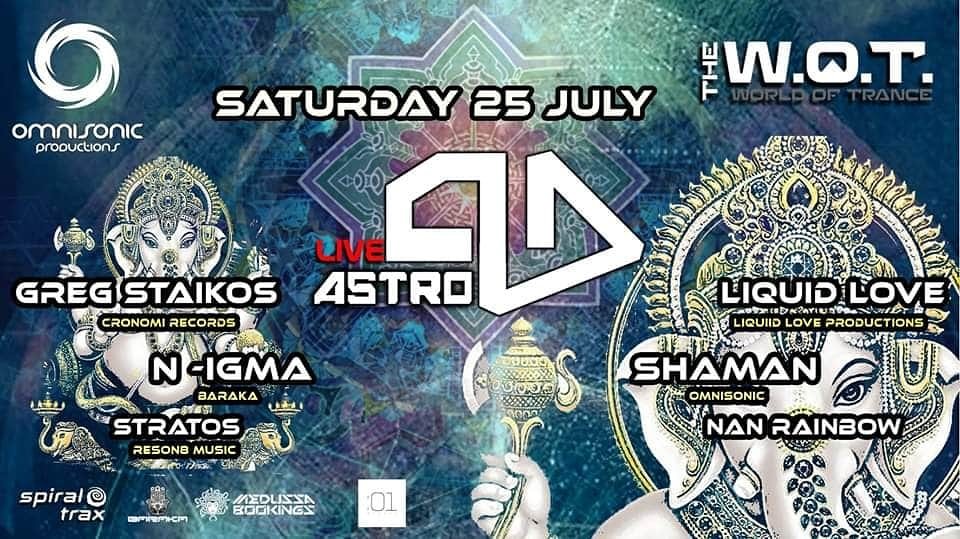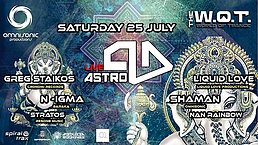 Line Up
Live :
ॐ░░▒▓███► Astro-D (BMSS Records - Spiral Trax)

DJ sets :
ॐ░░▒▓███► Greg Staikos (Cronomi Rec.)
.ॐ░░▒▓███► Liquid Love (Nikos Liatsikas)
.ॐ░░▒▓███► N-igma (Baraka Trance Athens )
.ॐ░░▒▓███► Dj Shaman (Omnisonic)
.ॐ░░▒▓███► Stratos - Mind Reflection (Reson8 Music)
.ॐ░░▒▓███► Nan RainBow
Info
English
**** Please be informed that according to the emergency health instructions, the capacity of 01 Athens will be adjusted to comply with the new restrictions.
**** You can make a reservation either by phone or by message on the 01 Athens page
**** Attendance will be counted at the entrance and the maximum number of attendees will be strictly observed.
**** Relevant sanitary instructions will be posted at the entrance.
**** The space of 01 Athens is very large and provides adequate air conditioning and ventilation.

Greek
****Ενημερώνουμε οτι σύμφωνα με τις έκτακτες υγειονομικές οδηγίες, η χωρητικότητα του 01 Athens θα ρυθμιστεί ώστε να είναι σύμφωνη με τους νέους περιορισμούς.
**** Μπορείτε να προβείτε σε κράτηση είτε τηλεφωνικά, ειτε με μήνυμα στη σελίδα του 01 Athens
**** Η προσέλευση θα καταμετράται στην είσοδο και θα τηρηθεί αυστηρά μέγιστος αριθμός παρευρισκομένων.
**** Θα αναρτηθούν σχετικές οδηγίες υγειονομικού περιεχομένου στην είσοδο.
**** Ο χώρος του 01 Athens είναι ιδιαίτερα μεγάλος και παρέχει επαρκή κλιματισμό και εξαερισμό.
Location
01Athens Club, Iraklidon 61 Athens
Organizer
Organizer
The World Of Trance | Omnisonic