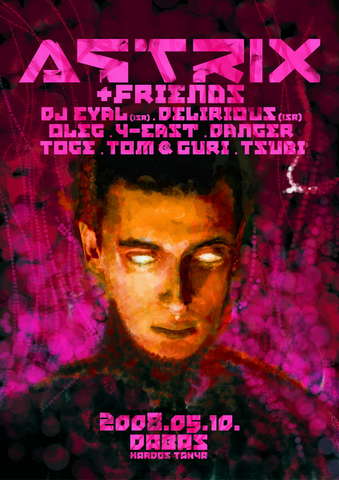 Live
Line Up
Astrix
Delirious
Y-East
Main stage lineup:

22:00 - 00:00 Oleg (Deepsmile / Humantouch)
00:00 - 02:00 DJ Eyal (HOMmega ISR)
02:00 - 05:00 Astrix (HOMmega ISR)
05:00 - 07:00 Delirious (HOMmega ISR)
07:00 - 08:30 Y-East (TrancePort)
08:30 - 10:00 Danger (Beyond, Procyon Rec., Goa.Hu)
10:00 - 11:30 Toge (TrancePort)
11:30 - 13:30 Tom & Guri (Groove Criminals ISR)
13:30 - 15:00 Tsubi (Humantouch)
Chill
Jácint (Cinetrip)
Mouss
Petrovszky (Zsebrádió, Neumatic)
Toge (TrancePort)
Pálmester
Info
Two years passed since the Hungarian promoter company "TrancePort" invited Astrix to Hungary. Now it is the second chance to listen to his music. But this time the event holds a lot more than a single live act.
This time not only Astrix but two of his best friends will come to play: Delirious and DJ Eyal manager from the famous Hommega label. This event has a long history by now. It has been held in London and Brazil also. This will be the first time in Eastern Europe that we can hear Astrix & Friends play together! For music lovers May 10 will be clearly a night to remember! If you want to know what you can expect from this party take a look at one of the trailers of our last party with Astrix.
Some say that Astrix's new album (Red Means Distortion) will be released somewhere in the end of April so you can expect many new trax from it. The album is in progress for four years and clearly became the most expected psytrance album of all time as both of their predecessors were huge success among full-on fans. Those who are curious about the new project can listen to Astrix latest release the Future Music EP.
Delirious has three albums at Hommega Records. The last one has been released just a few month ago. Delirious makes quality israeli full-on music. Their track "Break Point" was one of the best of 2005 according to many people. This year they gonna make a remix for Infected Mushroom so they worth paying attention for.
Being the head of HOMmega Productions, Eyal Yankovich could be called one of the leading forces in Psychedelic trance in and from Israel. Eyal Started playing trance sets in 1993. His label - HOMmega was established in September 1997 and since then released some of the best Israeli trance albums (Astrix, Cosma, PsySex, Sub6, Yahel...) and compilations (ISRAliens, Full On,...) along the years. Eyal is a very busy DJ as he travels around the world to take part in the most important happenings on this globe and he also takes care of development, promotions and bookings of his label's artists (he is also the booking agent of the biggest trance act nowdays: Infected Mushroom!). His sets are heavily influenced by his own label's music + new and promising Israeli talents but he also knows that the international crowd also appreciates a different sound so he often mixes his set with "international" tracks.
Extras:
KenGuru Dragon Dancers
[kengurufashion.com]
Cökxpôn Ambient Shadow Dancers
[cokxponambient.hu]
Cökxpôn Ambient Chill Out
[cokxponambient.hu]
Tzfészek Acrobatic Fire Jigglers
[firenest.hu]
Flames of Szentes Fire Jigglers
[atw.hu]
Trixx partydeco
[trixx.hu]
500m2 full water proof tent in case of rain
Covered chill area, Trixx Deco, 10kW Dynacord XA2 Soundsystem, guarded parking lot
KenGuru clothing shop, PsyBaba clothing shop
:::::::::::::::::::::::::::::::::::::::::::::::::: ::::::::::::::::::
Contact:
info@tranceport.org
InfoTelEng: 0036-70-234-84-84
[tranceport.org]
Location
Place:

Dabas, Kardos-tanya

Travel info:

By bus: Yellow bus departs from Budapest, Népliget station to Dabas -
Tatarszentgyorgy. From there you have to walk 5 minute to Tatarszentgyörgy.

By car: You have to drive to M5 highway. Go 31 Km than take the exit toward
Albertirsa/Szolnok/Dabas. Turn left at 405/E60 (signs for Dabas). Follow the signs.

You can check the detailed travel guide in english at Google Maps if you click the below link.

--------

Reise-Infos:

Mit dem Bus: Yellow Bus fährt von Budapest, Népliget Station zu Dabas - Tatarszentgyorgy. Von dort müssen Sie zu Fuß 5 Minuten zu Tatarszentgyörgy.

Mit dem Auto: Sie haben zu fahren auf der Autobahn M5. Gehe als 31 km nehmen Sie die Ausfahrt Richtung Albertirsa / Szolnok / Dabas. Biegen Sie links in 405/E60 (Zeichen für Dabas). Folgen Sie der Beschilderung.

Sie können den ausführlichen Reiseführer in Englisch bei Google Maps angezeigt, wenn Sie hier klicken.
Entry
Entry
At the gate: 4000 HUF / 15 EUR
Added

13y 3m

· Update

13y 3m

· 4 Parties ·

/ 2