★ ASTRALICA ★ Opening Party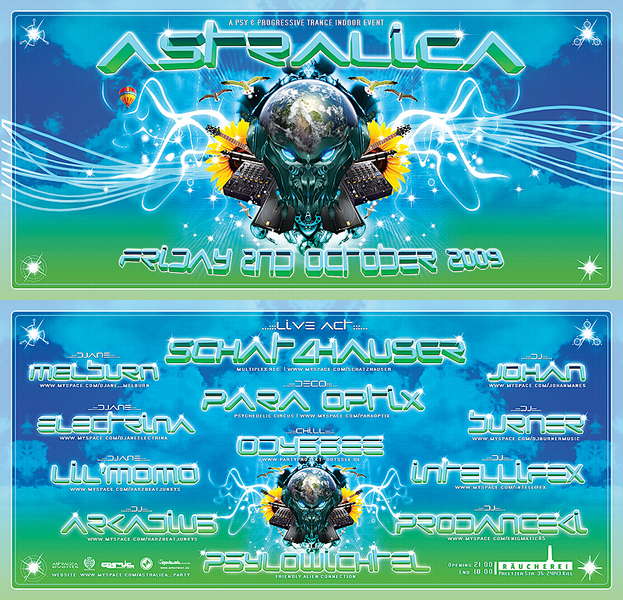 Live
Line Up
02:30 - 04:00 - SCHATZHAUSER [Mecklenburg-Vorpommern]
[Multiplex Rec.]
[myspace.com]
21:00 - 22:00 - DAMON [Schleswig Holstein] ->OPENING SET<-
[Onetribe / Antaris Project 09]
damon
22:00 - 23:00 - PRODANCEKI [Schleswig Holstein]
[Happy Dude Rec. / Stromreligion]
[myspace.com]
23:00 - 00:45 - JOHAN [Schleswig Holstein]
[Bionic Cycle / Deep Blue Sea]
[myspace.com]
00:45 - 02:30 - ARKADIUS & Djane LIL MOMO [Niedersachsen]
[Planet B.E.N. Rec / Fusion 09]
[myspace.com]
04:00 - 05:00 - PSYLOWICHTEL [Schleswig Holstein]
[Astralica / FAC]
Psylowichtel
05:00 - 07:00 - MELBURN [Hamburg]
[Iono Music / VuuV 08]
[myspace.com]
07:00 - 08:00 - BURNER [Schleswig Holstein]
[Astralica]
[myspace.com]
08:00 - 10:00 - INTELLIFEX [Mecklenburg-Vorpommern]
[Spintwist Rec. / Indian Spirit 2009]
[myspace.com]
Deco
Deco
PARA OPTIX [Mecklenburg-Vorpommern]
[Psychedelic Circus, Spiritual Healing]
[myspace.com]
SUN AND MOON [Nordrhein-Westfahlen]
[Schwarzlichtmilieu OA, Herbstrauschen]
[sunandmoon-deko.com]
Info
Am Freitag, dem 2. Oktober 2009 findet die erste "ASTRALICA" statt.
Hier kann man dem Arbeits- und Alltagsstress entfliehen, sich entspannt günstig betrinken, lachen und tanzen :-)
Die Location bietet mit ihrem kultigen und stylischen Ambiente die optimale Atmosphäre für diese Veranstaltung.
Eröffnet von "DAMON" mit einem Psy-Prog. warm up set. Wer dies überlebt, der ist nun einem sympathischen Angriff auf seine Tanzmuskeln ausgesetzt.
Ab 22.00 Uhr wird uns "PRODANCEKI" mit fetten Beats auf "JOHAN" (aka Johan & Manés) einstimmen. Be PRE-pared!
Ab 23.00 Uhr spielt uns "JOHAN" von Bionic Cycle (Deep Blue Sea, Symbiotic Experience O.A.) ein fast zweistündiges Trance set. :-)))
Ab 00.45 Uhr gehört die Bühne nun "ARKADIUS & Djane Lil' MOMO aus dem Harz. Ihr individueller Musikgeschmack in Sachen "GOA - Psychedelic Trance" hat man schon auf so einigen großen Parties in ganz Deutschland, Österreich und Czechien wie z.B. FUSION FESTVAL 2009, INDIAN SPIRIT FESTIVAL 2008, PSYCHEDELIC CIRCUS FESTIVAL 2009, GOA NATION 2008, S.O.L. (Czech Rep.), PSYTASIA Festival (Austria) und viele viele mehr erleben dürfen.
Ab 02.30 Uhr wird uns dann Herr SCHATZHAUSER mit seinem Live Act aus dem grünen Tannenwald all unsere Sinne mit feinsten Psychedelic - Dark Full On klängen sicherlich zum Kochen bringen. Schatzhauser steht für harte beats meist unterlegt mit einer brutalen 16-bassline, gekreuzt mit klirrenden knarrenden arpeggios und ab und zu das ganze auch mal gepaart mit jungfreulich unschuldig klingenden Melodien. Der Name Schatzhauser kommt aus dem Schwarzwald einem Waldgeist, das Glasmännlein, auch Schatzhauser genannt :-)
Ab 04.00 Uhr gibt es dann so richtig was auf die Ohren! "PSYLOWICHTEL" wird die neusten Tracks des Dark Trance & Full On spielen.... knaaarzzzz klatsch booom :-)
Ab 05:00 Uhr wird es dann richtig schön laut mit "Djane MELBURN". Jeder weiss was uns spätestens jetzt erwartet! Psytrance at it's best! Ohne Worte! :-) Djane Melburn und Djane Lavina unterstützen BIM (Millenium Records) mit pumpigen Melodischen Trance Tracks für die GOA GIRL Compilations .
Ab 07:00 Uhr ist Gastgeber "BURNER" selbst an den Reglern.
Ab 08:00 Uhr wird dann noch zwei Stunden zu fetten arschwackel Beats getanzt. "INTELLIFEX" von Spintwist Records (u.a. Neelix, Shiva Chandra) verzaubert uns garantiert mit fetten Hamburg Sound!
Die Dekoration wird von PARA OPTIX (Psychedelic Circus, Spiritual Healing, Indian Spirit), SUN AND MOON (Schwarzlichtmilieu OA, Herbstrausche) und Euch selbst kommen :-)
Das Partyprojekt Odyssee wird passend zum Vollmond eine "Outdoor" Chill Out Area einrichten! Bekannt u.a. von Indian Spirit, Psychedelic Circus usw... Zudem wird das Partyprojekt wie gewohnt Aufklärung zum Thema Substanzen und Co leisten :-)
Es liegt uns sehr am Herzen unseren Gästen, eine große Vielfalt an Musikalischen und Optischen Leckerbissen darzubieten. Die vers. Styles der angebotenen Sounds reichen von Trance zu PsyTrance über Dark bis Progressive.
Das gesamte ASTRALICA Team freut sich auf eine fette lange Party Nacht :-)
-----------------------------------------------------------------
!!!! Die nächste "ASTRALICA" findet am 04. Dezember 2009
goabase
statt !!!!
-----------------------------------------------------------------
Weitere Termine sind dann:
- 06. Februar 2010
goabase
- 06. März 2010
goabase
- 03. April 2010
goabase
----------------------------------------------------------------
DOWNLOADS
----------------------------------------------------------------
1.) Flyer
[imageshack.us]
Location
Location
Preetzer Str. 35, 24143 Kiel
Hotline
+49 (0) 1522 24 9 136 2
Added

11y 10m

· Update

10y 11m

· 8 Parties ·

/ 22