★ ASTRALICA ★ DEVIANT SPECIES, DSOMPA, KIBA uvm.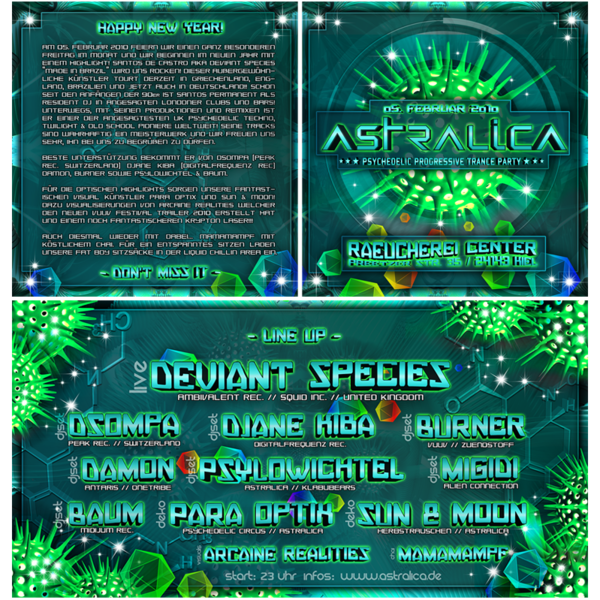 Line Up
DEVIANT SPECIES [ES/UK]
[Ambivalent Records // Squid Inc.]
[myspace.com]
|
[discogs.com]
Deviant Species is Santos De Castro. DS started in 1997 with former member Paul Wright (N.R.S.). Santos was born in the Basque Country. Initially a drummer, he took permament residence in London in the 90's where he joined industrial band PIG playing as the opening band for NINE INCH NAILS [NIN]
[nin.com]
in their Downward the Spiral tour.
Squid Inc.
[myspace.com]
is an alliance between Scorb and Deviant Species. They have been writing music and working together for many years and along with Paul Wright (Former Deviant Species member and LPS owner) have done much to forge a new direction in UK psychedelic techno.
Youtube:
Deviant Species - Lapa incordio:
youtube
Deviant Species - The retinal circus:
youtube
Deviant Species - Thermal boundaries:
youtube
Deviant Species - Shelless:
youtube
Deviant Species - iophant:
youtube
DSOMPA
[Peak Records Switzerland]
[peakrec.com]
|
[myspace.com]
Dsompa is Phillip from Hamburg. His first contact with electronic music was in 1999, and in the year 2000 he discovered his first psy party... where he fell in love with the psychedelic culture and music. He loves deep, mystic and powerful night-orientated dark-ish psytrance. Dsompa working for Switzerlands first Psytrance Label called Peak Records as a label Dj.
KIBA [Germany]
[Digitalfrequenz Records]
[myspace.com]
|
[digitalfrequenz-records.com]
Djane KiBa is Anja S., who comes from the city of Schwerin in North Germany. Her Djane name is the abbreviation for Kick/Bass, as well as the sound, which she plays...mostly melodic, propulsive, psychedelic and the kick and bass around 147 bpm.
BURNER [Germany]
[Astralica]
[myspace.com]
|
[myspace.com]
Head of Astralica! Zuendstoff is proud to present Burner, a pure floor-burning german psytrance Dj since 2000 and talented graphic artist. Burner's sounds blending mystical progressive grooves with intricate morning melodies and full-on dance floor energy. Prepare your ears, for hypnotic Trance sounds.
DAMON [Germany]
[Onetribe. // Antaris 08/09/10]
soundcloud
Damons vision: "Onetribe" founded in 2006 as an open project to increase communication and unity! Damon sound is individually psychedelic trance up to 150 bpm. Since December 2009 Damon started with "Shanti Lounge" an open mind sharing project in Kiel.
PSYLOWICHTEL & MIGIDI [Germany]
[Astralica // Klabubears]
[myspace.com]
Psylowichtel is serious, fast and twilight psychedelic sound, sometimes up to 155 bpm. He has excellent knowledge for PA electronic and is an active Astralica Crew member.
BAUM [Germany]
[Midijum Records]
[myspace.com]
Midijum Records label Dj, also a part of Klangkontakt. Klangkontakt organizing progressive trance partys in northern germany since 2005.
Info
Featured:
- International artists
- mind blowing 4-point Soundsystem
- amazing uv-reactive decoration
- cheap drink prices
- chai & food shop
- smart bar
- a lot of fun, laugh and dance :-)
DRIVE THRU:
The location is only a few minutes to go, from the Kiel main railroad Station / ZOB
BUS INFO:
From main railroad Station Kiel
Bus 34 / HBF Kiel:
START 21:05 HBF D3
START 21:35 HBF D3
START 22:05 HBF D3
START 22:35 HBF D3
START 23:05 HBF D3
START 00:05 HBF D3
MIXE:
ARKADIUS & Djane LIL´MOMO - ASTRALICA 02.10.2009
[data-pirates.org]
MELBURN - ASTRALICA 02.10.2009
[data-pirates.org]
PRODANCEKI - ASTRALICA 02.10.2009
[data-pirates.org]
ASTRALEX - ASTRALICA 04.12.2009
[data-pirates.org]
K-ISUMA - ASTRALICA 04.12.2009
[data-pirates.org]
DAMON - ASTRALICA 04.12.2009
[data-pirates.org]
SHAWNODESE - ASTRALICA 04.12.2009
soundcloud
|
soundcloud
DAMON - ASTRALICA 05.02.2010
[msplinks.com]
BURNER - ASTRALICA 05.02.2010
[data-pirates.org]
NEXT
goabase
goabase
BACK:
goabase
goabase
Location
Location
Räucherei Center
Preetzer Str. 35
24143 Kiel
Added

12y 2m

· Update

11y 3m

· 8 Parties ·

/ 22