Backend
Artists Uniteds` - psychedelic Ganesha Chaturthi
München / Munich / Bayern /… ·
Germany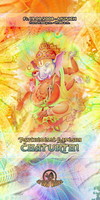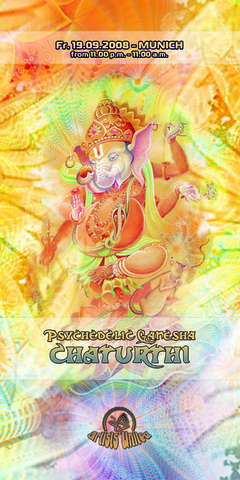 *** ** SCOTTY ** ***
[myspace.com]
(Vuuv Festival - GER)
[myspace.com]
Organizer of the famous Vuuv Festival. For a big part of the psytrance community Scotty is a living legend and one of the inventors of psytrance. Since 1988 he is dedicated to the dancefloors and always connected with the people on it. After this years' Vuuv (Voov), which is said to be one with the best energies ever, Scotty will play again for you here. Enjoy!
*** ** DELYSID ** ***
[myspace.com]
(Kairoo Rec. / The Experience – BEL)
[the-experience-thailand.com]
Delysid is Danny Martens for Belgium. Starting his career in 2003, he quickly signed up at the (former) label Kairoo Rec. Music always gave him certain images in his head, natural born trippin' like they say.... His sets are very unique and can be described as extraordinary POWERFUL and mindblowing. Prepare for a extremely special kind of night set. Enjoy!
*** ** OLI ** ***
(Ban Sabaii / The Experience - UK)
[the-experience-thailand.com]
DJ Oli is the young and talented Oliver Bibb from London / UK. Mixing and DJing since many years he got infected from the psy-virus some time ago on the beautiful island of Kho Phangan – Thailand where his brother DJ Jonnie and DJ Leung are running the afterhour location Ban Sabaii, which is surely one of the best trance places in the world. Oli plays original Thai Style, uplifting, forward, energetic and happy – the sabaii sabaii feeling. Enjoy!
*** ** AMRIT ** ***
(Artists United – GER)
[artists-united.net]
Most of you know him, many of you love him. He is the soul of Artists United. DJing since 1989, organizing many small underground parties in the early 90s in Munich and singing up as our resident DJ in 2002 his skills took him to many great and numberless small parties around the globe. This year he played the mainfloors of Antaris Project and Full Moon Festival and is looking forward to meet his beloved Bavarian crowd again. Enjoy!
* beware of roaring tigers,
* before lifting off with flying dragons !
°
Chill
Chai, Coffee- & Spacebar

°
SCHWARZLICHTMILJÖÖ
(Sundaychaizelt - Austria)
das Original Deko-Team der monatlich in Wien stattfindenden Sundaychaizelt Parties
[goanet.at]
eine der besten Psytrance-Party-Serie im deutschsprachigen Raum ("Party with heart ! ") und einer unserer besten Freunde, beehren uns mal wieder. Wir freuen uns auf euch!
~ M ° X ° M ~
[myspace.com]
(Macrocosmos - Germany)
pro.ject ARTworX & friends
(Artists United - Germany)
°
Info
GANESHA CHATURTHI
[wikipedia.org]
Ganesha
[wikipedia.org]
the elephant-headed son of Shiva and his wife Parvati is widely worshipped as the remover of obstacles, the Lord of beginnings and good luck, patron of arts and sciences, and the Deva of intellect, wisdom and prosperity.
At Ganesha Chaturthi - a festival in his honour (Ganesha's Birthday) - images of Ganesha are installed within homes as well as in places of assembly. Elaborate arrangements are made for lighting and decoration and Ganesha is fervently worshipped for about 7-10 days. On the day of the Chaturthi thousands of processions converge on the beaches of India to immerse the holy idols in the sea.
This immersion is accompanied by drum beats, devotional songs as well as modern music and a dancing crowd.
Jai Ganesh, jai Ganesh, jai Ganesh deva !
[blogspot.com]
Da dies unsere erste Party seit dem "Rauchverbot" ist, braucht ihr noch alle,
so ihr denn teilnehmen wollt, eine "Clubcard". Wer den Vorgang beschleunigen will, kann sich
[alabamahalle.de]
den Antrag downloaden und diesen bereits zu Hause ausfüllen.
°
Location
the Funky Hammer !
in OUR NEW LOCATION !

NEUE ALABAMAHALLE
(Optimolwerke)
Friedenstr. 10 - München

enough space to dance and trance.
finally we found a new home !

°
Added

14y 4m

· Update

14y 2m

·

/ 310