Artists United & Blindspring Prod. are Smashing the Pumpkins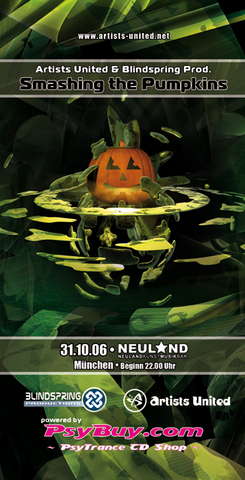 Line Up
SMASHING Floor:
===============
Sesto Sento
(Com.Pact Records / Israel)

...presenting their new album !

BitPulse
(Headroom Prod. / Germany)

...for the first time live !

PUMP-KIN Floor:
==============
Trancefeld
(Avalanche Records / Germany)

...presenting his new album !

^
SMASHING Floor:
===============
Edoardo
(Neurobiotic Records / Italy)

Itai
(Sesto Sento / Com.Pact Records / Israel)

Rob
(BooM! Records / Netherlands)

ShaMane
(Headroom Prod. / Germany)

Daniel Fly
(PsyTropic Records / Germany)

Amrit
(Artists United / Germany)

Chris Lee
(Artists United / Germany)


PUMP-KIN Floor:
==============
Tomtron
(Vertikal Records / Germany)

Jerome Isma-ae
(Jee Productions / Germany)

Tomahawk
(Jee Productions / Germany)

Flow
(spurensuche M94,5 / Germany)

^
Chill
, Chai & Spacebar by Uwe the Schmox Baba

^
Deco
MAXI (flourelysium.com / Germany)

pro.ject ARTworX (Artists United / Germany)
MXM (Macrocosmos / Germany)


VISUALS:
========
sub:visions (Nachtagenten Music / Austria)
VJ Tersi (Simsalabim 2004 / Wetten daß...? / Germany)


***********************************************************
Info
in close cooperation with DJ Tomahawk !

massive Sound System on both floors !

the first 500 visitors get the brandnew Sesto Sento
"Come together" album for free !

outdoor Area mit Café / Bar / M-Base, Sitzbereich
(teils überdacht) und Feuerstelle !

>>> as we celebrate Halloween Night >>>
witches, bitches and their sons most welcome !
Location
Location
NEULAND * Birketweg 5a * 80639 München
(direkt hinterm Backstage * Friedenheimer Brücke)

Tram 16, 17 oder N17 * Steubenplatz
Tram 18, 19 oder N19 * Lautensackstr.
oder Bus 132 * Wilhelm-Hale-Strasse

***********************************************************
Organizer
Organizer
Artists United & Blindspring Productions
Hotline
dial 0-8-9_A-R-T-S-P-R-I-N-G
Added

15y 22d

· Update

14y 3m

· 33 Parties ·

/ 310