Backend
***ARCANA***------ TOTAL ECLIPSE 2 hours live act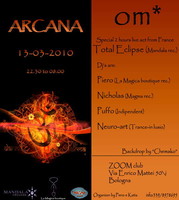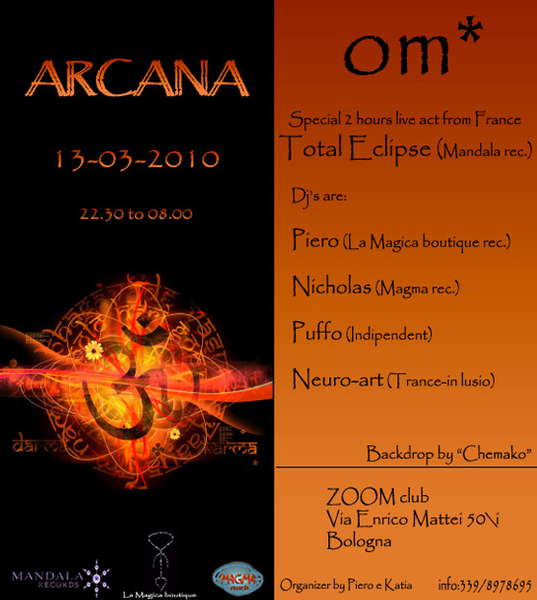 Line Up
Special guest 2 hours live set from France:
TOTAL ECLIPSE (Mandala rec.)
[myspace.com]
[mandalarecords.org]
Il leggendario progetto Total Eclipse ritorna col suo quinto album,"Tales of the Shaman" edito in autunno 2009 su Record di Mandala, un'etichetta di musica elettronica Francese con base in Francia.
Stéphane Holweck, attualmente unico membro del progetto e' un'arstista poliedicro con influenze Trance Psichedelica, Progressive Elettro, Orientale, Industriale, e Rock. Col il suo background musicale esteso e la sua abilità e' riuscito a percorrere differenti strade della musica elettronica,come la sua produzione con Phonic Request Megalo Man o con Ecosphere col quale lui produsse il prima traccia dell'album Tales dello Shaman. Come bonus lui ci offre due differenti prodetti Electro-Oriental-Indie-Rock-dub; D.M.T (Digital Mistery Tour) e Toxic Engine.
Stéphane Holweck ha un bachground ricco in musica elettronica.
Lui fondò il leggendario progetto Juno Reactor con Ben Watkins in 1992.
Questo gruppo di trance,il mitico Total Eclipse ha creato la musica del film Matrix Reloaded, inclusi i 13-minuti pista durante la mitica scena dell'inseguimento delle auto,sulla quale Holweck collaborò con Ben Watkins e il compositore cinematografico Don Davis.
Lui ha collaborato anche con Youth (Killing Joke) fin dall'inizio della sua carriera, così come coi più grandi nomi nel genere, fra loro Simon Posford (Hallucinogen, Shpongle), Raja Ram (Shpongle, 1200 Mics) e l'album Mistery of the Yeti (1996)
Total Eclipse ha prodotto quattro album nel corso della sua carriera:
Delta Aquarids (1995), Violent relaxation (1996), Access Denied (1999), ed Update Files (2003). Durante il corso degli anni,Total Eclipse ha remixato tracce di alcuni degli artisti più famosi, fra loro Anna Clark, Gong, Juno Reactor, Jungle High, e Prana (il leggendario gruppo creato dal mitico Dj Tsuyoshi Suzuki).
La loro estesa discografia comprende traccie realizzate Blue Room,Dragonfly,Twisted rec.,Solstice, Wagram, Sony music,Phonokol,Eye Q rec.,3D Vision e Nova Tekk.
Total Eclipse è uno dei pionieri della Trance Psichedelica,formato nel 1990 e Stephane Holweck continua ad infiammare suonando il suo unico e favoloso suond le dancefloor intorno al mondo ad eventi e festival in Brasile, Ungheria, Portogallo, Giappone, Turchia, Francia, e gli Stati Uniti.Tales of the Shaman avra un'importante ruolo per gli appassionati della trance degli anni 90'.
Benvenuto all'universo di Total Eclipse!!!
Legendary electronica project Total Eclipse returns with its fifth
album, Tales of the Shaman, scheduled for release in Autumn 2009
on Mandala Records, a French electronic music label based in France.
Stephane Holweck, currently the sole member of Total Eclipse,
will shower us with a broad range of electronic tracks covering a wide
expanse of influences that includes Psychedelic Trance, Progressive,
Electro, Lounge, Oriental, Industrial, and Rock. With his extensive
musical background and skills, he has been able to put his stamp on
each track, like his production with Phonic Request, Megalo Man,
with a rocking dance-floor vibe, or with Ecosphere,
with which he produced the first tribal and psychedelic trance track
of the album, ìTales of the Shamanî. As a bonus, he offers us
two tracks, one from his Electro-Oriential-Lounge project D.M.T
(Digital Mystery Tour) and the other from his group Toxic Engine,
which is an innovative blend of Electro-Indy-Rock.
Musician Stephane Holweck has a rich background in electronic music.
He founded the legendary band Juno Reactor with Ben Watkins in 1992.
This trance group, as mythical as Total Eclipse, created music that
was featured in the blockbuster movie Matrix Reloaded, including
a 13-minute track during an epic car scene on which Holweck
collaborated with Ben Watkins and cinematic composer Don Davis.
He has also collaborated with Youth (Killing Joke) since the beginning
of his career, as well as with the biggest names in the genre,
among them Simon Posford (Hallucinogen, Shpongle) and Raja Ram
(Shpongle, 1200 Mics) on the groundbreaking album Mystery of the Yeti (1996).
Total Eclipse has produced four albums over the course of its career:
Delta Aquarids (1995), Violent Relaxation (1996), Access Denied
(1999), and Update Files (2003). Over the years, Total Eclipse has
remixed tracks by some of the best-known artists, among them
Anne Clark, Gong, Juno Reactor, Jungle High, and Prana (the group
created by the legendary trance DJ Tsuyoshi Suzuki).
Their extensive discography includes tracks released on Blue Room,
TIP, Dragonfly, Twisted Records, Solstice, Wagram, Sony Music,
Phonokol, Eye Q Records, 3D Vision, and Nova Tekk.
Total Eclipse is one of the pioneering and mythical Psychedelic Trance
groups from the movementís formative years in the 1990s, and
Stephane Holweck continues to fire up dancefloors around the world
with this groupís unique sound, playing at events and festivals in Brazil,
Hungary, Portugal, Japan, Turkey, France, and the US. Their new album
Tales of the Shaman will play an important role in the rebirth of the
trance music movement of the 90s as the first decade of the new
millennium draws to a close. Welcome to the Universe of TOTAL ECLiPSE !!!
Chill
Intro 22.00 to 23.30.........Film surprise
Deco
Backdrop fluo by "Chemako"
Location
ZOOM club
via Enrico Mattei 51/i
Bologna
Entry fee
Entry fee
15 euro fino alle ore 01.30.....dopo un po' di piu!!!
Chi prima arriva meno paga e danza meglio.
Hai primi 30 entranti in regalo un CD
Un'ulteriore motivo per arrivare presto!!!!!!!!!!