Backend
Aquaria (Boom Shankar's Birthday Journey)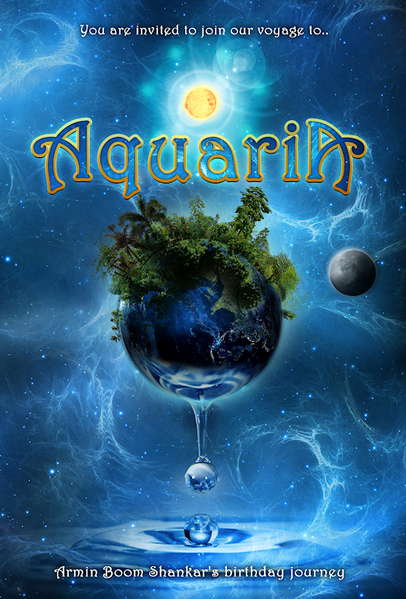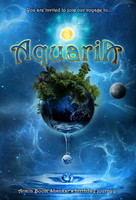 Line Up
AQUARIA - CHAPTER ONE

Once upon a time...

... in a land not so far away, there was a group of space and time travelers on a mission. A mission for gaining the ultimate knowledge, for an understanding of pure reality and the purpose of existence. For many years they've heard the rumors of a special tree which should hold all the answers to their questions. This Tree of Wisdom was supposed to be on a distant planet, a planet named Aquaria.

You and me were among these people, people sharing the desire to question the common concept of reality and to look for a deeper meaning to life. So it was sure we had to board the shuttle! And so we started our voyage on board BMSS Spacelines, leaving earth and heading deeper through the cosmos, destination Aquaria...

After the rough travel through hyperspace, we finally landed on the South Pole of Aquaria, known as the Drop. Our search for the Tree of Wisdom was about to begin...

Immediately at arrival we were welcomed by a strange-looking fluorescent giant. He had strings attached to his coat and told us he was a Dreamcatcher with the name of MINIMUS. He offered us a magic potion and delighted us with a set of frequencies which seemed to come from a long-forgotten time. Starting to feel comfortable again, we continued our journey towards the Tree of Wisdom and headed out of Dropland and deeper towards the jungle to finally discover a couple in love.

They called themselves LUCA & JAZZMINE and were stranded here after their Italian Fiat space shuttle crashed due to a certain Blue Hour Sound they heard. Luckily, they were saved by a life form named MULTIMAN in whom they crashed. He just survived due to the consumption of a substance known as Liquid Light which he found in an ancient temple on Eivissa a long time ago. The effect of this substance was that whenever he died, he resurrected with a different, random superpower, last time with the power of the Blue Hours Sounds, this time the superpower of leading us to an Indian Saddhu with the name of DAKSINAMURTI. Being supposed to be part of the Shiva Space Technology tribe and having a certain Timecode to travel back in time and space we thought it good to listen to his speaking in tongues and so he showed us the direction for heading further...

His source of inspiration was revealed immediately as an old French-speaking Delta Aquarid came along. Woosh it made and it absolutely sounded like a TOTAL ECLIPSE of sounds and frequencies. His impact was so strong that some felt they were warped into a Blue Room, others felt like a Dragonfly, but all saw his giant Mandala which was illuminating him and his big smile. A brave shaman we thought but still, due to this experience we had to take a short nap, refresh ourselves to finally welcome the new day.

AQUARIA - CHAPTER TWO

Another fellow of our group of Aquaria travelers who seemed to be engaged to a certain dwarf from Heidel, namely YAN GECKO, lead us towards brighter spheres and out of the jungle. At a hilltop we could hear a series of beautiful melodies, all reminding us of a SILICON SOUND from a long-forgotten time. Even if the sun was shining bright, we had the feeling of the Moon Spirits, maybe because of Nexus 6 which was clearly visible in daylight.

Feeling uplifted, we continued our way to solid grounds. Our guides, the wise Psylofant STEFAN LUDLEY who was followed by trapeze artist SALTAUX both demonstrated their success in gaining safe and solid terrain.

It was time for another rest, so we prepared for sleep, knowing we would be guided safely through our dreams by MARLEM & ARUNA. After a while we heard them shouting "Villavilla" and we knew immediately that it was time to wake up, leave the dream world behind and focus again on physical reality. The anthropologist PSYPHA took slowly the lead and brought back the energy to continue the trip.

AQUARIA - CHAPTER THREE

We passed the Ocean of Joy and ended up at the mystic waterfall of Aquaria, known as the Source.

Standing at the pool we heard a rather strange series of sounds: Its origin was unknown, but it seemed that someone was pulling the strings of musical delight. The natives here called him AES DANA and he was supposed to be the master of mind-opening frequencies. Originally from a place called Ultimae which is supposed to be in France, he was living nowadays in eternity. After this contact, all of us felt the need to gain back strength: doing so by drinking out of this magic potion which the peculiar French called Champagne, we headed further to finally discover a sibling of the Dreamcatcher whom we met right after our arrival on Aquaria.

His name was MAXIMUS, but he was rather small compared to his brother. But as size doesn't matter we took him seriously and he proved that we were right by showing us his skills in orientation in order to find the ancient city of Goa which was destroyed more then a decade ago by the progressive Fulloners.

Reaching Goa, we heard another strange series of sounds. What in Goa's name was this? Suddenly a large ASTRAL GNOMIX jumped out of the bush claiming he was one of the last survivors of the Goan culture. We believed him as his musical demonstration spoke for itself. Asking him how we could find the Tree of Wisdom he recommended to look for a smart gentleman who is supposed to be of British origin and was supposed to hide somewhere in the underground.

Searching deeper in the underground, we finally found him: LUCAS, a true source of inspiration who gave us a certain T.I.P. for our search for the truth. "Always follow your heart and continue straight on, but be sure to have your ABS switched on!"

The two elements ALEXSOPH and BOOM SHANKAR understood and avoided the risks of the logic way but instead followed their hearts an lead the group through the city of Goa and up the mountain range of Psychedelica.

And finally, here it was: the Tree of Wisdom. We, the band of brothers and sisters of the stars succeeded in our search! After this long journey we were more than happy, we felt fulfilled realizing that we knew nothing, and the tree wouldn't please us with a simple answer to all our questions, but we learned the most important lesson: the journey is the goal!

AQUARIA - THE OUTRO:

Happy, feeling blessed and bond together we rested for a little while before we called a big space cab which brought us to the spaceport of the new colony of the Interzone which was located in Dropland. We felt that we should visit the former CREATOR of Aquaria to thank him for this experience! The old guy was a little decent in tempo but gained the same knowledge a long time ago, which he had to show us with his collection of Blue Tunes. Impressed by his continuous pursuit of the path, MARCO SCHERER was the first and a VERY SPECIAL GUEST the last who smiled, knowing that probably next year all would take a similar journey back to Aquaria as it had been such a good trip and a great connectedness among our friends, you and me...simply us!

We all realized that the spirit of Aquaria and the Goan culture would, as always, call and we, as always, would follow it back to its roots as a group of like-hearted friends...
For the lazy ones, here is the Line Up in usual form:

Live:

Total Eclipse (Mandala Rec. / Blue Room) France
Multiman (BMSS Rec. / Maledictis) Ibiza
Silicon Sound (Neurobiotic Rec.) France
Aes Dana (Ultimae Rec.) France
Astral Gnomix (BMSS Rec.) Switzerland
Soul Kontakt (BMSS Rec.) Malta
Interconnekted (BMSS Rec.) Malta

Djs:

Minimus (BMSS Rec.) Germany
Luca & Jazzmine (Blue Hour Sounds) Italy
Daksinamurti (Shiva Space Technology / Timecode) Germany
Yan Gecko (BMSS Rec.) Germany
Stefan Ludley (Psylofant) Germany
Marlem & Aruna (Villa Nachttanz) Germany
Psypha (Wummerland) Germany
Maximus (BMSS Rec.) Germany
Lucas (TIP Records) United Kingdom
Alexsoph & Boom Shankar (BMSS Rec.) Germany
Creator (Blue Tunes / Interzone) Switzerland
Marco Scherer (Meller / BMSS Rec.) Germany
Very Special Guest (You will love Rec.) Far far away
Deco
Deco
You can be sure to experience a first class flight! Our space carrier is equipped with the latest in full UV enlighted surrounding set to perfection by the visual and 3D art of MARIE TRANCE from France, who will present her new collection for the first time to the traveling public. In addition, Bodensee-based JAMAS and TERRAPLAN will guarantee a perfect setting for our flight towards the planet of Aquaria. Furthermore, our journey will be perfectly set in motion by the visual art of Munich-based MAEX STEEL and his fellow friends. A colorful and magic trip lies ahead...
Info
Info
Found this page? Feel invited! :)

I am very much looking forward sharing this flight with you!

Armin
Location
Location
Beat Box / Maybachstr. 8 / 78467 Konstanz / Germany
Close to Switzerland / Nearest airports ZRH or STR or BSL

If you plan to arrive by public transport exit train at
Konstanz-Wollmatingen and follow the signs...