APOCALYPTIC RITUAL meets THE SPIRIT BASE LOUNGE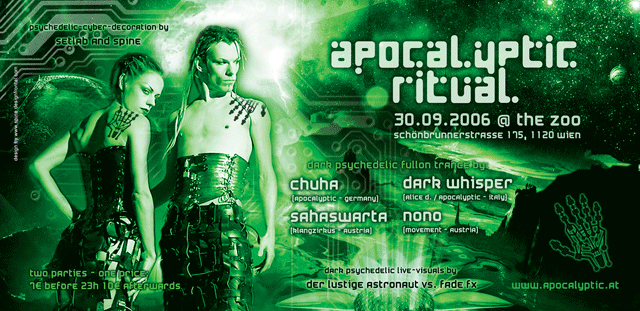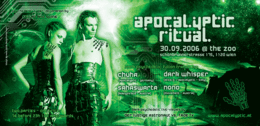 APOCALYPTIC VAULT - dark psychedelic fullon trance:
CHUHA (accoustic colours / apocalyptic - GERMANY)
DARK WHISPER (alice d. / apocalyptic - ITALY)
NONO (movement - austria)
SAHASWARTA (klangzirkus - austria)
SPIRIT BASE LOUNGE - mostly psychedelic prog-trance:
GABY (astralzone - SLOVENIA)
BOOFCONTROL (groove criminals - ISRAEL)
[psyshots.org]
COSMO (phonoton)
[phonoton.com]
GOBAYASHI (astralzone)
SAMURAI (phonoton)
[phonoton.com]
:.:.
:.
.
Deco
APOCALYPTIC:
dark psychedelic live-visuals by DER LUSTIGE ASTRONAUT
[derlustigeastronaut.at]
vs. FADE FX
psychedelic-cyber-decoration presented you by SETLAB and SPINE
[designfrontal.com]
SPIRIT BASE:
mindblowing projections by SIKANDA
[sikanda.at]
decoration by CALAQUENDI and THE SPIRIT BASE TEAM
Info
APOCALYPTIC:
OUR VISION:
The dark side of psychedelic culture and cyber spirit!
expect dark psychedelic tunes.
MYTH:
"In the year 2063
the prophecy of decay has been foretold!
thus the chosen ones gather to celebrate,
a ritual to evade their inevitable doom!"
TIMETABLE:
23:00-00:45 Sahaswarta
00:45-02:30 Dark Whisper
02:30-04:00 Nono
04:00-06:00 Chuha
SPIRIT BASE LOUNGE:
we carry on the spirit of one of the greatest festival austria has ever seen!
progressive tunes mixed with fullon sounds from the bright side of the psy-culture .....
support the spirit!
TIMETABLE:
22-01:30 Cosmo vs. Samurai
1:30-3:15 Boofcontrol
3:15-? Gaby vs. Gobayashi
Diesmal in Form einer Lounge - Der eigentliche Spirit Base Club startet im November!
aber keine Sorge - man wird auch hier musikalisch auf seine rechnung kommen!
goabase
AFTERHOUR mit feinsten progressiven sounds im CABARET RENZ!
goabase
Die DJ-Sets werden übrigens vom internetradiosender PLAY FM
[play.fm]
aufgezeichnet und können dort dann auch angehorcht werden!
NUR NOCH ALS HINWEIS: AM SONNTAG BRAV WÄHLEN GEHN ;)
partners and friends:
cycamp
[cycamp.at]
fairytales
[eu.tt]
play fm
[play.fm]
psyshots
[psyshots.org]
spine
[designgfrontal.com]
spirit base
[spirit-base.at]
Location
Location
The Zoo
[thezoo.at]
Schönbrunnerstrasse 175
1120 Wien
ein wirklich feiner, großer club, 2 nette floors, zentral gelegen und perfekt öffentlich erreichbar mit U6 und U4!
Entry
Entry
7€ bevore 23h - 10€ afterwards!
leider one-way... geht nicht anders :(