Anthropos Pre-Party hosted by Psychedelic Jelly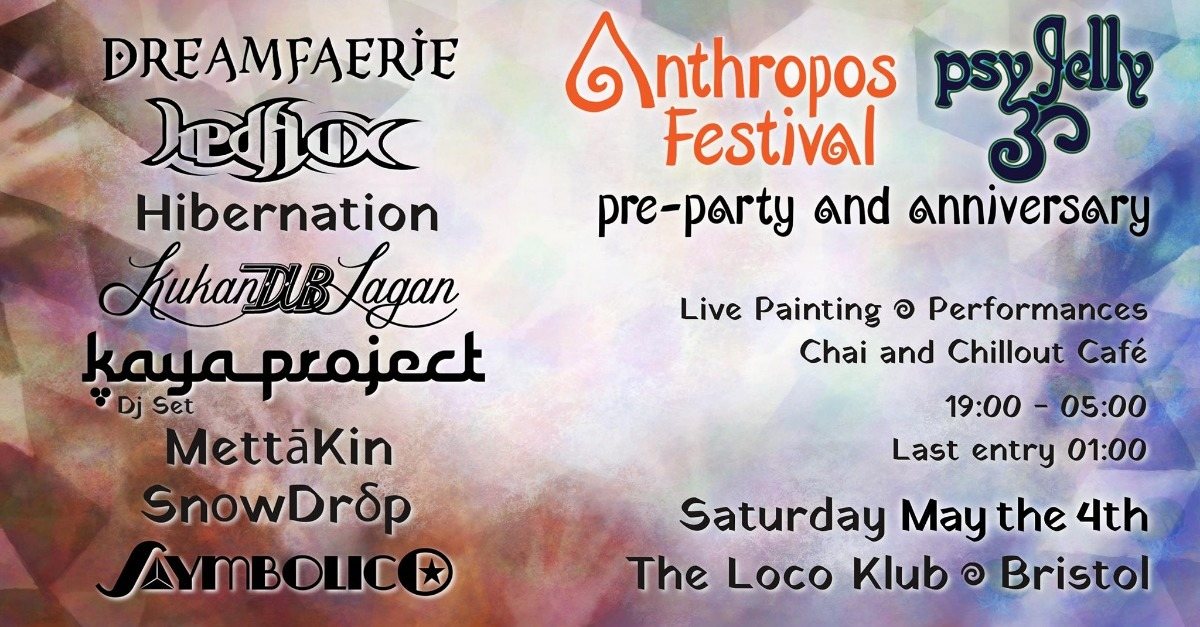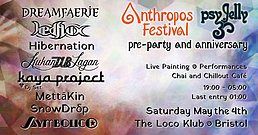 Line Up
We are super excited to team up with Anthropos to bring you the Anthropos Festival pre-party and Psy Jelly anniversary on May the 4th! This has got to be one of the biggest lineups we've ever seen for a downtempo psychedelic club night! Featuring Hedflux, Kaya Project, Symbolico, Kukan dUb Lagan, Hibernation, MettāKin, DreamFaerie and Snowdrop!
A small taste of what's to come at Anthropos Festival 12019 and a night to celebrate Psy Jelly's anniversary!
Expect amazing music, art exhibition, live painting and performances. Chai and Chillout Café. Opening jam sessions.
[[ Music ]]
DreamFaerie [Shanti Planti]
soundcloud
Hedflux [Luminus Music]
soundcloud
Hibernation [Interchill Records]
soundcloud
Kukan dUb Lagan [Feel Life Music]
soundcloud
Kaya Project Dj Set [Interchill Records]
[click here]
MettāKin [Street Ritual]
soundcloud
Snowdrop [TRiBE of FRoG]
soundcloud
Symbolico [Merkaba Music]
soundcloud
[[ Visual Art and Live Painting ]]
Jay Goulding Art
Koshui
More TBA
Performances
Fluid Mechanics - Movement & Circus Art
More TBA
Tickets
Early Bird: £10 + BF (very limited), Phase 1: £12 + BF, Phase 2: £15 + BF, on door (if available) £20.
7pm - 5am. Last entry 1am. 18+ only. Bring friends and good vibes!
Deco
Deco
Psychedelic Jelly, Anthropos
Info
Info
The warm-up party for Anthropos Festival! Which will be in Baldock, Hertfordshire, UK on 13 - 17 June 12019.
Location
Location
Loco Klub,
Temple Meads, Bristol, UK
Organizer
Organizer
Anthropos Festival; Psychedelic Jelly,
Bristol, UK