Backend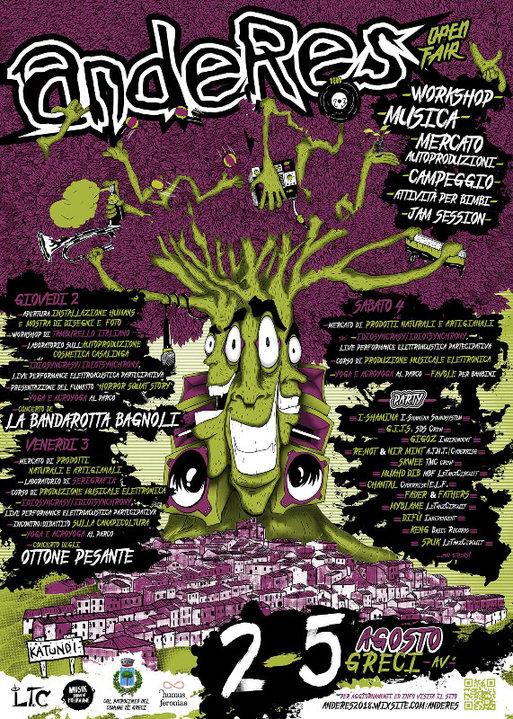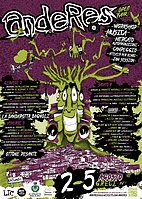 Info
Anderes - open fair 2018
--------------------------------------------------
+ 2-5 of August +
*** music party on saturday 4th of August ***
This is an open fair that concludes with a 24 hour unexpected eclectic music journey.
Program:
[wixsite.com]
[facebook.com]
*Anderes 2018*… l'evoluzione dell'idea, l'altro che si muove, si confronta e sperimenta, supera le distanze e i confini che non esistono, seguendo un ritmo costante verso l'infinito, eclettico nello spirito, radicale nella prospettiva.
…dal 2 al 5 agosto, nell'Appennino meridionale, per tutto il paese di Katundi (41°15'02.8"N 15°10'10.8"E) si svolgerà la seconda edizione di Anderes, 4 giorni di musica, arte, workshop, dibattiti e tanto buon cibo!!!
Una fiera aperta a visionari di ogni dove per conoscere e condividere idee e pratiche alternative al non senso del circo commerciale. Una rete di progetti diversi, laboratori, incontri, mostre, arti varie, concerti e serate danzanti per creare una comunità in festa che sperimenta sinergia tra la dimensione artistica e quella sociale, uno spazio nel tempo inconsueto, empatico, straniante dai luoghi e dalle situazioni comuni, armonia di movimento e mutamento. Un'azione collettiva per investire nel potere generativo delle relazioni e dare un significato autocosciente al presente e una direzione autodeterminata al futuro.
Buona vita di energia e armonia in Katundi!
"datemi da bere l'acqua che scorre fluida dal lago di memoria…
… tutto è uno, uno è tutto, tutto è uno, uno è tutto, niente si crea, niente si distrugge, ma tutto si combina e vola e va…
avite buntà, giuvanotti e belle figliole,
faciti rota, faciti rota, faciti rota,
abballate, abbalate, abbalate…"
(cit. Antonio Infantino)
---------------------------------------------------------------------
Tutte le attività nel paese, a parte il laboratorio sul tamburello italiano, saranno gratuite (una libera donazione è sempre benvenuta) e si pagheranno solo il campeggio e l'entrata alla festa di chiusura:
- Il costo per il campeggio pro persona è di 10 Euro per tutta la durata della fiera (registrazione con carta d'identità); l'area campeggio è attrezzata con docce calde ed ha un'area dove poter cucinare, si prega di non utilizzare fornelletti o accendere fuochi tra le tende. A pranzo e a cena, vicino al campeggio, ci sarà un punto ristorazione con cibo naturale e a prezzi modici.
Lo spazio campeggio aprirà mercoledì 1 agosto alle 17.00 e chiuderà lunedì mattina 6 agosto alle ore 10.
- Entrata alla festa di chiusura: 5 Euro.
Inoltre:
*Area jam session - porta i tuoi strumenti*
Chiunque voglia partecipare è il benvenuto!!!
Per informazioni e prenotazioni scriveteci a:
anderes_open_fair@freenet.de
#Anderes #Anderes2018
#workshop #musica #fiera #mercato #autoproduzioni #diy
Location
Location
A Katundi / Greci non vi sono bancomat e supermercati: venite attrezzati! La salita dalla SS90 al paese è piena di curve e tornanti: guidate piano e con prudenza; arrivati alla rotonda all'ingresso del paese seguite le indicazioni per il campo sportivo.
41°15'06.8"N 15°10'06.6"E
41.251900, 15.168500
[openstreetmap.org]